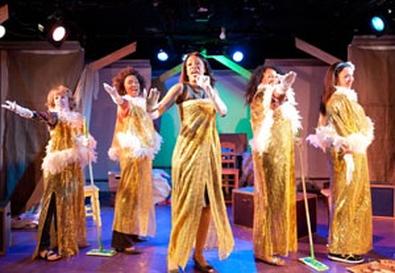 The jukebox musical is usually a cop-out. Producers aim to sell the show based on the popularity of hit songs rather than an original theatrical story. "Sistas: The Musical," a touching though reductive chronicle of black female America, is a victim of this phenomenon. The musical quickly glosses over huge topics, like civil rights and sexual abuse, in an effort to point out every social ailment that ever plagued African-American woman. With songs once sung by artists from Billie Holiday to Beyoncé, the production charms with its voices but forgoes depth and focus in an attempt to cover too much ground.
Playwright Dorothy Marcic, a professor at Columbia University, infuses the show with her knowledge and makes it feel more like a lecture than a narrative. While Marcic may have studied the issues she portrays, she does not convey any sense of personal experience. Sisters Simone (April Nixon), Roberta (Jennifer Fouché), and Gloria (Tracey Conyer Lee) gather in their late grandmother's attic to sort through her belongings and choose a song to sing at her memorial service. Joined by Simone's teenage daughter Tamika (Lexi Rhoades) and their Caucasian sister-in-law Heather (Amy Goldberger), the women sing their way through black history from blues to gospel to hip-hop.
With the large number of songs, many are just musical snippets, and each character's backstory seems to be constructed for a song. Single mother Simone sings "Stormy Weather" about the man who left her, and Tamika practically shouts Erykah Badu and Norman Hurt's "Tyrone" as a breakup anthem to her distant boyfriend. Roberta, who uses jokes and sarcasm to hide her abusive past, is the exception, and Fouché embodies her character's struggle, fleshing Roberta out in a moving performance. Her rendition of "'Tain't Nobody's Bizness If I Do" is one of the show's stronger performances.
As the Bible-hugging widow Gloria, Lee sometimes acts restrained, particularly when executing Lauren Lim Jackson's energetic choreography. Goldberger's Heather functions as a place for the other four to throw their emotional pain, in what amounts to reverse discrimination. The sisters continually use Heather's white privilege as a whipping post. While racial disparities unfortunately still exist today and it's an issue worth highlighting, Heather never has her own voice, and her songs, like Linda Perry's "Beautiful" (popularized by Christina Aguilera), only represent how black culture influences the American mainstream.
There are many crowd-pleasing musical moments, such as a high-energy medley of songs, including "Respect" and "I Say a Little Prayer," for which designer Tricia Barsamian's bawdy feather-trimmed gold sequined robes only up the volume. Director Kenneth Ferrone zips through the scenes, losing emotional focus. At one point, one of the characters even acknowledges that the dialogue has set her up for the next song.
Producer Hinton Battle announces in a prerecorded pre-show message, "Feel free to sing along or talk back," and the audience at the show I attended felt no hesitation. The songs are catchy, but I might as well have gone to a concert instead.
Presented by Hinton Battle and Jenkay at St. Luke's Theatre, 308 W. 46th St., NYC. Opened Oct. 23 for an open run. Thu., 8 p.m.; Sat. and Sun., 4:30 p.m. (212) 239-6200, (800) 432-7250, or www.telecharge.com. Casting by Jamibeth Margolis.