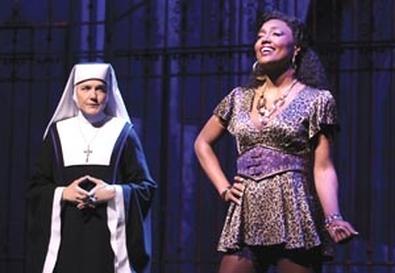 Director Jerry Zaks told The New York Times that he and script reviser Douglas Carter Beane were brought in to retool the West End version of "Sister Act" for Broadway by making the show more believable and less cartoonish. If they've actually done their job, then London must have seen a real doozy. A ramshackle yet agreeable film comedy with plausibility issues has here become an even more ramshackle and outlandish musical comedy that consistently diminishes its source.
The film's basic plot is retained. Aspiring singer Deloris Van Cartier accidentally witnesses her crime-boss lover executing a stool pigeon. Forced to flee to the police, she ends up stashed in a dying Catholic church in a decaying part of town (now 1970s Philadelphia) until she can testify at trial. Her streetwise ways run afoul of the mother superior, but when Deloris transforms the choir of timid nuns by teaching them soul music, she revitalizes the church and herself.
Cheri and Bill Steinkellner's book, even revised, is a mess. Deloris, who on screen is pushing 40 and funny because she has such an unrealistic view of her talents and career potential, is now a generic young and beautiful woman with fabulous moves and pipes, just waiting for her big break. Eddie, the smart and tough detective assigned to her case, has become a fumbling nerd who conveniently had the hots for Deloris in high school, allowing for an unpersuasive romantic subplot. Deloris' scary Italian-hood boyfriend has morphed into a comic black thug named Curtis who is so clueless that he threatens to kill Deloris in front of all the other nuns, which rather obviates his purpose. Worst of all, the film's wonderfully individuated nuns get turned into a hard-sell chorus line of cutesy women executing choreographer Anthony Van Laast's unison robotic gestures while making the ladies of "Nunsense" seem worthy of Eugene O'Neill.
Composer Alan Menken and lyricist Glenn Slater have contributed an uninspired pastiche score of smooth soul and churning disco. Slater employs repetitive rhyme schemes and shows a penchant for tiresomely silly one-joke songs, such as one in which Curtis' henchmen brag about how they will infiltrate the convent by seducing the nuns. The pop standards that Deloris reinvents as witty love songs to Christ for the choir in the film are replaced with interchangeable original numbers that lack those resonances. Only in "Raise Your Voice," the standout sequence in which Deloris whips the nuns into singing shape, do Menken and Slater deliver. Done with smarts, style, verve, and heart, it gives a glimpse of the show that could have been.
As Deloris, Patina Miller sings like a dream, looks like a million, and has confidence to spare. She's a real pro. Victoria Clark is a properly acerbic reverend mother with impeccable comic timing and genuine humanity, though Clark can't make her two awkward solos into much of anything. Kingsley Leggs is largely defeated by the buffoonish Curtis, while Chester Gregory must keep his gold-standard singing and dancing talents under wraps nearly all night as the wimpy Eddie. As two comic nuns and a timid postulant, Audrie Neenan, Sarah Bolt, and Marla Mindelle, respectively, are inferior knockoffs of Mary Wickes, Kathy Najimy, and Wendy Makkena. Demond Green manages to charm as one of Curtis' three henchmen.
Zaks keeps it all moving at a good clip on Klara Zieglerova's fast-changing set of flying pieces, which Natasha Katz lights with taste and intelligence. Lez Brotherston's costumes go far too overboard, particularly in the increasingly ridiculous glitzy nun outfits in Act 2.
There is a school of thought that says musical comedy is inherently foolish and so anything goes. But "Sister Act" wants me to care about its characters and message of love for all, and I can't do that when the show is busy condescending to those very things.
Presented by Whoopi Goldberg and Stage Entertainment, in association with the Shubert Organization and Disney Theatrical Productions, at the Broadway Theatre, 1681 Broadway, NYC. Opened April 20 for an open run. Tue., 7 p.m.; Wed.–Sat., 8 p.m.; Wed. and Sat., 2 p.m.; Sun., 3 p.m. (No performance Thu., April 21.) (212) 239-6200, (800) 432-7250, or www.telecharge.com. Casting by Telsey + Company.