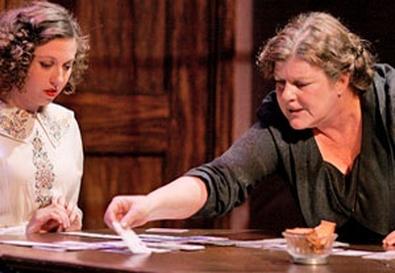 Through the thoughtfulness of playwright Wendy Kesselman and director Michael Unger, this production ideally suits Deaf West Theatre and its imaginative yet nonintrusive melding of the hearing and nonhearing worlds. Kesselman reportedly reworked her 1981 play for this company, so here the Papin sisters, working as maids in the bourgeois home of a mother and adult daughter, are deaf. The themes are of class oppression, child abuse, religiosity, and sexuality. The sexual themes concern the two sisters and their extreme obsession with each other, hinted at throughout and culminating in a somewhat graphic demonstration.
That demonstration comes near the play's end, followed by a startlingly brutal act less hinted at but not unexpected. This play is based on real-life Christine and Lea Papin and their days working together in a French home in the 1930s. The production, running two hours and sans intermission, demands a sturdy, mature audience. It also helps to know the source material in advance, so that isolated vignettes are recognizable events in the sisters' lives. Otherwise, the very leisurely build, consisting of daily routines over the passing months, can seem tedious and choppy, sometimes made more so by odd pacing on opening weekend.
The Papin sisters are portrayed with nice details by Deanne Bray as the elder Christine and Amber Zion as the younger Lea. They speak ASL, translated for the hearing audience by actors Darrin Revitz and Lindsay Evans, seated primly at the side of the stage.
Bray plays Christine with what history tells us was paranoid schizophrenia, the actor slowly gliding from tender caretaker to disdainful roommate to obsessed lover. Zion plays Lea as fresh and naive at first, then weary, and finally totally compliant in the sisters' ultimate acts. The Papins' employers are hearing, their dialogue shown to the deaf audience on supertitles. Jennifer Losi plays the daughter, with a well-honed mix of comedy and pathos, a spoiled girl but one who feels the shackles of her overbearing mother. And, in a wickedly full-blown but not overly campy portrayal, Casey Kramer is said Maman, living majestically but realistically on Tom Buderwitz's set.
Presented by and at Deaf West Theatre, 5112 Lankershim Blvd., North Hollywood. April 17–May 30. Thu.–Sat., 8 p.m.; Sun., 2 p.m. (818) 762-2773. www.deafwest.org.