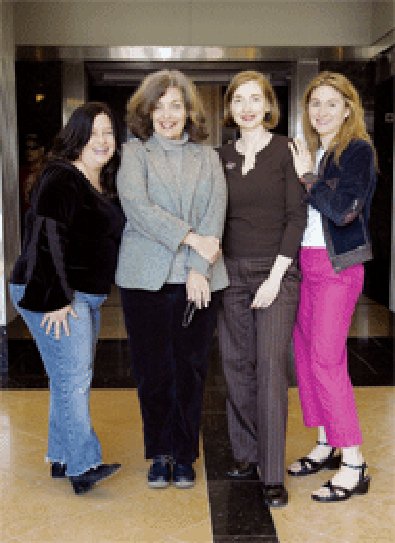 One way to measure the changing stature of American women playwrights is to count how many have won the Pulitzer Prize in drama. It's far from the only way--Lillian Hellman, Dawn Powell, and Sophie Treadwell never won one, and Tina Howe, Rebecca Gilman, Kia Corthron, Theresa Rebeck, and Bridget Carpenter still haven't--but consider these alluring statistics: Six women received the honor during the Pulitzer's first 64 years, 1917 to 1980 (one award was shared). In the 25 years since then, another six have won.
Another way to measure is by talking to actors and asking them what plays they're reading: They're reading the works of Beth Henley, Marsha Norman, Wendy Wasserstein, Paula Vogel, Margaret Edson, and Suzan-Lori Parks--the most recent crop of six. And they're reading the works of those who'll be tomorrow's Pulitzer winners: Melanie Marnich, Naomi Iizuka, Julia Jordan, Diana Son, Shirley Lauro, Alexandra Gersten-Vassilaros, Naomi Wallace, Sheila Callaghan, and Constance Congdon.
As March is Women's History Month, it seemed time to salute just a few of our nation's most intriguing women dramatists; those we feel are especially worthy of honor, discussion, and debate. Doris Baizley, Neena Beber, Joy Gregory, Rinne Groff, Jennifer Maisel, Lynn Nottage, and Sarah Ruhl have much in common, to be sure: their rich facility for humor, their laudable insistence upon casting a wide thematic net, their supreme confidence in the power of their individual voices. What stunning, wonderful voices they are.
Photo By: Jamie Painter Young
Doris Baizley: Shifting Viewpoints
"If being a political playwright means including aspects of the world in my work; meaning forces beyond a character's psychology and family; then I guess I'm a political playwright," asserts Doris Baizley. "And since I think of myself as a feminist, I suppose I'm a feminist playwright."
Nowhere is that sensibility more pronounced than in Mrs. California, a play Baizley wrote more than 20 years ago that is slated for an Off-Off-Broadway run March 15-April 1 at the 78th Street Theatre Lab. Baizley suggests that the play, a satire of conformist housewives in the 1950s, continues to resonate "if for no other reason than to show us how far we've come."
Mrs. California is one of two Baizley plays currently being mounted in New York City. Shiloh Rules, which opens at the Gene Frankel Theatre March 24, tackles such issues as race, states' rights, and the long shadow cast by the Civil War. The play presents a Civil War reenactment that ultimately pits a number of women in attendance--including a Southerner, a Northerner, and an African-American park ranger--against one another. Conflicts erupt, battle lines are drawn, and some unexpected alliances emerge. "The Civil War brings up many contemporary issues," Baizley says. "But these enactments are very funny."
A working playwright since 1973, Baizley maintains that all her plays have comic elements, from the aforementioned pieces to Tears of Rage, Guns, and her adaptation of A Christmas Carol. Her works have been produced regionally at the Mark Taper Forum, the Alabama Shakespeare Festival, and the National Theatre of the Deaf, among other venues.
She notes that her themes have remained fairly constant over the years, although she now makes a special point of "not trying to take sides in my work." Sexsting, Baizley's newest play, is a perfect example. Co-written with Susan Raffanti, a California attorney, it explores the evolving relationship between an FBI man and a suspected sex offender on the Internet, offering a not wholly unsympathetic view of a child molester and raising many questions, not least the morality of entrapment. Other issues include "the distinctions between fantasy, intention, and action," she notes.
"The men actually develop a very sweet relationship even though one is there to entrap the other," adds Baizley. "My purpose in this play--in all my plays--is to have audiences leave the theatre with a different moral point of view from the one they came in with."
--Simi Horwitz
Neena Beber: Intrigue of Implications
Neena Beber became a playwright through "a series of bad decisions," she says. Her deadpan humor is characteristic of her writing, from the poignant relationships depicted in Jump/Cut, which recently ended its Off-Broadway run at the Women's Project, to her work on the MTV animated show Daria.
Beber was always interested in writing fiction and poetry. As an undergraduate at Harvard, she took a class with William Alfred, author of the acclaimed 1965 play Hogan's Goat. Later, after a class with playwright Mac Wellman at New Dramatists, she enrolled in the dramatic writing program at New York University's Tisch School of the Arts. Later still, she became a member of New Dramatists.
Her plays often focus on decisions, especially how "people attempt to connect with each other and fail to, or do so in a way that is not what they thought it would be. I'm obsessed with the missed moment." In The Dew Point, workshopped at the 2004 Summer Play Festival in New York City, a woman sets up her best friend with her own womanizing ex. "He's a great guy, but a terrible boyfriend," Beber says. "I'm interested in the implications of what we're accountable for." In Jump/Cut, an ambitious filmmaker recalls making a documentary about his best friend's disintegration, in the process destroying his relationship with his girlfriend.
Beber knows something about that film world: She wrote the 2003 film How to Deal, starring Mandy Moore, and in addition to Daria she has written for several other children's shows, including Clarissa Explains It All and Little Bear. "I kept hearing this question on panels: Why theatre when there's film and TV?" she says. "And I thought writing about film would illuminate that--what theatre does better."
She acknowledges she writes in two styles: one with a forward-moving narrative, and one that's more poetic. The playwrights she admires include Len Jenkin, Adrienne Kennedy, Tom Stoppard, and Craig Lucas--a disparate bunch. "When I started writing TV, my plays got weirder and weirder because I didn't want to write TV plays," Beber says. What inspires her could be an image, a monologue, or "a story I can't get my brain around." A Common Vision, about a psychologist who believes his patients have been abducted by aliens, was partly inspired by an account of a woman seen floating over the East River. A play she's working on for the Cleveland Play House--a commission from the Sloan Foundation--was inspired by a spiritualist exhibition at the Metropolitan Museum of Art.
Sometimes those interests linger. "I often find myself doing research for a play I finished five years ago," Beber says with a wry smile.
--Gwen Orel
Photo By: Jamie Painter Young
Joy Gregory: Permission to Write
The heroines of Joy Gregory's plays have been silenced or overlooked and are struggling to be heard. Take, for instance, the tongue-tied sister in Gregory's musical tribute to a late-'60s sister band, The Shaggs: Philosophy of the World. Or take Charlotte Brontë, gentle dreamer of Dear Charlotte. Yes, Gregory is well aware that her oeuvre is bio-plays, although they have what she calls fragmented, nonrealistic, metaphoric gesture. "Anything that uses high artifice to get to a deeper, kind of bedrock emotional truth, that always rocks my world," she says. So when this holder of an MFA in critical studies teaches, she advises her students, "Get out of your own way and give yourself permission to write."
Currently based in Los Angeles, Gregory was a co-founder of Chicago's Lookingglass Theatre Company in 1988, where she premiered much of her early work. In 2002, her play Last Wooden Rollercoaster in the Midwest was a finalist for the Actors Theatre of Louisville's Heideman Award. Dear Charlotte received a Meritorious Playwriting Award at the 2000 Kennedy Center American College Theater Festival. The Shaggs: Philosophy of the World, developed through A.S.K. Theater Projects, premiered at [Inside] the Ford in L.A., then traveled to the New York Musical Theatre Festival.
Still, Gregory has felt the heartbreak and discouragement of rejection. One helping hand came from the director of The Shaggs, John Langs. She wanted Act II to fall apart, just as the band's songs did, but he urged a coherent ending. "My work took this step," she says of the play's subsequent acclaim. "And then I didn't have to fight so hard to get noticed."
Nostalgically she recalls working on her early play All Souls Day, an experience she calls charmed because "it was a high-wire act with no time to think about the possibility of failure." And now she wonders, "Am I going to watch my daughter have that first high of her creative experience when she's in her 20s, and will I be wise enough not to name it for her and kill it?" Again, she urges writers, "Just close your eyes and go. You'll have plenty of time to think about it analytically later."
--Dany Margolies
Photo By: Jamie Painter Young
Rinne Groff: The Big Dig
Rinne Groff is on the verge of euphoria. Her play The Ruby Sunrise recently had an Off-Broadway production at the Public Theater in New York City, and she is a new staff writer for the Showtime series Weeds, starring Mary-Louise Parker. She's working on an adaptation of the Louise Erdrich novel The Master Butchers Singing Club--a commission from the Guthrie Theater--and she's co-teaching a class at New York University with the Public's artistic director, Oskar Eustis. On top of all that, she's a newlywed.
Her characters are usually less happy. In The Ruby Sunrise, Ruby invents a prototype of television but never sees her vision fulfilled. Twenty-five years later, her daughter, Lulu, deals with blacklisting as she tries to get her mother's story told. In Orange Lemon Egg Canary, Trilby, a magician's assistant, strives to learn a dangerous trick from her magician boyfriend, known as Great, and to heal the wounds of a ghost.
"I'm interested in America, in our history, our place in the world as citizens," Groff says. "For me, the big questions of life and art are how do you move forward, how do you live, decide what to do next?"
Groff's characters dig into the past to find out something about the present. "I like to do a bunch of research," she explains. "I often start with an idea of a story but not a clear sense of where the story is. When I feel like I know what the story is, I stop reading." In addition to adapting Erdrich's novel, which takes place from the end of World War I to after World War II, Groff plans to research an original historical play: "It's set in the 1950s, where Ruby Sunrise is also set, though it's a different story. It's about a writer who is interested in adapting a story for the stage. A lot of litigation comes out of it. As a writer, I always face that question: Do I have the right to tell this story?"
Groff's own background includes experimental theatre. She first came to New York to pursue acting, and she still works with Elevator Repair Service, the theatre company she co-founded in 1991. "In a way I fell into playwriting through my work with Elevator Repair Service," she says. "I did a little bit of solo performance, which was thrilling and terrifying, and that was also the moment I figured out that I relished the writing more than the performing."
--Gwen Orel
Jennifer Maisel: Darkness Into Light
"What's with the adjectives?" asks Jennifer Maisel. She likes Back Stage's description of her work as "dark surrealism." But "woman playwright" and "Jewish playwright" don't seem right to her. "Are you going to be doing an article on male playwrights?" she queries.
Honors have not eluded the Los Angeles-based Maisel. Goody Fucking Two Shoes was a finalist for the Actors Theatre of Louisville's Heideman Award and was produced at that theatre's 2005 Humana Festival of New American Plays. The Last Seder won her the Charlotte Woolard Award for most promising new writer and the Fund for New American Plays Award from the Kennedy Center; it was produced at Chicago's Organic Theater and Washington, D.C.'s Theatre J, and its screen adaptation won Showtime's Tony Cox Screenwriting Award at the Nantucket Film Festival. Her work has won the California Playwrights Competition at South Coast Repertory, the Center Theatre International Playwrights Competition, and the Roger L. Stevens Award from the Fund for New American Plays.
So where are the major productions of her work? "We will say that I haven't had as many productions as I would hope, given the awards," she says. "Maybe dark surrealism doesn't necessarily fly?"
Notice that "we" she speaks of? It's a tendency Maisel says she has had since childhood to think in the third person--a surefire clue that writing was her destiny. Born and raised on the East Coast, she came to L.A. to study theatre with Padua Playwrights and stayed. To press forward, keep her skills up, and network, she belongs to playwrights' groups: Dog Ear and Playwrights Ink nowadays, previously the Wilton Project and Circle Rising.
Currently she's struggling with a play about a woman working on the Mars Exploration Rover mission who is trying so hard to deal with communications technology that she loses her daughter. It's based on real-life issues facing the Rover scientists. "I thought it was insanely theatrical. And I was right about the insane part," says the stymied Maisel. And she has a few musicals on back burners. Happy musicals? "Oh, no," she exclaims. Where's the dark surrealism in that?
--Dany Margolies
Lynn Nottage: Resisting the Reductive
Lynn Nottage says a recurring issue in her plays is "characters grappling with identity and seeking self-definition." Nottage, who is black, is deeply committed to presenting a multicultural view of the world on stage.
"The stage is the last bastion of segregation," declares Nottage. "The theatre should reflect America as it's lived in today. And that is a multicultural America. It's very important for me to have dialogues across racial lines."
A case in point is her play Intimate Apparel, which ran Off-Broadway in 2004. Set in early 20th-century New York, it depicts the life of a lonely African-American seamstress, along with the upper-crust whites she works for and an Orthodox Jew, one of the most sympathetic figures in the play. In Nottage's Crumbs From the Table of Joy, a family drama set in 1950s Brooklyn, a German refugee appears in an African-American home and finds herself almost as marginalized as her hosts.
In Las Meninas, a comedy inspired by the real-life affair between the 17th-century French queen Marie-Thérèse and her African servant, a dwarf named Nabo, both characters are given equal time, as it were. The events unfold at the court of King Louis XIV, and while Nabo is the ultimate outsider by virtue of his race, deformity, and social status, "the queen of France is not empowered either," Nottage points out. Their positions in the world are "what draw the two together."
There is no special pleading in Nottage's plays. Whites or blacks may be the heavies. In Intimate Apparel, for example, an African-American man is presented as a villain who steals from and abandons his wife. "Like Alice Walker and Toni Morrison, I try to balance reality with how we'd like the world to be," Nottage says.
Among her honors are two AT&T OnStage Awards and a Heideman Award; she was also a finalist for the Susan Smith Blackburn Prize. Her plays have appeared in theatres from coast to coast, including Actors Theatre of Louisville, the Oregon Shakespeare Festival, South Coast Repertory, and Steppenwolf Theatre Company.
Nottage says her plays have grown more pessimistic: "My later plays are tempered by the world we live in. I've written some political plays, and by virtue of telling untold stories I'm a political playwright. But I still find the term 'political' reductive."
--Simi Horwitz
Sarah Ruhl: Fantastical Fascinations
It's hard to categorize the work of 31-year-old Sarah Ruhl, whose plays have been produced at major regional theatres across the country, including Arena Stage, Yale Repertory Theatre, South Coast Repertory, and the Goodman Theatre. Some of her works evoke Kafka and Ionesco; in others, myths serve as springboards for reexamination and reinvention. Consider Ruhl's Eurydice, a retelling of the Orpheus myth from the woman's viewpoint. All of Ruhl's plays deal with such themes as love and death.
Even The Clean House embodies those heady topics--in addition to the psychodynamics of housework. Slated for a run at Lincoln Center Theater this fall, the play "started out as a political work about class and ethnicity," notes Ruhl, who is based in Los Angeles. "The point of departure was a fragment of conversation I overheard among a group of doctors. One of the doctors said her Brazilian housekeeper was so depressed, she didn't do the housework, and she, the doctor, had to do her own housework. The doctor then said she didn't go to medical school all these years to do housework and she admitted prescribing Prozac for the housekeeper."
The doctor's comment piqued Ruhl's curiosity: Just how does the medical profession diagnose and treat depression? As the work evolved, however, other issues came into play: "The emotional terrain surrounding cleaning is very deep" and has not been explored in the theatre before, she says. The Clean House won the Susan Smith Blackburn Prize in 2004 and was a Pulitzer Prize finalist in 2005.
Before The Clean House, Ruhl was perhaps best known for Passion Play, a three-part epic that looks at the medieval dramatic form through different periods: Protestant England in 1575, Nazi Germany in 1934, and a South Dakota town from the 1960s to today. The play dramatizes how "the boundaries between life and art are blurry," she says. All the characters, who depict biblical figures, learn how much they reflect and depart from their onstage alter egos.
Ruhl was recently commissioned by Los Angeles' Cornerstone Theater Company to write Healthy Start, a play loosely inspired by interviews with women in addiction centers who are trying to get their children back. It uses the mother-daughter figures of Demeter and Persephone as a launching pad.
"I hope audiences have experiences at my plays that they may not understand," says Ruhl. "Playwrights are always asking themselves, 'Is that clear?' and 'What did you take away from the play?' as if it were a doggy bag. The questions we should be asking are 'What wasn't clear but was fascinating to you?' "
--Simi Horwitz