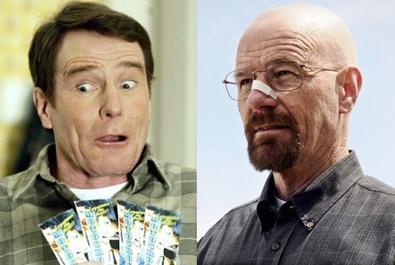 It's easy to forget that our favorite comedians can rock the heavy stuff, too! The best actors make us laugh and cry (sometimes in the same breath), and can move seamlessly from genre to genre. Here are 12 sitcom stars who have (impressively) transitioned from comedy to drama.
Bryan Cranston
Well before his groundbreaking role in "Breaking Bad," Cranston killed it as goofball patriarch Hal on the Fox sitcom "Malcolm in the Middle." Cranston also stretched his comedy chops in the mid '90s as Jerry's dentist (and nemesis) Dr. Whatley on several episodes of "Seinfeld," and even helped coin the term "re-gifting" when his character repurposed a label maker given to him by Elaine.
Sarah Silverman
An undeniable funny lady, Silverman takes a serious turn in the film "I Smile Back," in which she battles (many) demons as a troubled, depressed, and drug addled suburban mom. Though she's flirted with drama in the past (including a recurring role on "Masters of Sex"), Silverman is best known for her no-holds-barred stand-up comedy and her Comedy Central sitcom "The Sarah Silverman Program."
Robin Williams
This beloved stand up comedian and star of screens small and large had an inimitable ability to move between genres. He was unforgettably goofy as alien Mork on the hit TV show "Mork & Mindy" and unforgettably inspiring as world's best English teacher in the classic film "Dead Poets Society." The actor's filmography impressively jumps from sketch to sitcom to award-winning indies, and Williams' varied characters showcased his versatility, intelligence, and heart.
Steve Carell
Known as the painfully awkward (and hilarious) boss Michael Scott on "The Office" and for his work on "The Daily Show with Jon Stewart," Carell shows his serious side with films "Dan in Real Life" "The Way Way Back," and "Little Miss Sunshine," among others. Carell recently earned an Oscar nomination for his dramatic work in 2014's "Foxcatcher," in which he wowed audiences with his physical and emotional transformation into the real-life crazed wrestling devotee John du Pont.
Will Smith
Talk about multi-talented! Smith first made a name for himself as a rapper in the 1980s, before taking over the airwaves with his long-running sitcom "The Fresh Prince of Bel-Air." The eminently charming actor has not stopped working since, and brings lightness and humor to even the darkest of roles. In addition to comedy classics like "Men in Black" and impressive collection of action flicks, Smith has stunned in dramas including "The Pursuit of Happyness," "I Am Legend," and "Seven Pounds."
Debra Messing
Messing rose to super-stardom on "Will & Grace" as one-half of the lovable pair, but her eight-season sitcom stint has hardly limited her choice of roles. Messing earned rave reviews for her work on dramedy "The Starter Wife" after "Will & Grace" ended, and was part of hit show "Smash" from its first season. She currently headlines "The Mysteries of Laura," an NBC police procedural that shows off Messing's dramatic chops as a homicide detective raising twin boys on her own.
Donal Logue
A long-time film and television character actor across multiple genres, Logue became a household name in 2001 when he played young Staten Island dad Sean Finnerty on the hit sitcom "Grounded for Life." The funny family show ran for five years, but Logue quickly returned to drama after its demise with regular roles on the NBC series "Life" and FX's "Terriers." The versatile (and busy) actor can also be seen on dramatic TV shows "Sons of Anarchy," "Vikings," and "Copper," and plays bad guy Harvey Bullock on "Gotham."
Katey Sagal
This powerhouse actor couldn't have taken more of a departure from her "Married with Children" days. After 11 seasons as the hilariously lazy Peggy Bundy on the hit sitcom, Sagal shocked audiences as a different sort of wife; the actor plays ruthless biker gang matriarch Gemma Teller Morrow on the FX series "Sons of Anarchy." Sagal is as stunning in her Golden Globe Award-winning dramatic turn as she was on numerous sitcoms, including "8 Simple Rules" and the animated series "Futurama."
Jason Segel
Segel got his start on Judd Apatow's teen series "Freaks and Geeks" in 1999, and has since played dozens of film and television roles that utilize his comedic strengths—most famously, on the CBS sitcom "How I Met Your Mother." But the actor also shows a dramatic range beyond his goofball type; he played starring roles in light hearted drama-comedies including "I Love You, Man," "Forgetting Sarah Marshall" (which he also penned), and "Jeff, Who Lives at Home," and received major acclaim for his recent transformative turn as author David Foster Wallace in "The End of Tour."
Joseph Gordon-Levitt
In addition to six seasons (and over 130 episodes) on the 1990s sitcom "Third Rock From the Sun," Gordon-Levitt made an early name for himself on tv comedies including "The Powers That Be," and "Roseanne." The actor has been balancing serious and light-hearted fare ever since, and is equally convincing in dramas ("The Dark Night Rises," "Brick"), thrillers ("Inception," "Looper"), and light-hearted comedies ("10 Things I Hate About You," "Don Jon").
Bebe Neuwirth
A top-level talent on the stage and screen, Neuwirth can do it all. She first rose to fame as the ice cold Dr. Lilith Sternin on NBC sitcoms "Cheers" and its spin-off "Frasier," and has since worked regularly on episodic television, in film, and on Broadway. Among her dramatic roles are A.D.A. Tracey Kibre on the short-lived "Law & Order: Trial by Jury," and Chief of Staff Nadine Tolliver on "Madam Secretary."
John Goodman
Goodman may forever be associated with his nine-year run as Dan Conner on "Roseanne," but with over 90 feature films to his name it's safe to say he's worked beyond the realm of sitcom. His roles vary tremendously—unsurprising, considering their breadth—but the actor's keen sense of humor comes into play even with his most dramatic work. As beloved for playing Linda Tripp on "SNL," as for his roles in "Argo" and "The Artist," Goodman proves that sitcom is a sturdy artistic launch pad.
Inspired by this post? Check out our audition listings!