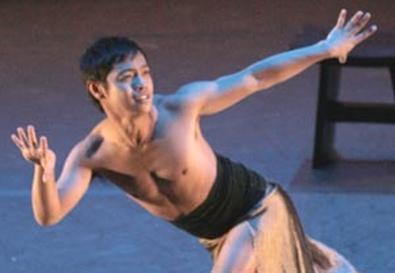 Do you feel that your height, size, ethnicity, or idiosyncratic dancing style may be preventing you from having a successful dance career? Do you feel that despite your talent, you are consistently overlooked at auditions for concert dance companies? Then you may be just the kind of dancer
Roberto Villanueva
is seeking for his
BalaSole Dance Company
.
Born and raised in the Philippines and a graduate of the dance program at the University at Buffalo, Villanueva trained as a scholarship student at the Ailey School and has performed, judged, and taught throughout the U.S. for
Dance Masters of America
. He is also a certified fitness and Pilates instructor. Though he has performed with such contemporary companies as Complexions, Alpha Omega Theatrical Dance Company, Pick of the Crop Dance, and the Buffalo City Ballet, Villanueva always felt that his professional career was limited by his very small build and his height of 5 feet 2.5 inches.
"When I started auditioning in New York in my early 20s, I was rejected many times," Villanueva says. "I would walk into auditions and get typed out before even getting to do anything. I can respect that companies have certain requirements and need to fulfill certain looks, but I thought, 'Where does that leave me?' "
Villanueva soon discovered that his best route to getting professional work was not through auditions but through dance classes. "I learned that taking master classes was my outlet," he says. "It was there that I got the chance to show a teacher or choreographer what I could do. They would see me dancing in class and then come up to me afterwards and ask if I was interested in a job."
A Mentor With a Mission
In 2010, Villanueva founded the New York–based BalaSole Dance Company with the mission of showcasing dancers, like him, whose types are underrepresented in professional companies. His mission also includes mentoring such dancers in the development of their own individual artistic voices.
The company presents periodic concerts in which about 10 diverse dancers are each given the opportunity to perform a solo of their choreography, on which they have been coached by Villanueva in four areas. He works with the dancers on the substance (or movement vocabulary) of the choreography, on their performance technique, and on passion and ownership, two qualities that he admits are virtually "unteachable" but that are primarily what he looks for when choosing dancers. Villanueva's mentoring also includes workshops on injury prevention and career planning. Additionally, he works with the dancers on ensemble work and what he calls "team building." To that end, the assorted solos are bookended by two pieces of group choreography created collaboratively by the soloists featured in each concert.
So as to fill the gaps left by other companies and to introduce the public to as many different gifted dancers as possible, Villanueva selects a new cast for each of his four-per-year concerts. The company has presented three concerts since its premiere last summer and will next perform July 28–30 at
Manhattan's Dance Theater Workshop
. In August, Villanueva will hold auditions for a concert to be presented in October or November.
He compares the dancers he selects for his concerts to musical instruments: "In an orchestra, each instrument looks very different and serves a different purpose. But each instrument should be celebrated for the unique sound it creates. So in dance, I believe that each body is a valid instrument and the artistic voice each body creates should be celebrated."
While most of the soloists choreograph their own pieces, Villanueva also includes dancers who perform work by other choreographers, "because I know not all dance artists are choreographers, and I didn't want to exclude any of them," he says. Though Villanueva is a contemporary dancer, his concerts include dancers who work in a broad spectrum of styles, from classical to jazz and popular dance forms.
He also looks to feature choreography that addresses a variety of topics, set to all kinds of music and performed by dancers of various shapes, sizes, ages, and backgrounds. For example, his winter concert this year included a solo by
Richard Yé
that referenced a wide array of well-known dancers, works, and styles, including Gene Kelly's solo dancing in "An American in Paris," the opening audition sequence in Bob Fosse's "All That Jazz," Latin and street dance forms, and a hilarious homage to ballet legend Rudolf Nureyev performing the solo from "Le Corsaire." The concert also included contemporary dance works set to music by such varied artists as the Beatles, Björk, Sting, Bach, Schubert, and Chopin.
Those interested in auditioning for BalaSole Dance Company can find further information at www.balasoledance.org.