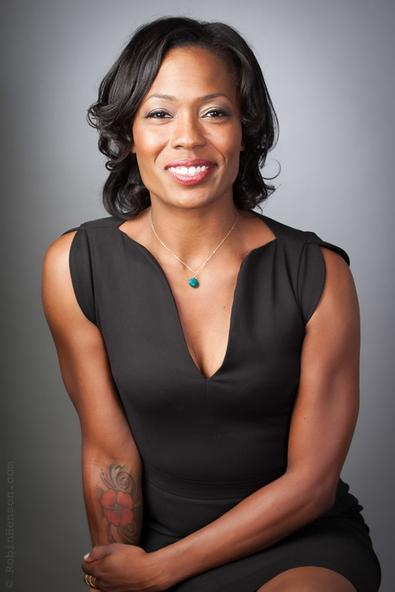 "Straight Outta Compton" might have blown up 2015 box offices, but Compton-raised stuntwoman Damita Jane has been taking it to Hollywood since 2008.
Known to roller derby league Atlanta Rollergirls as the formidable Sk8 Outta Compton, Jane skated into stunt work long before the movie industry descended upon Georgia. With no black stuntwomen in Hollywood who knew roller derby, Jane was flown to Michigan to double Eve in Drew Barrymore's 2009 film "Whip It". By the time that movie wrapped, Jane had no trouble finding work in her home state.
"When I returned from shooting that movie, I immediately started training in stunts, thinking at some point maybe I'd get to go out to Hollywood and do movies," Jane recalls. "Then Hollywood came to me!"
With numerous movies shooting in Atlanta upon her return, it didn't take long before "Whip It" stunt coordinator Jeff Dashnaw introduced her to a stunt coordinator for "Zombieland," and Jane soon found herself running from zombies. "I learned a hard lesson on that one, which was, always answer your phone," she says. "I worked one day and was so tired the next day after working for 17 hours, I decided to turn off my phone. I didn't know you're always on call in this industry and I missed a call to work on 'Zombieland' the following day. I've answered my phone every single time since."
Jane has received calls to double for Victoria Rowell in a "Single Ladies" fight scene, worked on numerous sitcoms for Tyler Perry Studios, and done stunt work on Georgia-filmed projects such as "The Vampire Diaries," "The Originals," "Selma," "Furious 7," and parts one and two of "The Hunger Games: Mockingjay." Jane also has a regular role doubling Danai Gurira (who does many of her own stunts and sword fighting) on "The Walking Dead".
"The one person I've always wanted to double is Angela Bassett, and I got to do that on 'American Horror Story,' " she says. "I fell down a flight of stairs for her and Kathy Bates was freaked out after I fell. She needed 10 minutes to gather herself."
Despite the influx of filming in Atlanta, Jane has spent much of this year filming in Louisiana, where she did stunt work on upcoming TV and film projects such as "Scream Queens" and "Keanu." Back home, she's also worked on the Atlanta-filmed "Goosebumps," the Savannah-shot "The Birth of a Nation," and the recent HBO film "Bessie" starring Queen Latifah.
"Before we did the stunt, she asked me if my hair was real or if it was a wig," Jane recalls of working with Latifah. "I thought she was going to be careful with me because it was my real hair, but she actually wanted to confirm that when she grabbed me, it wasn't going to come off. She actually picked me up by my hair and threw me on the ground. I played her husband's lover."
Jane continues to expand her skills by taking combat classes, stunt driving, and other specialized areas of athleticism. She's also working on a website where she can showcase her stunt footage. Her next goal, however, is to get into stunt acting, which will open even more possibilities for this multitalented performer. For others looking to parlay their physical abilities into film careers, Jane suggests getting acting credits first.
"Become a member of the Screen Actors Guild, somehow, some way," she says. "You have to do that by actually working on a show, the same route that actors go. Otherwise, if you have a skill set that no one else has and a stunt coordinator needs that skill set, that's a way to get in. Stunt people usually don't have agents, unless we're stunt actors. So, it's important to get to know stunt people and stunt coordinators."
Inspired by this post? Check out our Atlanta audition listings!