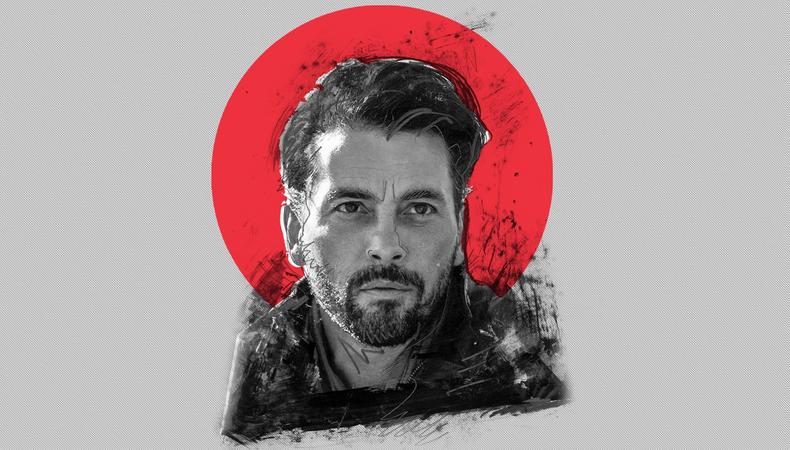 When Skeet Ulrich was offered the part of FP Jones, Jughead's estranged father in the first season of the CW's Archie comics–based "Riverdale," he was admittedly reluctant. But it didn't take long for the NYU-trained actor from North Carolina who shot to fame in the 1990s after his role as Billy Loomis in Wes Craven's slasher classic "Scream" to get on board with the teen-geared show.
"It was so well-written and, for me, if I read something that I can't stop thinking about, I have to do it," says Ulrich, who has been promoted to series regular in Season 2, which premieres Oct. 11.
Here, he discusses the show, why acting is still exciting, and the nightmare of auditioning.
Tell us a little bit about FP.
I think he's a badass! To me, he represents the steelworkers, the coal miners, and every blue-collar worker who can't afford to get out of a trailer, but is still working hard and trying with all their might to protect their family and the things they love. He's sort of left to do things outside of legal means sometimes to protect his family.
What has the role added to your acting skills?
I've found it incredibly fun to work toward moments that are so real that the person you're working with cannot help but act in a very human way. Working with a younger cast, you get to really test it, and it's been interesting to come at things from that perspective. I think it's why people love seeing Cole [Sprouse, who plays Jughead] and I together. He's very present, has very clear notions of his character and what he wants to do, and sometimes we rattle that cage a little bit together and we both come up with things that we never expected.
You've been acting since you were in your early 20s. What advice would you give your younger self?
Well, I never viewed acting as a business. I never thought of it as a competition. To me, it was—and still is—an art form. But I probably wouldn't have struggled as much in the second decade of my career had I been more aware of what was required business-wise and how to play that correctly. To some extent, when you're young and you get successful, it's easy to think it's going to last forever, and you don't realize what a roller coaster it is.
Do you have any audition horror stories?
[Laughs] Definitely when I auditioned for "Mars Attacks!" I don't understand why they pick battle scenes for audition scenes. I mean, how in the world are you expected to come in and pretend that you're firing weapons and have all these heated battles in this tiny little room with nothing? I remember at one point diving behind a desk in the audition. I've never been so embarrassed. Even now, I wouldn't know how to approach a scene like that in an audition room. And I really do not get why anyone would put that on an actor.
How do you prepare for an audition?
Has that process changed over the years? I hate the process of auditioning. I think it's the toughest part of the business. The limitations of the room, the brevity of the meeting—all that stuff works against you. So I don't know that I've figured out how to audition well. In fact, I think I'm not very good at it, and I'm always very grateful when someone just offers something so I don't have to go through that process. [Laughs] But I prepare as if I'm already hired and I'm going to set that day to work on it.
What's a movie every actor should watch?
I love John Cassavetes' "Opening Night." It's such a beautiful movie, and Gena Rowlands is so tortured in it and gives a brilliant performance. She is just one of the best actors that I've ever seen. She and Cassavetes understood how we diffuse emotion through most of our daily lives. We don't want to feel most of the time, and we certainly don't want to feel negative emotions throughout the day, and she just had a way of doing it where you knew what she was feeling but she was trying not to feel it. That just always struck a chord with me, and it's something I try and work toward.
What still excites you about your job?
I absolutely love acting, and I spend a lot of time reading about it and trying to get better and better and educate myself more and more. It's just a passion. I love the homework, the nerves, and excitement of presenting the work. I love the collaboration, working with the camera guys. I find every bit of it exciting. It's never the same day to day and that gets me out of bed, certainly. When I was at NYU, I'll never forget Clark Gregg saying, "You have to find something fun in every little scene," something that excites you to get through the parts that may be boring to you, whatever it is.
Do you have a go-to song or playlist to get you in the zone?
I love finding the music for each individual role. Pearl Jam's probably lasted most of my career in terms of always being something I can go to. I was using them two days ago on "Riverdale." It just gets me fired up and it reminds me of my roots, which are very similar to FP's roots.
What comes to mind immediately when you think of "Scream"?
Just the process of getting ready for that part. I had just finished my first leading film role, in Paul Schrader's "Touch." In that, I played the second coming of Christ in modern-day L.A., and it was a character that was so peaceful and open and loving. Literally two days later, I'm off to play this psychotic killer in "Scream." I was fortunate to have two rooms at the hotel while filming—a suite and a bedroom—and I just turned the suite into Billy's room and just slept in the other room. I went straight to the mall and bought black lights and all the industrial music and hard-rock posters I could find and turned it into this 17-year-old kid's room. I read everything I could about John Wayne Gacy and serial killers and that mentality, trying to get ready for it in a very short amount of time.
What's been your favorite role as an actor?
Brian David Mitchell in Lifetime's "I am Elizabeth Smart" was one. It was something that took me two weeks to decide on, and I'm proud of it. It's a very gritty, dark story and I had nightmares every night making it. But when I look at it, I say, "OK, I achieved what I was trying to achieve there."
Check out Backstage's TV audition listings!