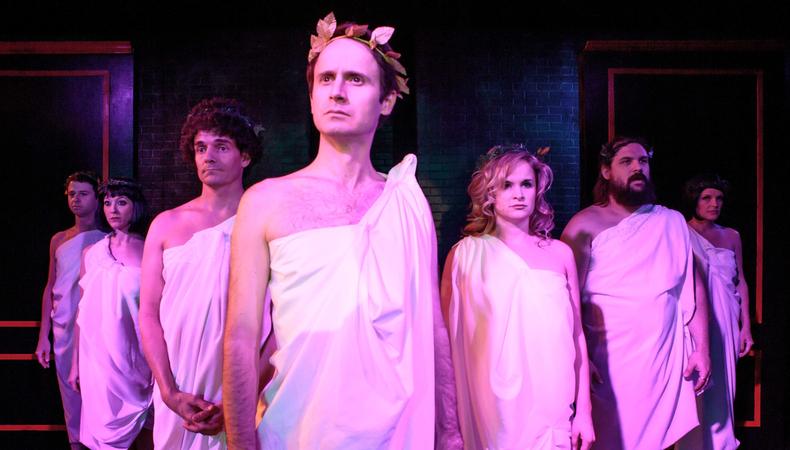 The graphic design for legendary producer Matty Simmons' "Sketches From the National Lampoon" says it all. Based on the now-defunct magazine's most infamous cover, it features a sweet-faced dog looking sideways at a handgun against its head. The accompanying copy reads: "See the Show, Save the Dog." Gratefully, on the cover of the production's program, the same photo reassures: "You Came. He Lives."
Such is the ridiculously skewed humor that instantly comes to mind remembering the years when National Lampoon, both in print and on the silver screen, never missed offending anyone who could be targeted. At the beginning of the revue, director and ensemble member Pat Towne talks about powering off cell phones and asks anyone who finds the material so prurient that he or she needs to make a quick exit to please wait until the end of the sketch before rushing for the lobby.
Although rampant departures didn't happen opening night, attempts to offend regardless of age, race, religion, and sexual orientation commenced immediately. Towne sits at a desk as the host of a cable show giving fatherly advice such as the suggestion that when speaking to an adoption agency, it's best not to say you're looking for an 11-year-old who's good in bed. He also serves as recurring host of a PBS series called "Scenes From Great Literary Classics." Stanley Kowalski shouts "Stella!" only to ask for her to throw down his car keys. Two spotlighted empty chairs and the sound of Big Ben are all that interpret a passage from Ernest Hemingway's "For Whom the Bell Tolls." Towne revels in his own handiwork, gloriously deadpanning as he delivers anecdotes about the literary legends the show features, including the fascinating tidbit that Tennessee Williams once dated Joan Crawford before he found out she was a girl.
What is billed as the Richard Levinson Orchestra is soon revealed to be Levinson himself seated at a lone piano, accompanying Darrin Revitz' heartfelt delivery of Levinson's "The First Boy," whose next words are "that I blow." The rubber-faced Jesse Merlin needs to do very little but stare forward as he plays a poor schlub who periodically returns to ruminate about a fondness for playing with dead pigeons and his attraction to his wife's mother, who smells tantalizingly like Vanilla Ensure. John Milhiser is perfect as Wolf Blitzer on "The Situation Room" revealing that it's just in from London that Mick Jagger has "worn out his dick." Henry Dittman is a standout as a dad hearing his kid's coming-out confession, blurting, "The son of a man who's had Dodger tickets for 26 years is a gay?"
"Sketches From the National Lampoon" is simply a series of revisited goofy blackout skits, no doubt. It has no redeeming social value whatsoever, but Towne and his game ensemble succeed splendidly for one obvious reason: their unwavering commitment to cheerfully eliminate every chance of propriety through impressive dedication to the delightfully outrageous material.
Presented by Matty Simmons at the Hayworth Theatre, 2511 Wilshire Blvd., L.A. Feb. 15–March 17. (800) 838-3006, (323) 337-1546, or www.brownpapertickets.com.
Critic's Score: A