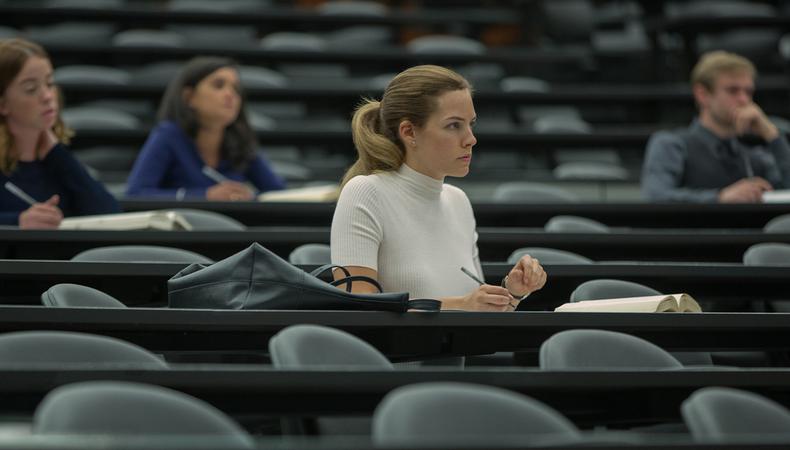 "It's kind of hard to say no when Steven Soderbergh asks you to direct your own television show," says Amy Seimetz, who also produces, writes, and appears in "The Girlfriend Experience," a 13-episode Starz drama loosely based on Soderbergh's 2009 film starring Sasha Grey.
Although not yet a household name, Seimetz was handpicked by Soderbergh—along with Lodge Kerrigan, an indie director with a TV background (he directed episodes of "Homeland" and "The Americans")—to create the series, which follows an ambitious law student (Riley Keough) navigating the dark, challenging, but sometimes rewarding terrain of high-end escorting. How did Seimetz get the gig? She pretty much can do, and does, everything.
"[Soderbergh] selected people who were scrappy and really understood how to make money stretch," she explains. "He wanted to bring auteur-driven films to television, keeping in trend with what's happening right now in television." Seimetz is decidedly modest when speaking about landing the opportunity, asserting that her experience is "an anomaly." But that doesn't mean she's undeserving; despite having worked in the industry for only about a decade, her helming "The Girlfriend Experience" comes down to anything but luck.
In 2012, Seimetz debuted "Sun Don't Shine," a Bonnie and Clyde story about a couple driving to St. Petersburg, Florida, with a dead body in their car, at SXSW. The film was critically adored, a remarkable and confident first feature from a talent who had, up until then, mostly worked in front of the camera. But the chance to spearhead her own project and control every aspect of production was hard-earned. Seimetz, like many artists, began as an eager and restless student who, lacking financial resources, became proficient in every aspect of filmmaking.
"I quickly learned that the only way to really learn, especially the kind of filmmaking that I wanted to do, the stories that only I wanted to tell, was to just pick up a camera...wrangle a group of people together, and go and shoot a movie."
So Seimetz dropped out of school, picked up a few cameras, learned how to edit and do sound, and ended up in rooms with people who would become both friends and collaborators. "I think the people I grew up in filmmaking with—Joe Swanberg, Adam Wingard, Ti West, and Lena Dunham—ended up being in each other's films because we were all taking a camera and shooting and we were all wanting to make the stories we wanted to make," she says. "We weren't waiting for Hollywood to knock on our door."
Before "Sun Don't Shine," Seimetz appeared in Dunham's first feature, "Tiny Furniture," and assumed various roles to help Swanberg make "Silver Bullets." She also starred alongside Shane Carruth in his "Upstream Color" and played a substantial role on "The Killing."
Ultimately, her experiences proved useful in directing, co-writing, co-producing, and co-starring in "The Girlfriend Experience." "I guess the advantage that I have is because I'm not just a director and because I'm not just an actor or writer, I'm not constantly waiting for something to happen. I have all of these tools in the back of my head. It's, like, Oh, if this doesn't work out, I'll just work on another script that I know I can execute and shoot for a certain budget."
Learning those skills has clearly paid off. Seimetz is currently working on her strangest, largest role yet: acting in Ridley Scott's "Alien: Covenant," out in 2017.
"I feel like I'm a bit of a spy," she jokes. "For me, I haven't thought that big before only because my brain has always been, like, What can I make that's in front of me right now? Right now I get to go onto a set that's so huge and learn how to do that, which was never part of my possibilities in the past."
Like this interview? Check out more from creators and Meet the Maker!