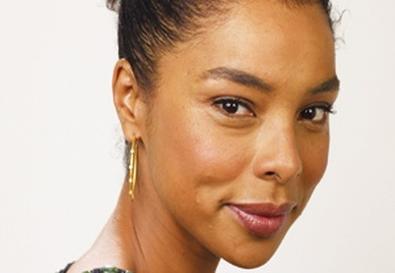 Playing a biographical figure poses a host of challenges—most pointedly accuracy, or at least capturing the person's essence. Sophie Okonedo doesn't dispute that, though she insists mimicry is not her style and in the end the script is her bible. In her latest film, the weird and disturbing "Skin," she plays the still-living Sandra Laing, a woman of mixed heritage. Set in apartheid-era South Africa, it recounts the tormented experiences of a black child born to two white Afrikaners who are unaware of their black ancestry and determined to raise their child as a Caucasian. Sandra has no idea she is black—or even of mixed race—until she is 10 years old and brutalized and ostracized at the white school she attends. The film follows Sandra's 30-year journey, including her love affair with an abusive black man, estrangement from her parents, and ultimate reconciliation with her mother.
Okonedo met with Laing briefly before the start of filming and admits she found her subject very shy. Still, Okonedo tried to get the accent down pat, a none-too-easy feat despite working with a coach. "I was doing a white Afrikaner accent, and that accent varies with the kind of English that is spoken," says Okonedo. "English is their second language." Accents and dialects aside, "it's always a challenge playing someone from a different country," continues the London native, who is perhaps best known for her moving portrayal of the empathetic sister in "The Secret Life of Bees," starring Queen Latifah, Alicia Keys, and Jennifer Hudson. "Though we're all human, there are such cultural differences."
Okonedo researched the culture, politics, and history of South Africa to get a sense of Sandra's universe. At the same time she was mindful of Sandra's isolation from her world for the first 10 years of her life. "In many ways Sandra lived in a bubble," says Okonedo. "She thinks she's one thing, and she's another. There was no one I could relate her story to. It's such a unique story. Still, one can relate to the great themes of the film: being estranged from one's parents, abandonment, and identity issues that we've all suffered through at a certain age." Like Laing, Okonedo is racially mixed. Her father is black and her mother Jewish.
A major acting challenge was playing a character who is almost totally passive. "A lot of things happen to her, and she reacts, rather than instigating anything," says Okonedo, who insists her approach to acting varies with the role and the material. Indeed, her process is almost a mystery, she admits. "I learn my lines, I turn up, and something happens, but I don't feel I have much to do with it. Sometimes I do research. Sometimes I don't do research. The end result is they say, 'Action,' and something happens."
Clearly, Okonedo's method has worked. She has been steadily employed as an actor—never having to take a day job—and has appeared in a number of high-profile projects including "Hotel Rwanda," playing opposite Don Cheadle; "Born With Two Mothers"; and "Tsunami: The Aftermath," earning her several accolades, including a Golden Globe nomination.
'Made It'
The actor has had many "royals" in her life. After graduating from the Royal Academy of Dramatic Arts in London, Okonedo launched her career with the Royal Shakespeare Company, and two years later she began her ongoing association with (yes, another "royal") the Royal Court Theatre, with which she has appeared in more than 10 plays. She is now on their board of directors. Her career turning point, however, was starring in Trevor Nunn's production of "Troilus and Cressida" at the National Theatre.
"I remember going to that first day of rehearsal," she recalls. "I biked. I cycle everywhere, and I was cycling over the Waterloo Bridge, and you can see the National Theatre as you go across the River Thames. And I remember thinking as I was cycling over there, "I've made it. There was no place I'd rather be going than to the National Theatre with Trevor Nunn directing me in 'Troilus and Cressida.' I've made it."
Okonedo's critically acclaimed performance put her on the cultural map, leading to a number of television and film gigs. Still, appearing in an experimental production by director Katie Mitchell served as an important artistic turning point. Though Okonedo cannot recall the name of the play, she says it was a dark Norwegian work performed in a "Dogme" style, known for its minimalist sets and "free way of working," she says. "The script doesn't change each night, but there's no blocking, so you can do what you want within the parameters of the space. In the end, the play didn't work, but it made me feel I could do anything. It was very scary because we didn't have the boundaries of staged theater. As a result of that experience, I've been able to bring freedom and risk to the projects that have followed."
She is most drawn to those projects that have powerful story lines, suggesting the story takes precedence over the script or even the quality of her role. On occasion she'll take a part because she wants the opportunity to work with a particular director or a group of actors. The most challenging role she has tackled to date is Winnie Mandela in the film "Mrs. Mandela" slated to be telecast on the BBC sometime in 2010. True to form, Okonedo refused to mimic Mrs. Mandela, only cursorily glancing at some clips that featured her. "That's why I'm scared," says Okonedo. "A lot of people said, 'Why don't you just copy her?' But I don't work like that. I learned her accent and tried to invest my own imagination and hope for the best. It was a risk."
Clearly, her risk-taking has worked in the past. Okonedo recalls Laing's reaction when she saw "Skin." "She was moved and hugged me," says Okonedo. "She said we told her story very well."
Asked about the future, she says she doesn't have five- or 10-year plans; indeed, she doesn't think in those terms at all, though if pressed she acknowledges she's like to tackle Chekhov.