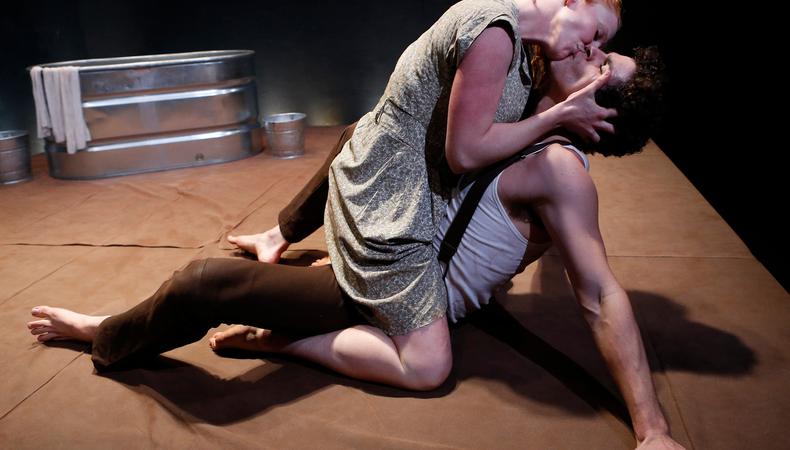 "Skin Tight," a 60-minute play by New Zealand playwright Gary Henderson, is a portrait of a marriage. Essentially a two-hander (Dan Herrmann, playing the male character as a very old man, walks on in the final minute), it tells of the shared life of Tom (Peter Saide) and Elizabeth (Sarah-Jane Casey) on a New Zealand farm. The press material advises that the play is based on a famous New Zealand poem, "The Magpies," by Denis Glover, but there is no indication of this in the program. It would be of great assistance to American audiences to make this plain and to print Glover's work. (Such is the fame of "The Magpies" in some parts of the world that there's even an amusing cartoon on YouTube in which the magpie forgets his lines.) Without it, audience members are left in a fog.
That's because "Skin Tight" is really a postmodern treatment of the six-stanza poem told in terms of dialogue, physical confrontations, song, and dance. While "The Magpies" is economic and starkly graphic, Henderson's rendering is lyrical and adds imagined details to flesh out the story. These, however, are stingily leaked to us, so the narrative proceeds fitfully and rather shakily.
The first scene sets the union of Tom and Elizabeth as a physical struggle, with an underlying sense of fierce love. Marriage as a battleground is a consistent theme as bouts of conflict are played out, contrasted with recurring scenes of tenderness and regret. These include childhood and first love ("Each night you told me something new"), marriage and the farm, Tom going off to war, infidelity, an estranged daughter in London, love of the land, the loss of the farm, and death, in the form of departure. Magpies are mentioned twice, and in the play's last moments we finally hear the birds' song. The point, which is not very apparent, is that marriages and lives come and go, but the magpies will always be there, still singing.
The action is played out on a small, austere stage, with only a water tank, two buckets, two apples, and a penknife. Under Nick Flint's direction, the staging is very physical. Happily, Saide and Casey make a talented and attractive pair, as this is very much in-your-face theater. Saide, who sings well, is a tough and tender Tom, while Casey shines as a voluptuous earth mother. The final image of a naked Tom and Elizabeth descending into the water speaks of a lost Eden.
Presented by One Year Lease Theater Company at 59E59 Theaters, 59 E. 59th St., NYC. Nov. 13–Dec. 1. (212) 279-4200, www.ticketcentral.com, or www.59e59.org.
Critic's Score: C+