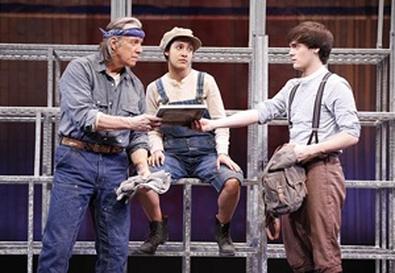 In the summer of 1930, with the Depression in full depth, the tallest building in the world was under construction on an accelerated schedule, to open in the spring of 1931. While skeptics called the project the "Empty State Building" and predicted it would never be finished, much less occupied, many more regarded the structure as symbolic of New Yorkers' and Americans' faith in the future. Barbara Zinn Krieger, the lyricist and book writer for this hourlong musical, has beautifully captured both the excitement about the building itself and its shining symbolism during dark times. Based loosely on a children's book by Deborah Hopkinson—with much augmentation—the show is also blessed by its adept composer, Charlie Greenberg, and a vocally strong cast of six. Director Brad Malow and choreographer Lorin Latarro keep the story moving, in two senses of the word.
The 600 workers on the "Emp," as they call it, realize how fortunate they are to be employed fulltime when so many others can't find jobs of any kind. Especially skilled (and grateful) are the Mohawk Indians, who conjoin steel girders in giant Erector Set fashion to propel "their" building ever higher. Here, on the open 68th floor (and counting), a microcosm family of Mohawks represents all the "boys" of whatever age. The 13-year-old daughter of the clan is in disguise as a water boy, Little Joe. Into this tight setup arrives a demi-orphan boy, Mickey, who is also 13 and has stowed away overnight on a construction trolley, despite his fear of heights. The one actual historical person portrayed here (nicely, by Keith Herron) is Lewis Hine, the Empire State Building's official photographer. His superlative black-and-white images document every stage of the building under construction. In the show, Hine hires Mickey as his assistant for 15 cents an hour, then teaches him to become a photographer.
Aaron Riesebeck, as Mickey, and Jessica Angleskhan, as Little Joe, are both terrific. They and the rest of the cast, in multiple roles, do full justice to the story and songs, some of which are plot-specific ("Riveting Steel the Mohawk Way" or "My Camera's Just Like a Paintbrush") and others of which suggest a wider sweep ("Depression Blues"). Their musical backing, led by conductor Tim Rosser, is of a nifty piece.
Technical credits are up to the same high standard. Costume designer Leslie Bernstein has captured both the drab look of early 1930s workers at work and the Mohawks in colorful traditional costume at their Canadian ancestral ground on a weekend. Gino Ng's striking steel-girder set and pastel painted backdrops of the lowering NYC skyline (as the building advances ever higher) provide the ideal setting for a captivating tale.
Presented by Making Books Sing at Abrons Arts Center at Henry Street Settlement, 466 Grand St., NYC. Feb. 20–March 6. Schedule varies. (212) 573-8791x238 or www.abronartscenter.org.
Also March 10–11 at Jamaica PAC, 153-10 Jamaica Ave., Queens, N.Y.
March 14–17 at Lovinger Theatre at Lehman College, 250 Bedford Park Blvd. West, Bronx, N.Y.
March 20–21 at Snug Harbor Cultural Center, 1000 Richmond Terrace, Staten Island, N.Y.
Visit www.makingbookssing.org for performance times.