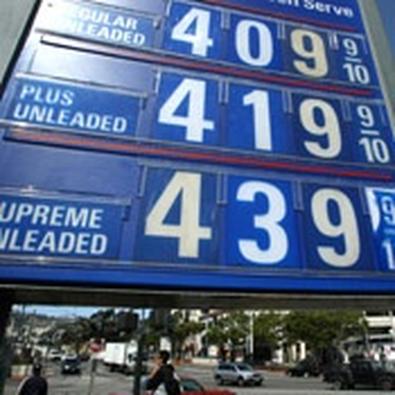 The recent economic downturn has left New York actor Alex Hayes without the means to pursue his dream. The cost of paying off his student loans, rent, and bills, and the rising costs of groceries have left him too broke to take acting classes and buy new headshots. "The ever-rising cost of living has really put a damper on the amount of energy and work I can put into my career," said Hayes, who doesn't even suffer the added expense of filling his gas tank like most working actors in Los Angeles.
Across the country, inflation and the ailing economy have forced everyday Americans to feel the squeeze and cut costs. But the situation can hit actors more profoundly because many of them live hand-to-mouth under normal circumstances. They must invest more money to get work than do those in most other professions, and they don't get paid for auditions -- let alone reimbursed for the transportation costs of attending.
Even established actors are being forced to downsize. Talent manager Phil Brock told Back Stage of a married couple, each contract regulars on Guiding Light, who live in Los Angeles. They recently sold their cars -- a Land Rover and an Infiniti -- because they were spending $70 every three days on gas due to audition travel costs. Meanwhile, a client of talent manager Darryl Marshak of Marshak/Zachary in Los Angeles recently lost his house.
"Here's what's happening: First of all, the economy's bad, but then we're in a post-writers' strike situation and pre-actors' strike chaos," said Marshak. "So there's very little work."
Irwin Keyes, a professional actor of 30 years in Los Angeles, said working as an actor has gotten more difficult: "We see the price of gas going up, up, up, and we see our jobs going down, down, down. We're getting less and less pay for the jobs we are getting." At one time he made $550 per day for work on an independent feature, he said. He now sometimes gets $100-$262. "I don't know how anyone could make a living in show business unless they're a big, big star," he added.
With some of Los Angeles' veteran talent agencies and management companies closing because of lack of income, it's easy to become pessimistic. However, said Marshak, "We've got to stay strong even though it's kind of a shrunken market right now. It'll expand again, and we just have to kind of tighten the belt, you know."
Smart Shopping
According to Kevin Phillips' recent article "Numbers Racket" in Harper's Magazine, the annual inflation rate in the first quarter of 2008 was close to 12 percent. This means consumers are paying substantially more for most items and getting less for their money. Candy bars are smaller. Bags of chips are emptier. But smart shoppers can combat this imbalance with a little time and a few coupons.
Stephanie Nelson, founder of CouponMom.com, offered Back Stage a few easy cost-cutting tips. For starters, Nelson recommends being brand flexible and planning meals around featured sale items in grocery store sales ads before going to stores. Though cutting coupons sounds tedious, many can now be found online and printed out through sites such as CouponMom.com, Coupons.com, and Eversave.com. Ralphs supermarkets have electronic coupons on its site (www.ralphs.com) that can be loaded onto your loyalty card. "Before cutting out favorite foods, you can begin by cutting out convenience," said Nelson. "For example, a pound of baby carrots costs $2 and a pound of carrots that need to be peeled and cut costs about half that. A block of cheese costs less per pound than sliced cheese. A frozen single-serve entrée costs the same as a roast chicken purchased on sale that can serve four. It only takes a few minutes to peel carrots, put a chicken in the oven, and seconds to slice cheese. Come up with simple meals and save money on overpriced labor."
Where you shop matters too. Nelson recommended purchasing only rock-bottom featured sales items at gourmet grocery stores like Whole Foods Market. Keyes said he has started buying fresh fruit and other items at the 99¢ Only Store because he has found it to be cheaper than Ralphs.
Nelson said if shoppers can't find coupons for the foods they want, they should try to save on personal care items, cleaning supplies, and paper products. With double coupons, especially in Southern California, shoppers can get many of these items for free. "At the very least, saving a lot of money on nonfood items allows more money to spend on preferred foods," said Nelson, who also recommends reviewing the Newspaper Coupon Database on her site to see what items feature coupons for your state's specific newspaper each week.
Primed at the Pump
GasBuddy.com, co-founded by Jason Toews in 2000, provides gasoline price comparisons from across the country. By logging on, users can find the cheapest gas in their area. Within major metropolitan areas like Los Angeles, motorists can find a difference of more than 60 cents per gallon between the cheapest station and the most expensive -- so it pays to do the research.
Aside from dumping the junk from your trunk and keeping your tires fully inflated, motorists looking to save can also increase their fuel economy by 40 percent by slowly accelerating and decelerating. "Most vehicles get best fuel economy between 40 and 50 mph," said Toews. "If you're driving any slower or faster, your vehicle's actually burning excess fuel." He also recommends turning off your air conditioning unless you're on the freeway on a hot day; driving at high speeds with your windows open wastes more gas than using air conditioning because of the drag it creates on the vehicle.
Staying Put Is Not an Option
"The biggest thing you can do is just drive less," said Toews. That's not an easy proposition for actors who will have little luck carpooling or riding their bicycles to auditions. Keyes, a native New Yorker, said he cannot rely on the L.A.'s mass transit system, but at least he drives a fuel-efficient car.
Marshak said actors need to choose their auditions wisely to save gas and consider opting out of driving across town for no-money independent jobs. Brock recommended that actors consider living closer to shopping areas so they can choose to walk in their "nonaudition life." He also said soaring energy costs will change the way actors are cast. "One thing that's going to happen is more video auditions," Brock said.
Meantime, Marshak and Brock recommend actors ask for discounts from headshot photographers and from those providing other essential materials. L.A. photographer David J. Dowling is already offering actors discounts. "In these difficult times, while gas is $4 a gallon, who can afford the seeming extravagance of new headshots?" Dowling said. "I anticipate that the SAG strike will have similar repercussions to the WGA strike, and I need to consider incentives to keep the clients coming in."
Regardless of whether SAG strikes and further cripples actors' abilities to make a living, it will probably be months before the economy recovers. Many actors are planning on weathering the storm. "I've been doing this for 30 years. I'm not getting out of it," said Keyes. "I just hope that eventually the cost of living will come down and things will get better."
Nicole Kristal can be reached at nkristal@backstage.com.