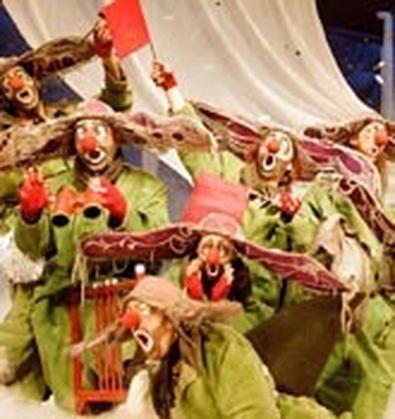 It's not unusual for colorful family-friendly entertainments to douse audience members or drag them on stage. This is called audience participation, though audience harassment or audiencenapping would be more accurate. Actual audience participation is far rarer, and witnessing it at Slava's Snowshow, I'm reminded it's as wonderful a sight as the most dazzling of stage magic — which, incidentally, this terrific clown show also provides.
For the evening's success, heap as much praise on Slava Polunin as he heaps snow on the Helen Hayes Theatre. (That's a lot, by the way.) Prior to this Broadway engagement, the Russian-born clown spent 15 years touring versions of the show, honing a combination of classic clowning and surprising sentiment that really is a bit magical.
There's no narrative to speak of — and no real speaking either — but across the evening, a theme of loneliness emerges and is riffed on in ways both playful and touching. The central figure resembles a sweet amalgam of Ronald McDonald and Falstaff. He's called Yellow in the program and shares the stage with a host of green-clad jesters. (At the performance I saw, Yellow was played by Polunin, and the lead green clown by his son Ivan, though other performers also rotate in the roles.)
Familiar routines are embellished with loving flourishes: When Yellow does the bit in which one of his hands seems to belong to another person, it's introduced with a series of well-chosen props. The bit itself, meanwhile, is unexpectedly poignant. In this regard, it's not unlike a series of simple, gorgeous second-act images that include a small rocking horse and an avian creature that spews fairy dust from above the stage. Such semiseriousness is punctuated by moments of delightful mischief, as when one clown abruptly abducts another. And, yes, it's all capped with the now-famous snowstorm, which is about the most fun you can have while being blinded with light and struck by gale-force winds.
But what I keep coming back to isn't the wizardry but the joy of spontaneous reaction. Before the show and during the first act, "snow" began accumulating in the theatre. At intermission, children tramped down the aisles and grabbed the confetti by the fistful. First they tossed it in the air; then, of course, they tossed it at one another. Without prompting from the stage, without grudgingly giving in to social pressure, the rest of the audience soon got into the action. Parents, young couples, tourists, and even critics joined. (I may have exchanged a couple of volleys with a towheaded young girl seated near me.)
Slava created an environment where we wanted to play — and so we did.
Presented by David J. Foster, Jared Geller, Joseph Gordon-Levitt, Judith Marinoff Cohn, and John Pinckard
at the Helen Hayes Theatre, 240 W. 44th St., NYC.
Dec. 7-Jan. 4. Schedule varies.
(212) 239-6200, (800) 432-7250, or www.telecharge.com.