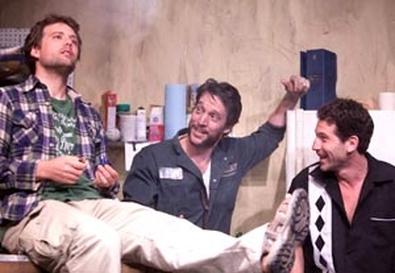 John Pollono's gritty dark comedy, set in a machine-repair shop in sleepy Manchester, N.H., cannily pulls the wool over the audience's eyes. What starts out seeming like David Mamet lite—a comedic bromance charting the testosterone-charged reunion of three 30-something pals—takes a startling turn. It would be unconscionable to spoil the surprises. Let's simply say there's much more than gears and pistons churning in this greasy repair shop. Director Andrew Block's pitch-perfect world-premiere staging packs a potent punch.
Holding our interest throughout the one-act play are sterling performances from four actors and Pollono's perceptive, funny dialogue. Shop owner Frank (Pollono) has summoned two friends he has known since childhood—diminutive Irish imp Packie (Michael Redfield) and swaggering playboy Terrance (Jon Bern-thal)—under a false pretense. Frank's motives are initially unclear; but as the men engage in small talk, booze, and macho one-upmanship, we begin to notice tension behind the revelry. When a surprise visitor appears—preppy 19-year-old Chad (Josh Helman), delivering narcotics that Frank has ordered—the partying takes a shocking turn, leading to startling revelations.
Pollono has fashioned a terrific role for himself. Clearly the ringleader among the trio of lifelong pals, Frank is an amiable regular Joe with a suppressed short temper and subtly manipulative characteristics. Pollono expertly balances the upbeat and dark sides of this character, keeping us intrigued as we realize there's more to this get-together than at first was apparent. Redfield is a comedic delight, playing a character that is part smart aleck, part charmer. Bernthal's portrayal of the brash gadabout Terrance bristles with energy and wit. Helman excels as the spoiled-brat outsider, making the most of a brief but crucial role.
Production designer David Mauer and sound designer Tony Lepore superbly conjure the atmosphere of a blue-collar workplace. Pollono's engrossing play explores intriguing moral issues, including timely ruminations on ill effects of the cyberspace age. The climactic sequence—as unnerving as a Hitchcock thriller—is daring and provocative.
Presented by Rogue Machine at Theatre/Theater, 5041 Pico Blvd., L.A. Mar. 28–Apr. 30. Mon., 8 p.m.; Fri.–Sat., 10:30 p.m.; Sun., 7 p.m. (Dark Mon., Apr. 18.) (855) 585-5185. www.roguemachinetheatre.com.