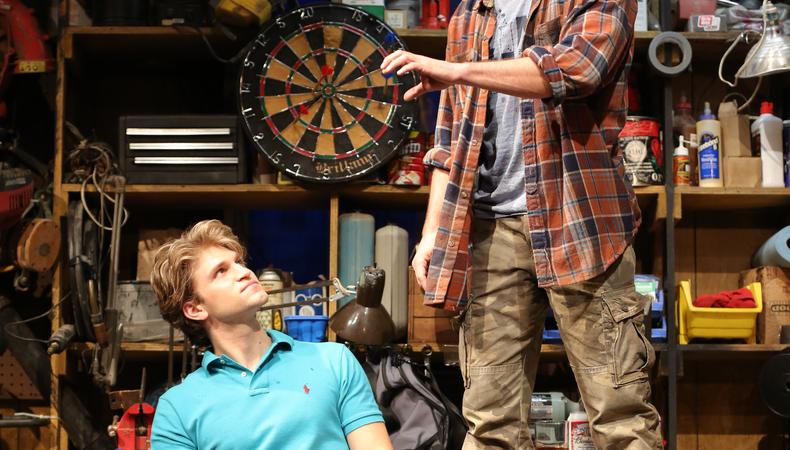 James Ransone can't and won't talk about "Small Engine Repair."
"It's not because it's, like, terrible," says Ransone, who will make his New York stage debut in the "intense black comedy" by John Pollono at MCC Theatre. There are too many spoilers. He can't reveal anything. "It's like a Hitchcock play. It's like on some 'Sixth Sense' level insanity."
In fact, Ransone says he hasn't been this proud of a project in almost six years of his acting career, and before he landed the part he seriously considered quitting acting because he thought he was a "fucking bad actor" after getting killed off the AMC series "Low Winter Sun."
"It was like getting broken up with by the ugly girl," he jokes.
Work with a great director.
Now Ransone is seeing one of the hottest girls in the industry, namely director Jo Bonney. No, he's not actually dating his director—though he confesses he and the cast are all in love with her.
"I'm like totally in love with her. And she manipulates everybody into doing that, which is a very powerful thing," he says. "I like female directors that gravitate toward masculine things. I think the danger of a male director is the over-fetishization of the masculinity."
However, when Ransone initially auditioned for Bonney, he did not get cast. Pollono wanted Ransone to be in the play, and Pollono's manager sent Ransone the script. Ransone said he had no interest in doing a play Off-Broadway, but after actually reading it, Ransone was on the phone within an hour asking, "What do I have to do?"
He flew to New York and auditioned for the role, but the part was offered to someone else. Luckily, that actor dropped out for reasons unbeknownst to Ransone, and he landed the role.
Make 'em laugh.
One of the reasons Ransone is so excited about this play is he finally has the chance to do comedy, something he's wanted to do for some time.
"Just because of how my career played out, no one's ever taken me [as a comedian]. 'Well, he was on "The Wire" and because "The Wire" is a very serious show, he can't do comedy,'" Ransone says. "No, I played a very funny character on 'The Wire.' Let me play funny in something that's funny and you'll see."
And the audience's laughter makes it so worth it. "Every time I earn a laugh on stage it's like crack for the ego," he says. "I'm such a whore for the laugh. I will do anything to get a laugh up there."
In fact, laughter was a way Ransone measured whether he should keep an acting choice for the production. Working on a new play allows actors some freedom to really create a character for scratch, and when he got his castmates to laugh, he knew he got something right.
"If I can get them to laugh at me in rehearsal then I win," he says. "And if I can get Jo Bonney to crack, the days that I could get an audible laugh out of her, I was like, 'Alright, we're keeping this!' I'll crawl through razor wire just to get one laugh out of Jo Bonney."
Focus on the details.
But doing theater is more than just being funny. Ransone was 17 the last time he did a play, and he's learning a lot working in theater as a professional adult. Ransone has a long and winding monologue in the middle of the play—which, again, he can tell us nothing about—and he and Bonney worked on the section line by line.
"It was wild to have somebody break down every single line with me and make choices where I had to paint pictures for people who didn't understand what I was saying," he explains. "It's linking the movement to what I'm saying and how they words actually start to become part of your movement. My body's moving with this thing so it's this whole other prism, which I sort of remember from being in high school and doing all this shit as a kid but not really. And it's funny too because you're not afforded a lot of those considerations on movies and TV."
It's OK to be nervous.
One thing has stayed the same from high school, however: He still gets really nervous—only the nerves manifest themselves differently. "I'm terrified," Ransone says. "My mouth gets really dry. Which is really, really, really weird. When I get done, I feel like I've burnt out my adrenal glands."