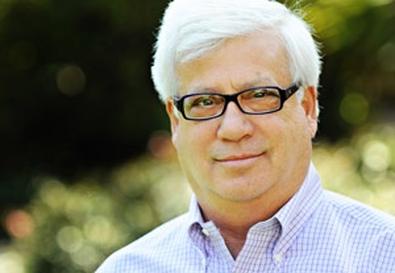 Over the years, John Frank Levey has amassed an impressive array of Emmy and Artios awards for his work on such groundbreaking shows as "ER" and "The West Wing." At this year's Artios ceremony, he was honored with the Hoyt Bowers Award, which recognizes outstanding contributions to the casting profession. Levey, whose credits also include "Smith," "The Evidence," and "Third Watch," recently cast the critically beloved cop drama "Southland," which NBC canceled before its second season even hit the air. Luckily, the series found a home on the cable channel TNT. "It's one of the casts I'm most proud of," says Levey. "I mean, I guess you're most in love with your most recent project, but I just think that cast is fantastic and I think that show has to have a continued and additional life, and I think it will do well on cable."
Directing to Casting
I had the NEA director's fellowship at the Mark Taper Forum—I think it was right around 1980. I was at the Taper for two years, and then I directed around the West Coast, and sometime in the mid-'80s I directed a production of "The Dining Room" at the Coronet Theatre. It didn't go well, and I was going out for a drink with Barbara Claman after one show, and I guess I was grousing bitterly, and she said, "If you're going to take it this hard, maybe you should do something else. Why don't you come and work for me?" I started on the next Monday, casting with Barbara for a Budweiser national commercial. Later that season we did "Iron Eagle," the movie, and we did a play and we did a pilot. I suddenly was immersed in the casting world without much real information. In some ways, the casting director is the synthesis of the writer and the director and the actor and their various languages—kind of like a translator. Casting synthesized all the things I had done up to that point.
Small-Screen Dream
I have done almost exclusively television for the last 20 years. I love it because it goes fast and there's resolution, and that fits with my personal rhythms. I need things to get solved and done. In television, they do.
Making Connections
I rely heavily—especially during episodic season—on the submissions of agents and managers and on my long relationships with many of the agents and managers I know who I can trust. Of course, by now I have seen and read tens of thousands of actors. Between the work that I've seen and the work that I've done, I have a working knowledge of a lot of actors.
In the Room
I read with people almost all the time. Sometimes my colleague Melanie Burgess does some of the reading—that depends on if it's a particularly male-female kind of a thing. But I work with actors from a very empathetic and supportive position. I love actors and their miraculous skills and talents. I'm very hands-on. I try through my own directorial and teaching skills to help actors unlock themselves to find the role.
Audition Prep
They should learn the words as well as possible without concentrating on memorizing them. They should know what the show is that they're auditioning for. They should know who the characters are they're playing opposite. They should make strong, clear, simple choices based on the material—not fabricated out of their own imaginations.
Assembling Ensembles
It's always a giant challenge. You start out with an absolute clean slate. I like to think about it like being at the beach: having a piece of driftwood and a bunch of nylon fishing cord and some seashells and starting to hang them on that piece of driftwood. When one piece falls into place, it sort of implies the next thing.
His long collaboration With John Wells
John came on as the head of the writers' room in the late '80s on "China Beach" after I had done the pilot. That's when I first met him, and we formed a relationship there and then. When he began to do his own projects, we worked together, and it's been fruitful for both of us. I admire John's writing very much. I admire John's organizational skills and his producing skills. He creates a climate where everybody gets to do their best work. He's very encouraging and trusting and collaborative. As a result, I have been able to feel free and creative and excited about my contribution to the shows.
The Atmosphere of 'ER'
It was a challenge and a blessing that "ER" was ordered very late. We didn't have time for a lot of dialogue between the studio and the network and the producers. We just dove in. "ER" was difficult. In the first draft, it would just say things like "Nurse." You had to find out if that was the same nurse in the first scene as it was in the fifth scene and give those various parts personality through the casting. Establishing the under-cast—recurring characters—was one of the great successes of the early days of "ER," because those people who played the nurses and the orderlies and the emergency medical technicians and the desk clerks and the intake workers established the working heartbeat of County General. I'm enormously proud that many of those people stayed with the show off and on for huge parts of the 15 years and did great, great work.
Mr. President
Originally, "The West Wing" was supposed to be about the staff and not so much about the president. So casting the president was a challenge, because it wasn't supposed to be a regular; it was supposed to be a recurring character. But then when Mr. Sheen's name came up and he seemed available and interested, everybody got excited and the concept shifted to include the president in a more vital role.

Coming Up
We've just started on a Showtime pilot called "Shameless," which is an American remake of a British property about the most fucked-up family imaginable. It's dirty and dark and funny and sexy and smart. The wonderful William H. Macy is going to be playing the dysfunctional patriarch of the family. We worked with Bill on "ER," where he played Dr. Morgenstern, and we're very excited. We always start off with enormous enthusiasm, and even with the disillusioning experiences, like the recent cancellation of "Southland," we tend to, like relief pitchers in baseball, come back to the ballpark the next day just ready to be excited about our jobs and excited about our projects and excited about the actors we're going to meet today.
John Frank Levey will participate in the "Tuning In: TV Casting panel at Actorfest LA on Sat., Nov. 14. For more information and to register, go to Actorfest.com.