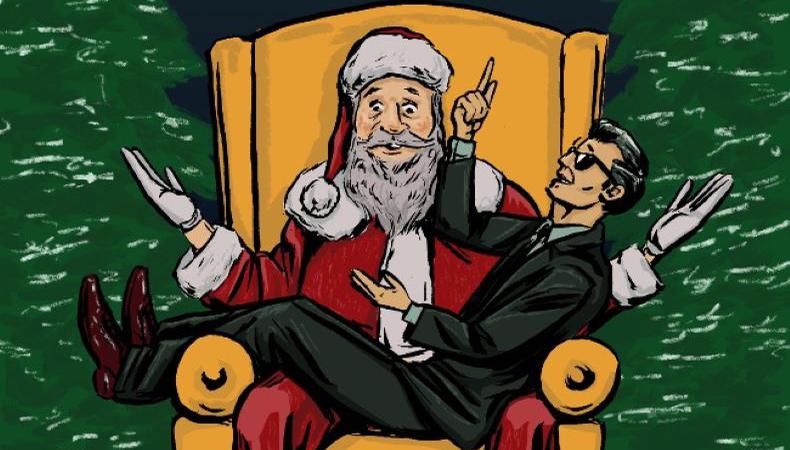 Every year at right about this time, I write a column about how actors should give their agents a holiday present. And every year, I receive a ton of indignant emails from actors who don't see why they should have to spend money on their agents. This is the worst kind of thinking, and I'd like to explain why.
There are two components to your acting career: the creative side and the business side. To succeed, you have to be proficient at both. Too many talented individuals fail because they have no business sense, and too many skilled networkers bomb because they're not good actors.
Spreading holiday cheer among the people responsible for your career is a smart business move. It's done on every level of commerce. And if you think that doesn't apply to acting, then you're a fool who's destined to go nowhere fast.
I also want you to understand this isn't about money. Agents don't expect pricey presents. This time of year really is about the thought. I've had clients who earn seven figures a year surprise me with lavish gifts and I've had clients who are dead broke hand me $10 gift cards for Starbucks. They were all appreciated.
The best gifts are the ones with a personal touch. Generic food baskets and bottles of booze are quickly forgotten. But over the years, I've received quite a few presents that I still remember today. Why? Because they involved a little effort and a touch of thought.
Here are three examples of what I mean:
I once had a client show up in my office with a few members of her church choir. The entire staff stopped working so they could listen to these girls sing their hearts out. It was one of the best presents I've ever received. And it cost nothing.
A few years ago, one of my clients booked a guest star role on "Chicago Fire." I'm from Chicago and this was his first time there, so I told him all about my favorite drinking spots. And you know what he did? The guy bought me a T-shirt from a bar I used to hang out in and then he gave it to me six months later as a Christmas present!
Apply for a gig on "Chicago Fire" here!
Another actor who understands my twisted sense of humor put together a mixtape of holiday tunes performed badly by famous actors. I'm talking David Hasselhoff butchering "O Holy Night" and William Shatner destroying "Good King Wenceslas." Brilliant stuff! I shared it with all my friends and I still have the CD in my collection.
A group of girls singing "Silent Night" in my reception area? An actor buying me the right gift six months in advance? The worst (and best) mixtape of all time? These are amazing, memorable presents and I am thankful for all of them.
You're a creative person. That's one of the reasons you've chosen to express yourself as an actor. So use that energy when you're playing Santa for your reps. I'm sure you can come up with some unique ideas of your own, and your generosity will be greatly appreciated. And like I said before, it's a smart business move.
So go forth, gentle souls. Banish your cynicism. Embrace the holiday. And give your hard-working agents the merriest Christmas/Hanukkah/Kwanzaa of all!
Don't yet have an agent to give a gift to? Check out our Los Angeles audition listings!