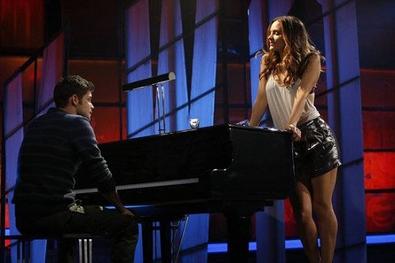 This week on "Smash," "Bombshell" is finally (finally) open for business, which means that Tom and Julia are looking forward to their next project. Or not. Tom, it turns out, is interested in directing a revival of "City of Angels" while Julia has her heart set on a musical of "The Great Gatsby."
Meanwhile, Ivy is still shagging Derek without a single hair on her head going out of place, and Karen and Jimmy are patching things up. Sort of. Really, Jimmy just tearfully confesses to his not-that-terrible past as a drug dealer and somewhat horrible person and Karen forgives him for everything, just like real life.
Eileen and her craggy, slightly asymmetrical New York Times editor boyfriend continue to be on the rocks since his article glowingly praised "Hit List." The Ben Brantley review of "Bombshell," on the other hand, is decidedly mixed, with Julia getting the brunt of the glittering notices while Tom's direction took a major hit.
Back in the lower classes of society, Ana is courting Jimmy's drug dealer friend, who we affectionately refer to as Squee Gee Man, and who is actually Jimmy's brother. No one likes this idea, especially Kyle, who confronts them at the "Bombshell" opening night party. Things naturally devolve into fisticuffs until Eileen calmly dumps a bucket of ice over their heads.
By the end of the episode, Ivy is triumphant and has patched things up with both her mother and Karen. Tom and Julia are considering breaking up their partnership. Julia and Scott are smooching in the back of a taxi, and Kyle gets an unexpected proposition. And more...
The Awesome
Daphne Rubin-Vega and the Would-Be Spinoff
You know what TV show we'd watch, over and over again? A show about a gorgeous, pulled-together, weary-eyed, forty-something Broadway publicist. She works 70 hours a week, knows everyone's secrets, is constantly grappling with ethical and professional conflict, and is basically just trying to have a drama-free romantic life while simultaneously keeping her Jimmy Choos from rubbing on her blisters. Except that show will never exist. The show where Karen Cartwright is somehow allegedly the most interesting person on Broadway and possibly in all of NYC? Oh, that one already does.

Kyle Rips Squee Gee Man a New One
For the past few weeks we've been following Kyle on the whistle-stop journey toward finding his backbone, and on Saturday, we finally came to the end of the line. By the time Squee Gee Man – err, Jimmy's brother Adam – showed up at "Bombshell" opening just to torture Jimmy, Kyle is standing real tall. Homeboy's clearly feeling pretty strong, too, given that big old shove he gave Adam. We were thrilled to see Kyle stand up, not only for himself, but for his best friend. Added bonus? We finally felt the depth of his bond with Jimmy in a visceral way – those boys aren't just friends or collaborators, they're family. It's a beautiful thing.
Ivy and Karen are Best Friends and Now Want to Sing You a Song About It
We're not sure how many impromptu concerts break out at Broadway opening night parties, but logic aside, the Karen/Ivy rendition of "That's Life" actually had us smiling. We have no faith or emotional investment in Ivy and Karen's instantly resolved rivalry and obvious ongoing friendship, trust us, but this was a glimpse at what "Smash" could have been. You know, if it were good.
Tom Loses His Mind in the Best Way Possible
Mother of Mary, team, this is the moment! (Just like Dr. Jekyll promised!) "Smash" has finally arrived. Because nothing this season – literally nothing – has been as genuinely shocking and flat out glee-inducing as the moment Tom propositioned Kyle. In the half-second it looked like Kyle might turn him down, one of us actually threw a pad and pen across the room. (Have you lost your mind, boy?!) Thank god Kyle took the bait. We cannot wait for the awkward/awesome fallout from this crazy moment in "Smash" history.

The Awful
The City of Angels Red Herring
Instead of showing us Tom and Julia's real life confrontation over her work on "Hit List" – because that would have been genuine, apropos and compelling – this week we're supposed to worry that Tom is going to direct "City of Angels" instead of continuing to write with Julia. Except, that's not even a real thing in the "Smash" universe, which has always been focused on the creation of new theater. So it wasn't actually scary at all. Well, unless we're going to call it scary awful.

Karen the Grecian Statue. Literally.
The thing about Karen's pretty, pretty face is that it just doesn't move. Stuck in time like a two-week-old chicken, nothing will budge it from its profound, hopeless deep freeze. Not making out with Jimmy. Not losing most of her footing at "Hit List." Not singing a joyous duet with her former rival who she has no real reason to suddenly like. Nothing cracks Karen. Or convinces us that her face isn't a Scoobie Doo-like mask of evil that won't be torn off in the last episode to reveal a cackling, triumphant Raul Esparza.
In which Leo Makes us Wish He'd Been Eaten by a Lion. Again.
Though we've heard a lot about Leo this season, we've seen very little of his sullen mug, and frankly we've been silently praising the gods of theater and television weekly. Sadly, this week it looks like our luck has finally run out. Leo is back, looking older and more awkward but just as expressionless/confused as ever. What horrible sin did we commit to bring this punishment down upon us? If we say a novena, will we be spared again next week?

The Inexplicable
Ana's Whole Life is a "Rent" Parody
And nowhere was it more apparent than in that wide shot late in the episode where she's shown wearing a striped sweater, acid washed jeans, and a striped, bulky-knit scarf. We imagine that if Anthony Rapp, in some state of boredom or poor judgment, decided to watch this episode, he would have had a good chuckle at Ana's Maureen Johnson Halloween costume. And then instantly wondered why he wasn't on this episode, because everyone else is.
Jeremy Jordan's One Perfect Tear
Welcome to Jeremy Jordan's Emmy Reel, team, wherein he emotes his face off as his eyes fill and finally, one glorious tear rolls over the water line of his right eye and begins its slow descent down his beautiful cheek. Yeah. Jimmy's life story sucks. Anyone who heard the plot summary of "Hit List" already knew what was coming. Well, anyone besides Karen Cartwright, but we digress. Anyway. We love Jeremy and want him to win all the things and be famous, but was the over dramatic single tear really necessary? Or even remotely character appropriate?

The fabulously Grand... Hotel Carter?
Nothing made us laugh harder than the insinuation – intentional or not – that the "Bombshell" opening night party was held at New York's Hotel Carter. It's being renovated now, but The Carter has always been known as one of NYC's most infamous flop houses. People have been murdered there. And infested with things. Don't believe us? Check out TripAdvisor, where guests routinely post photos of their bed bug bites.

The "Bombshell" Band of Drag
No, but really, the bandmates accompanying Ivy and Karen, all male, were all in women's attire. And wigs. Did we miss something? Should we know why? Even if we did, would that reason have any practical function in enhancing the story at all?
Laura Motta and Aileen McKenna blog as Lucky and The Mick on their Broadway-themed blog of insanity, The Craptacular.