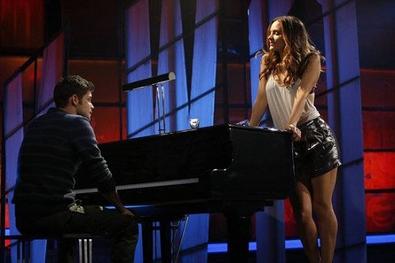 Welcome to "Smash," where we begin thinking there's nothing quite as jarring as a close-up of Kathie Lee Giffords' face on our television screens. Apparently she's filming a Today Show segment about the work the "Bombshell" team are doing with kids who aspire to be Broadway stars, and here we learn that Ivy is overbooked and overtired – the promotional grind for a faltering Broadway show is no joke, yo!
Meanwhile, Tom wants Julia to tell Scott to beat it and write Gatsby as a musical with him, just the way they always intended. And for a second, Julia considers. You know, until Scott points out how selfish Tom is being. So now Scott and Julia's relationship is not ending, but Julia and Tom's relationship totally is.
Downtown, heartbroken Jimmy is going on benders and barely making it to the theater for show time and Kyle is scrambling to cover for him while simultaneously getting tired of Jimmy's BS like six years too late. When Jimmy's high-ness screws up the show, and Karen gets hurt because he misses his mark, Derek calls it. They're replacing Jimmy with Sam Strickland, who seriously just got cast as an understudy eight hours earlier.
Fortunately, it doesn't seem like the potential producers in the audience at "Hit List" – Eileen included – noticed Jimmy's failure to do his job properly. Unfortunately, Agnes is there with her epic gamesmanship, and her negative commentary on the show has discouraged any and all potential producers from investing in a transfer. Well, except Eileen, who can't seem to wash the idea of it out of her blunt-cut hair.
With Karen and Ana's support, though, Kyle is totally washing Jimmy right out of his asymmetrical hair. He's packed all of Jimmy's belongings into a bag and dropped it off at Squee Gee Man's doorstep. Operation Tough Love is under way. That is, until we learn what it means to be truly jarred when innocent, sweet-singing Kyle gets Smashed by an oncoming car. Yeah. We said it.
Anyway. Here are some other things that happened this week...
The Awesome

The Tony Talk
Any scene with Agnes is our favorite scene. But we especially loved hearing Agnes talk Tony prospects non-stop with Eileen this week. Mostly because, well, when we're not in the process of recapping "Smash" for you, that's actually all we're talking about these days too. For once, the world of "Smash" seems kind of like the real world of theater, too.
Sam Tries to Blow Up Jimmy's Spot... and We Don't Mind
We've been rooting for Sam, Tom's ex-lover played by the dashing and talented Leslie Odom Jr., all season, and no more than when Derek tried to give him Jimmy's role in "Hit List." Sort of. His short, delicious audition to understudy the role of Jesse left us wondering if he might make a better leading man than flaky Jimmy. Amazingly, Derek Wills agrees with us.
Derek The Wise
Weird relationship issues aside, it is quite lovely to see that Derek the Director has finally sorted his shit out. He sees "Hit List" clearly. He sees Jimmy's bullshit clearly. And he's handling both with aplomb. No more testosterone fueled pissing contests – just simple logic and calm but authoritative behavior that gets results. Where has this Derek been all our lives?
"The Goodbye Song" Had Us at Hello
Up-and-coming composer Joe Iconis – who we're sure has a life exactly like Kyle and Jimmy's – owns this episode with his "Goodbye Song." Used here as "Hit List's" grand finale, it's bittersweet and evocative, and a great counterpoint to all that "Bombshell" jazziness. Sure, this staple of Joe's live shows has been given the full-on "Smash" treatment, with digitally manipulated vocals, synth-laden orchestrations, and lots and lots of strobe lights, but the song is so good that its awesomeness still shines. Alas, some lilies resist gilding better than others.

The Awful

Kathie Lee Norma Jean Gifford Who?
As if seeing Kathie Lee sober isn't bad enough, now she's dressed like Marilyn Monroe, too? Look, NBC. We got it. The Today show is failing just like "Smash" is. But this is not the way to save it. Trust us. And please, get that wig off Kathie Lee. Or at least get one with a warmer, more flattering tone. Like, the color of the glass of chardonnay Kathie Lee should have in her hand right about now.
The Jeremy Jordan Tirade on the Bar
Poor, poor Jeremy Jordan. A scant year ago he was the toast of Broadway with glowing notices from two shows and nominations for every major award of the season, including the Tony. Today he's standing on a bar using his outdoor voice to berate his fictional friends, who all stare back at him agog, like they can't quite believe the transformation either. For Jimmy, "drug addition!" and "moodiness!" have somehow become the slapdash replacements for actual character development, giving us a leading man who seems not that addicted and not that moody – and not that likable. Maybe he is a perfect fit for Karen after all...

The Volvo That's About to Strike and Kill Kyle
Listen, man. We know that Kyle should have looked both ways before stepping out into the street, where it is entirely possible that there are moving vehicles, you know, moving. But damn that Volvo and the awful person driving it for not somehow avoiding tragedy. You are the absolute worst. Because now we have to survive the rest of the season without his charmingly wonky hair and perfectly timed pop performances.

The Inexplicable
Tom and Julia are Breaking Up... Yawn
Tom and Julia's decades-long partnership is on the verge of collapse, but for some reason, we can't even begin to care. Maybe it's because we simply cannot stomach the idea of a Great Gatsby musical, which sounds like it was taken straight from the pages of The Frank Wildhorn Guide to Making Really Awesome and Lucrative Broadway Shows. Or maybe we happen to like the way that Tom and Julia have come into their own – separately. After all, the show has been leading us down that road all season. Why backtrack on us now with the insinuation that they should stay together?

"Hit List"...is Cool?
Sure, if you think "hip" theater is exactly one thing – the direct descendant of "Rent." "Hit List" continues to drive us batty for lots of reasons, the main one being that its pretense of "coolness" is so... well... uncool. Wind machines? Modern choreography? A murderous leading lady? Squint-or-you-missed-it non-lighting? Come on, y'all. We already saw "Spider-Man." In dreaming up a show that was a direct counterpoint to "Bombshell," "Smash's" creators have actually given us yet another totally unoriginal idea – a rock musical in an era when rock is dead. Everything in "Hit List" has been done, and better, by other people, decades ago. It makes us chuckle to think that the show's creators, once upon a time, set out to actually stage the shows on "Smash." We shudder to think how dated "Hit List" would look on Broadway.

Carolee Carmello Fangirls Karen Cartwright
Not even in our worst nightmares could we imagine Carolee Carmello being reduced to chasing a dismissive Katherine McPhee around a crowded bar, praising her talent as an actress and singer. And yet, somehow, "Smash" made us watch that happen.

Karen's Sudden Bout of Emotional Intelligence
Sure, Karen is totally right about Jimmy and the abusive cycles he perpetuates in his life. Kyle shouldn't go outside to talk to Jimmy. Because Jimmy will find the right words to assuage Kyle just enough to keep him around so he can be the target of another cruel outburst in a few days or weeks. But at what point have we ever seen Karen behave logically when it comes to Jimmy? Or relationships in general? How is she suddenly the stolid guru, guiding Kyle through the complex, rocky terrain that is human emotional life?
Laura Motta and Aileen McKenna blog as Lucky and The Mick on their Broadway-themed blog of insanity, The Craptacular.