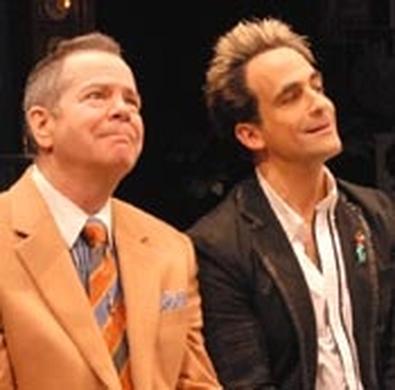 So much of musical theatre is now self-parody that it seems bad form to further satirize it. What's the value, after all, in taking aim at the schizophrenic or the suicidal? But winking, smirking, autocannibalizing musicals are all about making audiences feel safe. "Relax," they say. "We're not serious; we're singing. Don't invest in characters or complex emotions — just in tchotchkes on your way out." David Pittu and Randy Redd's What's That Smell: The Music of Jacob Sterling works by going the other way. There's an air of danger about this corrosively campy portrait of a composer (played by Pittu) who's been "prominently up-and-coming for over 20 years."
Pittu's simple storytelling device is a variation on Inside the Actors Studio, with Peter Bartlett as a queeny smalltime James Lipton. Cooing and fussing, Bartlett's host provides Sterling a stage on which to unfold his life with amusing annotations from his songbook.
And what a songbook it is. Sterling's tunes — composed by Redd to lyrics by Pittu and suggested by vamps taken from Stephen Sondheim and Jason Robert Brown, among others — are pitch-perfectly awful, some so much so that they seem to slip off that side of the spectrum and emerge around the other side as good. I couldn't help but think that an 11 o'clock number for Sterling's adaptation of La Femme Nikita would be terrific played straight.
Excellent support is lent by Atlantic Theater Company artistic director Neil Pepe, who co-directs with Pittu, as well as Bartlett, who in general has a range about as wide as Paul Lynde's (actually, it's the same range), but that's appropriate here. There's also an attractive ensemble (Brandon Goodman, Matt Schock, and Heléne Yorke) called upon to deliver a medley from Sterling's upcoming Broadway debut, Shopping Out Loud. Sadly, it's hard to imagine any of these open-faced youths making it through their careers without appearing in some such piece of candy-colored consumer porn.
While comedic targets emerge everywhere — I particularly enjoyed a silly throwaway about Kiri Te Kanawa and Jill Eikenberry performing together — the main focus is on supercilious creators of musical theatre. I don't think Pittu sees Sterling, absurd as he is, as a comic foil. He's a real type: a writer with nothing to say, so he adapts movies and adopts ideologies, poisoning both.
Pittu knows a thing or two about the insanities one can suffer in the theatre. The writer-actor-director hyphenate is something of an overnight success — at the age of 40. Did he just get good? Of course not, he's always been very good, but a couple of choice roles in fatally flawed shows earned him back-to-back Tony noms in the last two seasons. Perhaps it's not surprising then that What's That Smell isn't just an attack but an affirmation. The show plays like a variation on a classic Sondheim anthem, as if Pittu is declaring, "Megamusicals, AIDS, 9/11, and Disney cheer...And I'm here." It's not new ground, but it's more value-adding — and entertaining — than the work it pillories.
Presented by Atlantic Theater Company at Atlantic Stage 2, 453 W. 16th St., NYC. Sept. 10-Oct. 5. Tue.-Fri., 8 p.m.; Sat., 2 and 8 p.m.; Sun., 3 p.m. (212) 279-4200 or www.ticketcentral.com.