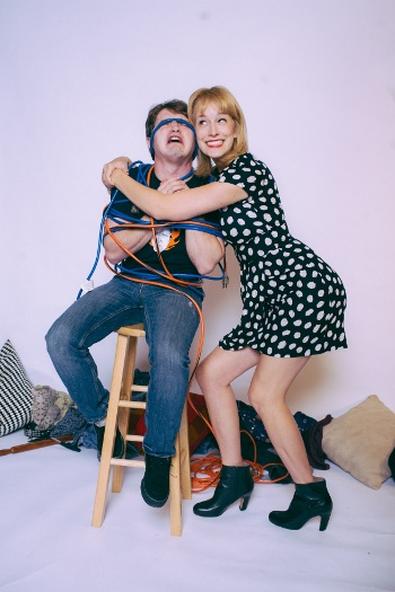 SNAFU, or Situation Normal: All Fucked Up, is an old World War II acronym that the military used "kind of sarcastically to describe how shitty everything was and how that was just the normal day-to-day," says Chloe Sanders, who is creator, executive producer, and star of "SNAFU," the new Web series bringing the phrase into modern times.
"SNAFU" follows Florence, "someone who just totally changes her mind every single second about what she wants to do," Sanders explains of the character she plays. In the six-episode season, 20-something Florence decides she needs "me time"; attempts to become a fashion stylist, a mixologist, and a professional sleeper; becomes infatuated with a DJ at a party; and decides that "nothing means anything and everything means nothing."
And that's exactly what makes the series a success. According to Sanders, "There's infinite things that this character, Florence, can try, and they can all just be super bizarre and weird.
"[She's] completely 100 percent, no matter what, and is kind of blind-sided by the dangers and risks of everything and just doesn't even care—she does what she wants. But she can flip on a dime and do the next thing, and I find that's a kind of funny, awesome, and cool way to live your life."
Sanders, a New York–based actor hailing from California, began writing "SNAFU" between auditions. "As an actor, you kind of have a lot of time on your hands and I kind of started playing around with some sketch comedy and I loved it," she says, admitting that her second passion—after acting, of course—started as a way to pass the time.
With fellow executive producers Haley Rawson and Jonathan Cabrera, the "SNAFU" creator launched the show in late March, after months of writing and editing and procuring the funds. But raising the $16,000 wasn't the hardest part, according to Rawson, an actor who also appears in several roles on "SNAFU."
The biggest challenge, she says, was that they wanted the series to be their full-time jobs, and wanted to put all of their energy into it. "You have a group of people who are passionate about making something happen and there's a little bit of money in there to get paid, but we still have to prioritize our other day jobs or careers that we're pursuing over this creative project," says Rawson.
But that challenge was nothing the team of "SNAFU" couldn't overcome. "Many things get written and shot that never see the light of day," Rawson says, "so the fact that this actually came out and we're able to have a finished product that we're proud of…that's a miracle."
But all's up in the air for the hilarious Web series. When asked if there will be a second season, Rawson says, laughing, "We would love to, if you publish this article and ask for a $20,000 donation!"
Watching Season 1 of "SNAFU," you can't help but want more—especially once you start thinking about the "infinite things" the admirable and eccentric Florence can try.
Like this story? See more of our Now Streaming articles here!