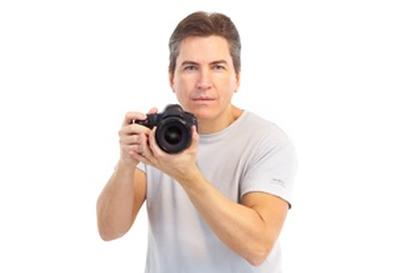 No argument about it: Securing ideal headshots can be a stressful proposition. You want to get it done right—preferably on the first try. At least with digital technology, fewer surprises arise than in the days of film. Says actor Lola Davidson, "My photographer shows me some of the shots as the shoot progresses, so I know how I am looking, if my hair and makeup and clothes look right, or if I am holding tension in my mouth, etc."
Elliot M. Smith, a Los Angeles headshot photographer, will pause during a shoot to point out a particularly effective pose, right on the camera's screen. Then he and the customer will review the whole session on computer. If there is not sufficient time for such a review, Smith will email the shots to the actor for online perusal.
Despite the immediacy that digital provides, a session with a photographer will occasionally prove disappointing. You may feel fine about your selections directly following the shoot, but when you've lived with the resulting images for a day or so, you may discover pangs of uncertainty and regret.
So how do you approach a photographer when he or she hasn't lived up to your expectations? Not timidly, according to actor Josh Margulies, who points out that photographers are service providers for the actor. When they fall short, he says, an actor should not hesitate to speak up: "If they are the true artists they claim to be, then they will appreciate the opportunity to better their work."
Before you complain, however, make sure the responsibility for failure doesn't fall at least in part on your own shoulders. "It's not fair to blame the photographer for bad hair and makeup if you didn't have a hair-and-makeup person," Davidson points out. "Nor is it fair to blame the photographer for your wardrobe choices."
But if you decide the responsibility for unsatisfactory results lies with the photographer, lay out your case in specific terms. "I'd have to be prepared to show the photographer exactly why [it doesn't work]," says Davidson. "Lighting? Composition? Focus? Photographers are artists just like you, and they have pride in their work. If you can legitimately show in the proofs where the photographer could have made a better choice, then I think your photographer would be open to hearing the critique, and then a reshoot could be in the works."
The photographer may be as eager as you to make things right. "In my very first shoot, the pictures looked grainy," says actor Roberta Bassin. "The photographer agreed and did a reshoot, which produced excellent photos." For Bassin's latest headshot session, the photographer requested the do-over, as the weather had not cooperated for outdoor shots.
Tact and diplomacy are watchwords when dealing with photographers. Actor Eric Kan prefers to present his grievances in person or over the phone, "so I get an immediate response and we have a dialogue going."
Kan finds a time that is convenient for the photographer to confer. "I give him my reasons why the pictures didn't work. 'We shot'—use the word 'we' and not 'you'—'too close, too far,' etc. And most importantly, I offer solutions to get the shots I need, so that the photographer feels we'll get it right the second time and doesn't feel like we're going to have any more issues."
An actor—often in tandem with an agent—may need a photo that projects a look matching roles for which the actor will be submitted. Advises actor Brandon Bailey, "Simply say, 'These shots are not working for me, because they aren't capturing what it is I'm marketing. Could we please do a reshoot?' "
Kan, however, suggests that you not necessarily demand a full reshoot but instead ask for retakes on select shots: "Usually the photographer will just continue shooting," he adds, "and you'll get more shots anyway."
Back Stage thanks the Actors' Network for its members' contributions to this story.