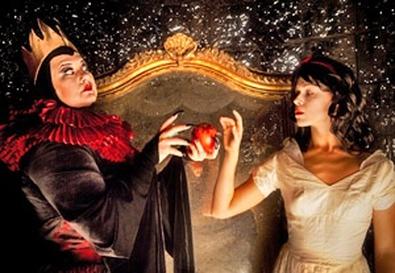 You can bring the tots, the show is only an hour long, and they give out free chocolates. But the real reason to traipse all the way out to Carroll Gardens, Brooklyn, and see Company XIV's new production of "Snow White" is to experience saucy and stylish avant-garde musical theater at its finest. Conceived, directed, and choreographed by Austin McCormick, this satirical adaptation of the famous fairy tale by the Brothers Grimm is clearly designed for adults. Yet on the snowy afternoon I was there, the kids in the audience remained equally intrigued by the high-energy potpourri of outlandish sights, sounds, and dramatic episodes.
Devised with the postmodernist's delightful audacity to pick and pair anything that suits or appeals, McCormick's imaginative work ignores boundaries between various theatrical, musical, and choreographic genres and ventures boldly into myriad aesthetic territories. The titillating tale of the extraordinarily fair yet remarkably stupid Snow White is told through classical ballet, Baroque court dance, pantomime, opera arias, orchestral music, exhibition ballroom choreography, dramatic narration, Russian folk dancing, pop standards, and puppetry.
The splendidly eclectic proceedings are played upon a dazzling set, designed by Zane Philstrom, that integrates a realistic forest scene, a ravishing bejeweled chandelier, a silver velvet stage curtain, and a mysterious gold-framed mirror that "talks" (with the harmonious soprano and contralto voices of an exquisite guest opera trio, Charites). Forget the restraint that often characterizes the visual elements in serious experimental theater; here everything is glamorous to the max. Olivera Gajic's extravagant period costumes parody historical trends with high-fashion camp—even the handsome prince wears 3-inch heels—and Gina Scherr's lighting adds atmospheric shimmer to the scintillating affair.
The charismatic six-member cast shines as well, especially crackerjack dancer Laura Careless and dashing narrator Nick Fessette.


Presented by Company XIV at 303 Bond St., Brooklyn, N.Y. Dec. 12–Jan. 17. Sat. and Sun., 3 p.m. (No performance Sun., Dec. 13, and Sat., Dec. 26.) (212) 868-4444 or www.smarttix.com.