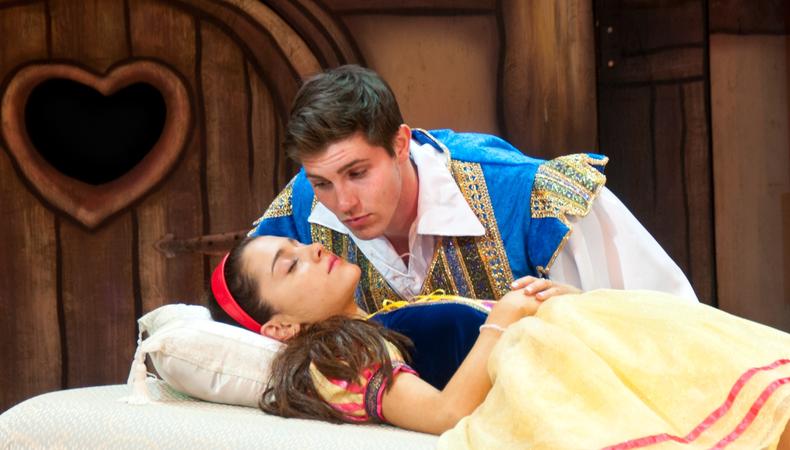 Any show that combines as many disparate elements as does "A Snow White Christmas," which is patterned after the English entertainment known as the panto (short for "pantomime"), had better be able to thread the needle—and darned if the Pasadena Playhouse offering doesn't do exactly that. Perhaps the primary reason is that the show's producers, writer Kris Lythgoe and director Bonnie Lythgoe, are, like many Brits, steeped in the form. Ingeniously, the show works at one level for children, encouraging them to interact with the performers, and at another, more sophisticated level for adults, taking comedic potshots at various pop-culture and showbiz figures. The Lythgoes' Americanization of the panto's concepts yields a sui generis result, and although the show, despite its title, includes no elements of Christmas, its innocence and good cheer suit it to the holiday season.
Pantos are fairy tales told in comical fashion and set to contemporary music, featuring such elements as dance, vaudeville-style gags, and magic tricks. Without adulterating either songs or story, musical director Michael Orland and his band (keyboardist Keith Harrison and percussionist Brian Boyce) find ways to integrate pop and rock favorites such as Katy Perry's "Firework," Michael Jackson's "Thriller," the Village People's "YMCA," and Huey Lewis and the News' "The Power of Love" into the familiar Snow White tale. The music sparkles, and the humor is enjoyable corny.
The production seems to take many cues from Disney, from costume designers Julia Clancey, Kleev Guessford, and Donna Maas' vision of the seven dwarfs to Ariana Grande's characterization of Snow White: kind and sweet, though never white-bread or dull. The Nickelodeon starlet displays immense confidence as a pop singer in potent renditions of "Born This Way," "You Make My Dreams," "Voodoo Love" (a Grande original), and "Nothing's Gonna Change My Love for You." The last of these is a duet with Curt Hansen, a young, clean-cut Tom Cruise lookalike whose Prince Harry is charming and cheerfully cocky.
Charlene Tilton chews the scenery to laugh-inducing effect as the Wicked Queen, her buxom figure accented by a tight red velvet gown. She also indulges in comedic mugging, her husky voice barking out insults at a crowd that's encouraged to jeer and boo her. In prerecorded segments as the Magic Mirror, Neil Patrick Harris is aptly placid and immobile, relying on subtle expressions. The character of court jester Muddles, Snow White's close pal, is used in Jiminy Cricket fashion to serve as our guide to the story and its familiar characters. Jonathan Meza is nearly a scene stealer in the role, a likable buffoon with a high-beam smile and a limber, rubbery body.
Two groups of child and teen dancers, choreographed by Spencer Liff, alternate in portraying the dwarfs and some royal subjects, while six young adults billed as "The Spencer Liff Dancers" augment the Broadway dancer's steps for the show's stars. The appearance of a miniature white pony cements the production's purpose as a family show, a theatrical soufflé that adults may also enjoy.
Presented by Lythgoe Family Productions at the Pasadena Playhouse, 39 South El Molino Ave., Pasadena. Dec. 12–30. (626) 356-7529 or www.pasadenaplayhouse.org. Casting by LFP Casting.
Critic's Score: A