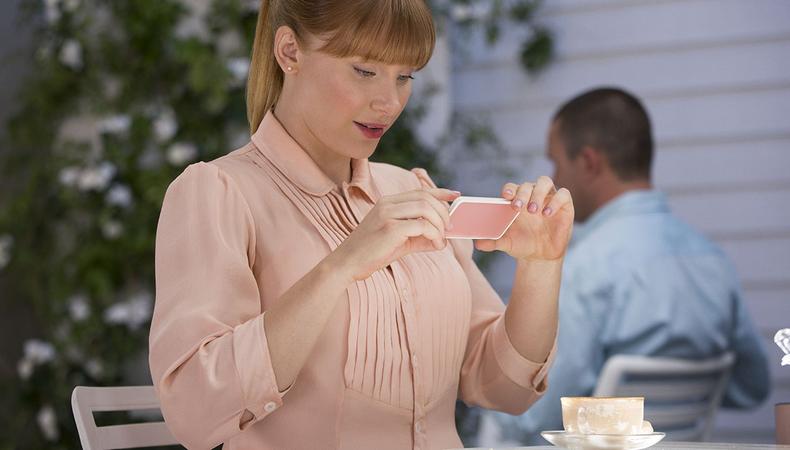 Social media isn't going away and for actors especially, it is a necessary tool for engagement, connection, and, yes, promotion. However, it's even easier to be grating online than it is in real life and the worst part is you may not even know you are. Don't fret; here, social media and Backstage Experts tell you the warning signs you are that person—and how to change it.
Unrelenting self-promotion
"Remember that Twitter is not your personal PR account. Your behavior online should be the same as if you were at a dinner party. You wouldn't walk up to a stranger with your reel and say, 'Watch this!' Yet, every day, people who I have no connection to reach out with their reel. Now, you might think, 'Hey, Marci. Isn't it your job to find new talent?' Yes, absolutely true. But I have my own science to it. Blasting me on Twitter will just get you blocked." —Marci Liroff, producer, casting director, and Backstage Expert
Your inauthenticity is clear from a mile away
"People want to connect with 'real' people. That's why your public image should feel like an extension of your true self. There's no need to put on a false persona—those days are over. But I'm also not suggesting you must expose every detail about your personal life either. Simply being honest and genuine is the smartest way to develop a solid public image and gain long-lasting fans.
"How do you do that? One easy way is to share more about organizations, causes, and events you love. If you're a volunteer at an animal shelter, post images from your days spent working there or share articles they publish. Not only will it reveal more about you to fans, but it might also grab a little more attention for the organization and the animals, too." —Tammy Lynn, founder of Spotlight PR and Backstage Expert
You're only using it to compare yourself to others
"Seeing your social media 'friends' post photos from the audition waiting room or on set along with #SoBlesed and #ActorsLife can make you feel like you're not enough. There you are looking at Facebook in socks and underwear eating cereal for dinner in your tiny apartment comparing yourself to a well-filtered image of your Facebook friend next to the steady-cam operator. Then that negative voice inside your head starts to pipe up. It compares you to the actors you see on social media. All of a sudden you're paralyzed with feelings of inadequacy that prevent forward motion as an actor. Worthlessness sets in and you start to believe that you won't succeed.
"But most often it's comparing the worst parts of your life with the best parts of other people's. And when the comparison is with a social media picture or narrative, you're comparing yourself to a skillfully manipulated image designed to present an image of success. In subtle and not-so-subtle ways, most of us use social media to present a facade to manipulate the viewer into believing something about us that we are trying to be. The comparison is flawed." —Risa Bramon Garcia and Steve Braun, Backstage Experts
Over-sharing
"People get and lose jobs every single day based on their personal social media. The Internet is not a place to share your private thoughts with others. Before you hit share, ask yourself if this post would offend your dream employers or collaborators. When you're the product, you have to hold your personal online presence to incredibly high standards." —Tony Howell, founder of Creative Social Media and Backstage Expert
One-sided engagement
"It's better to have a high engagement rate and a lower follower count than a higher follower count and lower engagement. This happens when you treat social media like an environment, not a push notification. For example, don't just use Twitter to post links or shout about your projects. Like, comment, start conversations, discuss, be real, and be consistent. You'll find that cultivating a community bears way more fruit than an automated-looking message that reads like a bulletin nobody cares about." —Arda Ocal, broadcaster, television host, and Backstage Expert
Inappropriate sharing:
"Be mindful that you may have acting and/or business associates (CDs, producers, etc.) following you on any given social media platform. Posting party pics with drinks or paraphernalia or photos of you scantily clad leaves an indelible mark in their memory banks—one you may not be able to correct or erase. Once you click 'send,' you can't take it back." —Carla Renata, blogger, branding expert, and Backstage Expert
Thinking what you have to say doesn't matter
"One of the biggest excuses I hear from actors is, "I'll use social media when I book my big TV show or movie." Don't wait until you get a show to learn how to use social media! That's when you'll want to focus on being the best actor you can be and connecting with new fans, not learning Twitter 101.
"Whether you're working on student films, Broadway, or network TV, with every job you do you're collecting fans. Not just the audience watching you but the casting directors, writers, directors, and producers you work with. Wait to use social media and you'll miss the chance to connect with these folks and grow your following along the way." —Heidi Dean, social media expert and Backstage Expert
Using social media as a cold-call platform
"DON'T contact industry professionals if you don't know them. If you met them at a pay-to-meet or networking event, it's a perfect time to follow up. In NYC recently we queried over 50 top industry professionals at our Actor Marathon, and only one percent wanted to be reached via Facebook, none via Twitter. On the west coast, about 20 percent said it was OK and actually had a separate professional Facebook account for actors to reach them. Still, you need to ask first." —Gwyn Gilliss, marketing coach and Backstage Expert
Giving it the bare minimum
"The best advice I can give to actors using social media is to focus on how you artistically express your unique and personal interests and motivations. Invent the world as you see it and create public profiles with the same reverence you would use to create art. Creation is creation no matter the medium—a half-thought-through post is reductive to your soul." —George Konstand, branding guru and Backstage Expert