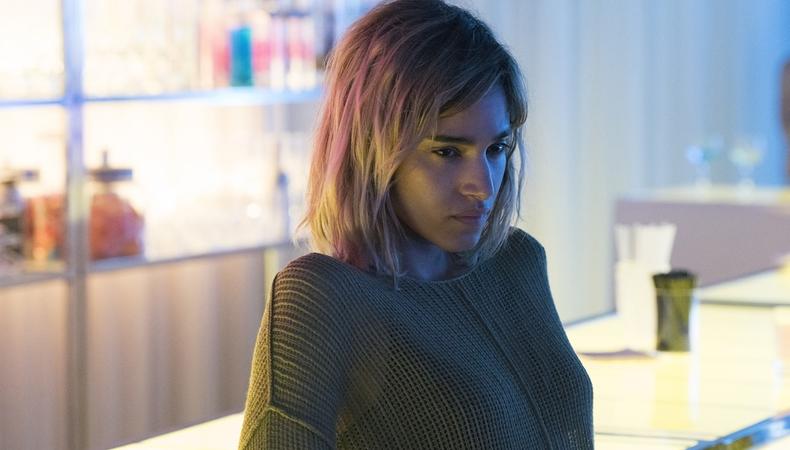 While always a performer, it wasn't until after a fruitful dance career that age 30 Sofia Boutella shifted to acting. Although the Algerian talent spent a couple years without receiving any jobs, she saw the audition process as a continual learning experience and even compares her early days being on set with going to school. Boutella highlights the importance of being well informed and prepared for both auditions and jobs. As preparation for her latest film "Fahrenheit 451" (now streaming on HBO Now and fresh off an Emmy nomination for Outstanding Made for TV Movie), Boutella read the original book and studied the works of the creators of the movie. She recently sat with Backstage to discuss her process, her career, and what's to come next.
Despite the difficult career transition, Boutella has no regrets.
"I'm confident that however things went it's where I should have been. I don't have any regrets—I rarely do, to be honest. And things were not easy at all, but I think that this is the way it had to happen. I'm very grateful and fortunate for how things are going right now. It's so hard. My face doesn't fit in a box. I have an accent. At 30 years old, changing my career completely was kind of scary, but I didn't feel like I had much choice."
Even as a multi-hyphenate talent, you sometimes have to reassess your priorities.
"I realized that I could not dance and act at the same time, and I meet people that are doing both and adding on top of that music and painting. I cannot do that, doesn't work for me, so I have to choose every single time. I don't know what I'm going to end up doing next, it's just that I feel very fortunate to tell stories and be in storytelling. I felt always that when I danced, I went through a character and there was something that I wanted to say and express. It wasn't just steps on music to me, and I feel like now I'm just putting a voice on those movements."
Do your homework, and you won't let yourself down.
"A bad audition when you go in the room, you have to learn how to let it go as long as you've done your best. If you haven't done the work and you do a bad audition, I think that's where it's hard to come back from because you haven't put the effort. But I think if you did your best and worked hard on it and actually bothered to try to earn what you may get, which is getting the job, I think you're fine. Just moving on—I think it's a learning process."
Use auditions as an opportunity to hone your craft.
"[Auditioning] definitely helped me exercise my instrument. You know, get used to it and you sort of learn from it massively and it's a good practice to have because if you're not on set and acting, that's a good opportunity to consider that as being work and a platform to learn from."
Boutella strives to switch it up and show off her range.
"I'm fascinated by relationships when I read a script, of course, but I'm [also] fascinated by how much variation I can get. How can I challenge myself? I'm not looking to wear the same T-shirt in every film."
On her latest film, Cannes sensation 'Climax.'
"All I can tell you is that I worked with a five-page treatment. Every day, I did not know what I was going to film, and I just appreciated working with [filmmaker Gaspar Noé] so much. I think it's difficult for him to explain everything that's in his head, but in all truth, as controversial as he may be, what he does is so particular and it's very much his identity, and I'm so grateful and so thankful that there are directors like this out there because we need that. And as an actress, I felt insanely challenged in the best possible way. Every day, I came to set, we figured out where we wanted to go, he grabbed the camera and shot every single shot himself, and maneuvering the camera, we shot eight to 10-minute scenes each day that we rehearsed for about four hours, and that's fascinating."
Ready to get to work? Check out Backstage's TV audition listings!