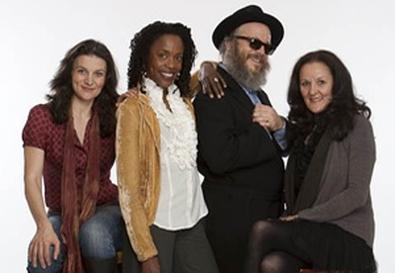 There is no shortage of one-person shows. Indeed, there is a glut of them on both coasts. Some are good, some not so good.
How do you avoid the mediocre and present something that resonates with audiences? Back Stage spoke to solo performers who have successfully scored with theatergoers to gain insight into the choices they've made and the artistic challenges they've faced.
New York's current and recent top-notch offerings include Carrie Fisher's "Wishful Drinking," Anna Deavere Smith's "Let Me Down Easy," Judith Ivey's "The Lady With All the Answers," Charlayne Woodard's "The Night Watcher," Antoinette LaVecchia's "How to Be a Good Italian Daughter (In Spite of Myself)," Yisrael Campbell's "Circumcise Me," and Sueli Rocha's "The Glue Trap." L.A. is hosting Naomi Grossman's "Carnival Knowledge: Lost, Lust, and Other Oddities," Patt Benson's "Growing Up With Uncle Miltie," and Jeffrey Combs' "Nevermore… An Evening With Edgar Allan Poe."
Many are depictions of iconic figures. Ivey does Ann Landers; Combs channels Poe. Others are autobiographical. Fisher takes a light-hearted look at her Hollywood upbringing; Campbell recounts his transformation from Catholic to Orthodox Jew; LaVecchia liberates herself from an overbearing but loving mother; Woodard recalls the conflicts over not having a child, while celebrating her role as aunt, godmother, and good friend to youngsters in need. Others have a journalistic component, most notably Deavere Smith's piece inspired by dozens of interviews about issues surrounding health.
For some performers, solo shows provide opportunities to play parts they wouldn't otherwise. Frequently, they've written the pieces for themselves. Not coincidentally, many of these performers are mature women for whom there is a dearth of good roles. Still, doing a solo show is not necessarily an expression of frustration for a female actor. The steadily employed Ivey, who has four solo shows under her belt, including "The Lady Who Has All the Answers," currently running Off-Broadway at the Cherry Lane Theatre, says a one-hander requires enormous skill, and it's no fluke that the actors doing them are among the most accomplished performers around.
Woodard, also the star—and playwright—of four solo pieces, says she has had lots of wonderful roles over her career "but was ready to become a creator in another way. There comes a point when you start to need to reinvent yourself. As we get older, we are more prone to take on challenges. We have a measure of control and a track record. While men start to wind down at a certain point, for women it's 'Now what?' We're born to create. We're creators."
LaVecchia suggests that current popularity of solo shows emerged from the recent storytelling trend that has gained traction, and while that impulse crosses gender lines, she posits that women are especially good storytellers. Deavere Smith says, "We're all bowing at the feet of Lily Tomlin."
The Impulse
There are as many reasons for doing a solo show as there are actors performing them. For Rocha, whose "The Glue Trap" is playing Off-Broadway at the Axis Theatre, it was a chance to get back into acting after 20 years as a housekeeper, including for Randy Sharp, artistic director at the Axis Company. When Sharp suggested Rocha, who had a roster of acting credits in her native Brazil before she immigrated to the States, try a solo show, Rocha jumped at the chance, using her experiences as a domestic as fodder for her piece. "The Glue Trap" looks at the discrepancy between the comfort of her well-heeled employers and, in some instances, their fear and loneliness. "The title also refers to the trap we all build for ourselves," Rocha explains.
Campbell is also using the solo show to return to his theater roots. Before his religious and cultural conversion, he trained as an actor at Circle in the Square and was well-versed in standup comedy. "Circumcise Me" represents a marriage of the genres, though for him the piece is closer to theater than shtick.
LaVecchia says she was toying with the idea of doing a solo show about her Italian-born mother "as a step towards healing our relationship. It's a valentine, an exploration of love and frustration, plus it's the joy of doing crazy things on stage that no one else gives me the chance to do. That was my impetus."
Woodard comments one of her impulses for creating "The Night Watcher" was to make audiences aware of the plight of children who are in desperate need of caring adults. "I want people to see the real issues kids face today," she elaborates. "Those of us who don't have children shouldn't lament it. There are plenty of children who need us, and it's so gratifying to be in their lives."
Combs, who is best known for his roles in sci-fi, action-adventure, and horror flicks, most notably Dr. Herbert West in "Re-Animator," says he wanted to do a solo show "precisely because it was a huge challenge." He recalls, "I wondered, 'Could I entertain and enlighten an audience for an hour and a half? Can I find the format that follows a path and at the same time breaks the mold?' " In addition, he wanted to show Poe as a Southern gentleman awash in self-destructive demons. Combs' play runs through Dec. 19 at the Steve Allen Theater in Hollywood.
Likewise, Ivey's ambition was to broaden an audience's understanding of legendary advice columnist Landers. Besides being an undoubtedly colorful figure, "a lot of people are not aware what a humanitarian she was and how available she was to the public on that level," says Ivey. "She never blew her own horn. She was sincere and devoted, and she always wanted to give accurate advice. She'd research the topic and go to experts. She wasn't just offering her opinion."
Quoting novelist Toni Morrison, Deavere Smith says all her shows begin when she has something to "fret on." Yet "Let Me Down Easy" is something of a departure from the others. It's a more personal piece for theatergoers, she says. Loosely structured, it does not center on a cultural/social/political event such as riots in Brooklyn ("Fires in the Mirror") and Los Angeles ("Twilight: Los Angeles, 1992") but rather on one's health, deterioration, and the inevitability of death. As always, she performs multiple roles.
Word, Breath, Rhythm
Deavere Smith's challenges are especially complex as her shows are based on detailed interviews and represent a hybrid of genres. Very much the reporter, she quotes her interviewees verbatim. But, at the same time, she's playwright and editor, defining and structuring themes and through-lines. For "Easy," now at Off-Broadway's Second Stage, she interviewed 300 people and selected only 20. She says she dropped a number of terrific interviewees—including John Lahr and Anderson Cooper—because they didn't serve the play's purpose.
Diversity of viewpoint also plays a role in shaping her piece. "I look at the work as a postmodern person, a black, and a woman," she comments. "I want to expand on the idea of representing those who are living in this country today. My work comes from the perspective of words and voice and breath. I come to an interview listening for triggers and signs that people are speaking from the heart. I'm looking for language that feels full of life, full of desire, full of conflict."
As an actor her challenge is to capture the language of her interviewees. She has dropped many subjects because she couldn't achieve that end. Still, she insists she's doesn't impersonate, suggesting an impersonator is subversive—a clown who dramatizes someone's flaw as an expression of derision. "I think there are things in the play that are funny, but I hope they're funny with the cooperation of the speaker," she says. "I'm very protective of the people in the piece."
Deavere Smith does not approach acting from the perspective of psychological realism. Instead, language defines character. "I use my grandfather's prescription to guide me," she says. "He said, 'If you say the word often enough, it becomes you.' It's just repeating it until my tongue and lips are cooperating."
From the Outside In
Recounting a personal journey, Campbell's show, now Off-Broadway at the Bleecker Street Theatre, is at the opposite end of the spectrum; indeed, it has standup-comedy elements. A major challenge for him is not to allow the proverbial microphone to become a barrier between himself and his audience. "It doesn't seem like a defense, but it is," he elaborates. "The challenge is for me not to have that separation, so that I experience what I'm talking about in a new way so the audience can experience it with me." The other challenge is his persona, the Orthodox Jew, sporting black coat and hat. "I'm presenting a persona but also protecting it," he says. "It's who I am but not all of what I am. But people have strong reactions to the image. They come to it with baggage, so my job is to disarm them from what they think I am so that they can sit in the room and I can tell them who I am." His piece is peppered with the unexpected. "'This isn't peyes,' " he quips, pointing to the ritual uncut forelocks on either side of his head, "but the beginnings of a comb-over." To demonstrate, he pulls the peyes over his the top of his head.
LaVecchia, whose autobiographical play is Off-Broadway at the Cherry Lane Studio Theatre, says her major challenge is to avoid repetition, to be present each night, allowing herself to rediscover the experience. It's also a wildly physical work requiring pacing and energy. LaVecchia says she does not approach the piece analytically but rather as a kind of choreographed movement as she glides from section to section, "feeling like a tai chi routine."
She is also keenly aware of the dangers of mimicry. For starters, she says she is an actor who plays the character's intention rather than imitates. Second, she is performing her mother, and although impersonation is inherent to the work, not being hurtful to either her mother or Italian Americans was her goal from the outset. "This piece has a certain tone," she says. "It's joyful, loving, outrageous, and fun. It's playful. I'm telling the entire relationship with my mother, but it's subtle, not literal. There are certain details I would not put in." Structuring the piece was yet another challenge, especially defining the story's conclusion. But once she knew how it would end, the whole work coalesced, she says.
Woodard talks about a play's changing dynamic. "Sometimes you think you're going to tell a story because of one thing, and then you keep digging and realize you're going to tell it because of something else." Like LaVecchia, Woodard deals with recounting lives of real people whom she personally cares about. She admits some names were changed "to protect the innocent and because they asked me to keep a secret. But when they asked me not to change their names, I did not." "The Night Watcher" raised a number of questions for Woodard: "Why am I compelled to get up there and share my truth? How much do I tell and then how I do I tell it? I don't want to tell a story. I want to live it. That's the challenge." The other challenge, of course, is physical and emotional endurance, made all the more intense as the only actor onstage, says Woodard. "I always have to have my emotions ready so that when I need them they'll be there."
Rocha and Combs also talk about the challenges in concentrating and focusing. Combs says learning all the lines, including some of Poe's poems and stories, is grueling too. One virtue in playing Poe, however, is Combs' understanding of the man. He says any actor can relate to Poe. "If I had to encapsulate Poe in one phrase, I'd say, 'What's a guy got to do?' What's a guy got to do to achieve respect, success, and admiration from my peers and public? I also relate to his melancholic nature and his sadness. My method is not as internal as external. Nothing informs me more than getting into makeup and costume, especially the shoes. The shoes have always been very important to me. They're the touchstones. In this piece I'm wearing black ankle-high boots. They make me feel the period and also make me carry myself more elegantly, aligned, straighter. I also listen to music before I go on."
Unlike Poe, Landers may be vividly remembered by many in the audience. The actor playing a well-known contemporary has the added challenge of accuracy, says Ivey: "Some things can be imitated. Some things cannot. We watch her in interviews. But we don't see her walking around her apartment in candid moments. I can only imagine what she might be like privately."
For Ivey, a key to doing a solo show is to know the audience's relationship to the character she's playing. In one-handers, actors often break the fourth wall and talk directly to the audience, which Ivey does throughout. "It's not as if 102 people are sitting in my living room, but in essence that's what's happening," she says. "Sometimes you find yourself looking into the eyes of your friends, especially given the size of the Cherry Lane. That's very intimidating."

What Next
Like some of the others, Ivey found a new appreciation for acting with partners. The art form is also a confidence booster—if you can hold an audience, adapt to it, and interact with it, along with mastering the loneliness. The achievement gives one a heady sense of freedom that she hopes she brings to her other acting gigs. Next for Ivey is tackling Amanda in an Off-Broadway revival of "The Glass Menagerie."
Deavere Smith believes her almost 20 years of experience with solo work has intensified her understanding of the acting process. Indeed, it takes her back to a college Shakespeare course at Syracuse University (taught by Juanita Pat Rice) that now for the first time Deavere Smith truly understands. Rice pointed to the iambic pentameter in Shakespeare, observing that the moment the beat changes, you know something is happening to the character. "I now study people to see where they have different rhythms from what they initially set up," Deavere Smith says, adding that approach now helps her shape acting roles, including her current stint as administrator Gloria Akalitus on "Nurse Jackie."
Thanks to her one-woman show, Rocha has been re-introduced to the joys of performance and plans to find an audience for her piece on the festival circuit. LaVecchia's piece has made her realize she'd like to explore her Italian ancestry in a play she hopes to write and direct but not star in. Woodard wants to write a two-hander in addition to originating parts in the plays of interesting new writers. Campbell is not entirely sure what he wants to do next. He says in many ways "Circumcise Me" represents a culmination of a dream that has its roots in his Circle in the Square days. Still, he finds a paradox there, because he's fundamentally a different person now.
Combs also feels he has returned to his theater roots and would love to bring his show to New York for an Off-Broadway run, not simply because Poe lived in New York but because for Combs New York is the mecca for theater. But, despite the fine reviews he has earned, the exposure, and the fact that he has a following, "it doesn't translate," he says. "There's a disconnect between New York and Los Angeles." As a further plea, he points out his show is low-cost. Listen up, producers.