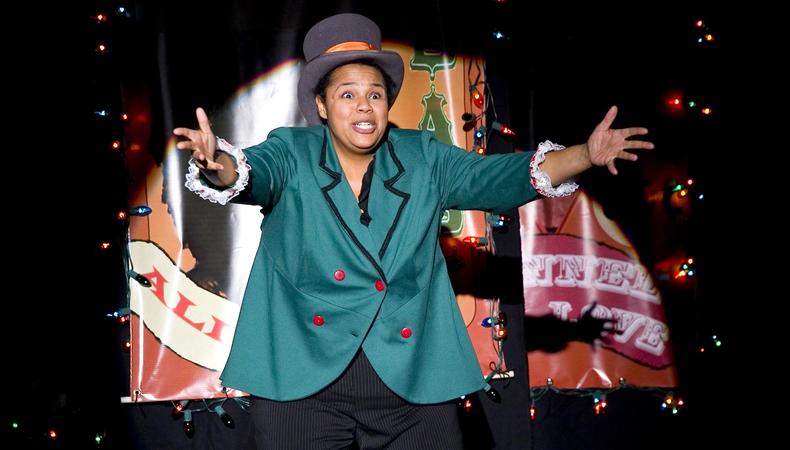 Desiree Burch's solo show "Tar Baby" is a rare thing: a work about blackness intended, at least nominally, for white people. It's a pointed decision that's at odds with most plays about race, which leave the audience's ethnic identity ambiguous, a nebulous, nonracial slurry. It's easier to tell stories cocooned in the safeness of sameness.
Burch begins "Tar Baby," which she wrote with Dan Kitrosser, by disabusing us of that idea right off the bat, putting racial distinction at the fore. "Before I become me and you become you and we become different, let's all stay undefined," she says in the semidarkness, before the lights come up. But once they're on, we're forced into our own skins. "There is something known, and there are judgments made."
Burch doesn't just put race in the limelight; she inflates it into a grotesque and fantastic sideshow, directed with suitable bombast by Isaac Byrne. "I'm going to make sure that there are enough games and stories and laughs and distractions to make all this fun," she says. "And then I'm just going to shove a bunch of race stuff in there, and everybody's gonna feel awkward at the end." As the carnival barker running the act, outfitted in spangles and top hat, Burch does exactly as she promises, leading a three-ring circus complete with vigorous song-and-dance numbers about slavery and a strongman competition ("Test your strength against racism").
All these games serve to highlight our prejudices, yet in spite of our racist selves we have fun. The laughs are real, particularly for Burch's outrageous and brilliant improvisation on how to incorporate disparate definitions of "acting black" into an audition. These raucous stories are paired with quieter moments of reflection, in which she draws viewers into her experiences growing up in "the" black family in Orange County—at least as far in as their whiteness can take them. "I can't give you an experience," she says, "but I can give you a story."
But we were warned things would get uncomfortable, and Burke's carefully crafted narratives eventually break down, culminating in an explosive tirade involving affirmative action and Obama's birth certificate. At the performance I saw, viewers cringed and exchanged concerned glances. This was all too well-done, they seemed to say, to devolve into just an angry rant.
That's the turn that makes "Tar Baby" more than just a comic riff on race. Burke's stories make us laugh and even feel. But her experience isn't neat and contained, conforming to a tidy dramatic arc. It's raw and messy and has the power to startle us, even when we've been warned in advance.
Presented by Platt Productions and Laura Chew at DR2 Theatre, 103 E. 15th St., NYC. Jan. 8–19. (212) 239-6200, (800) 432-7250, or www.telecharge.com.
Critic's Score: A-