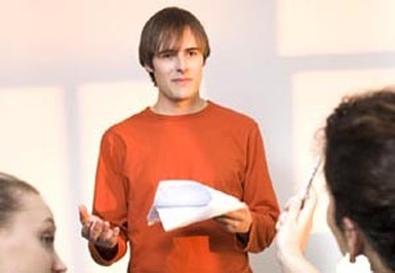 Lisa Miller Katz lives for those moments of discovery, those special auditions when she knows an actor's nailed a part. "When you see it in your office, and then you bring it to someone else's office and they see it, it's great," she says. "Those moments are so exciting." The veteran casting director has experienced plenty of those moments over the years, having worked on such monster hits as "Everybody Loves Raymond," "The Fresh Prince of Bel-Air," and "The King of Queens." More recently, she cast the freshman series "Accidentally on Purpose," the comedic feature "Fired Up," and the NBC pilot "This Little Piggy."
Puzzle Pieces
I was an actor in high school but not in college. I think I realized that I didn't really have the talent. I majored in communication arts—I knew I wanted to do something in the industry. My second job out of school, I was hired to be an assistant to Peter Golden at GTG Entertainment. I knew nothing about casting. I very happily stumbled into this job and grew to love it. I worked my way up from there: I was Peter's assistant and associate, and then I worked for Cheryl Bayer, and then I went out on my own in '94. Casting is a puzzle. I'm someone who likes puzzles. It's about solving the puzzle, finding the right pieces to fit together.
Pilot Inspector
Some pilots you can cast in a few weeks. Some, like "This Little Piggy," take 10 weeks. The process oftentimes requires pre-reading hundreds of people, showing your producers 200 people until you find the right actor. Every pilot has different challenges. Sometimes you're lucky enough to be casting a pilot that will come with a lead attached. Other times you have to go find that name that gets both studio and network excited. Sometimes there are people who you think are perfect who maybe don't spark to the material. Or someone is great, but they're on a bubble show and you can't really touch them. There are a variety of things that could stand in your way, and when you finally solve all those problems and land a great cast, it's very rewarding.
In the Room
No matter how I learn about a person, whether I see them on television or I see them in a movie or I read a review of a play they've done, it's all about what happens when they come into the room to read for something specific. Whenever I hear an agent say, "Oh, she's great, but she's a bad auditioner"—that's something actors have to be good at. If you can't be a good auditioner, I don't see how you're going to book parts. I believe an actor's job is to audition. If you are good at that job, you'll be rewarded in terms of booking a role.
It's so important to walk in, take control where you have control. You've made your choices; you've done your homework. If it's a show on the air, I really hope you've watched an episode. It's important to do your research in terms of the tone of the show: Is it real? Is it more heightened? Be prepared. I can tell a cold reading by the end of the first line. I can see it and I can hear it. That really frustrates me. I understand if you have a busy day, especially during pilot season. I get it. But there's no excuse for that.
Confidence
I hope that every actor is it. I've brought them in because I think they can be it. But I want every actor to feel that way as well. There was one audition in particular this pilot season where I went out to call the actor in the waiting room and he had his head in his book, and there was just this sense that he didn't want to be there. It made for a very awkward moment, and then he came in and read and it was reflected in his audition. You've got to sell yourself.
Comedy Class
I think some people have the gift of timing, and I think also it's a muscle that, just like with working out, if you flex it long enough, it's a skill that can be acquired. It's not always natural and easy for people. Casting comedy's hard, which is not to say that casting drama's easy. But to find people who are good actors who are also funny—it's a different set of requirements.
Ensemble Assembly
We landed Jenna [Elfman] right away, the perfect centerpiece for ["Accidentally on Purpose"]. And then we just wanted people who would populate this world around her and be funny in their own way and then with her. Ashley Jensen, who I've loved since "Extras," was so right as her best friend, and Lennon Parham is someone who I found in a pre-read. I had never met her before. She'd done one pilot and tons of sketch stuff and a lot of theater in New York. It was fun to see her blossom in this role. Same with Nick Wright. He's someone who I didn't know very well, and he came in and from his first audition knocked it out of the park. He's someone who's done a lot of drama, so it was fun to discover this crazy side of him.
Creating a classic
During the casting of the "Raymond" pilot, [creator] Phil Rosenthal really wanted the brother in the piece to be like Ray Romano's brother in real life: He was this fat, schlubby, short cop. My initial lists and my initial sessions were populated with guys like that: charactery, schlubby guys. I knew Brad Garrett—he did an episode of "Fresh Prince" for me, and I had tried to hire him for a drama. We hired him, but he had to fit inside an Army tank. He was supposed to be this survivor on this remote planet. We had to fire him because he couldn't fit in the tank—he's 6 foot 8. This was happening at the same time I was casting the "Raymond" pilot, so I brought him in thinking, "I feel so bad about having to fire him because he won't fit in the silly tank. He's not what Phil wants on paper, but he's funny." And then that was that. Once Phil heard Brad read that role, we were done.
We read lots of ladies for the Debra role. It took us a while to get to Patty Heaton. When the agent finally called and pitched her, I thought, "Oh, why didn't I think of that?" I was obsessed with Peter Boyle. Someone had shown me his "X-Files" episode. And then Doris [Roberts] was on my original list, and I had tried to bring her in very early on, but she was directing a play and she kept having to reschedule. It took me weeks and weeks to get her in. When she came in, she stopped me at the door and said, "If I come in there and I don't get this part, I'm going to tear up my SAG card." I thought, "Well, if that's your attitude in the hallway, you're probably Marie Barone."