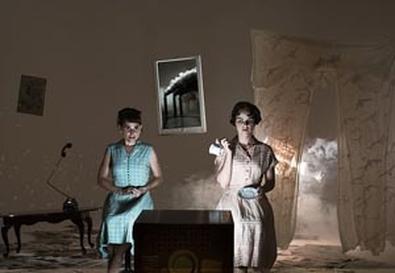 Equal parts Hitchcock and David Lynch, 1950s domestic ghost story and postmodern mind-bender, "Someone's Trying to Kill Me," written and directed by Bryan Santiago, is more baffling than impressive. Still, it leaves a creepy aftertaste that's difficult to dismiss.
Living in a 1950s house, represented by designer Starlet Jacobs as a living room with floral wallpaper, lace tablecloths, and an old-time radio, two sisters, Dylan and Olivia, are about a decade away from "Grey Gardens" eccentricity. Still young and pretty, they chase authentic experience through unrequited love and, increasingly, the stories on their new television set. The house, though, is haunted by its future, when a writer named Walter will take up residence to write a screenplay based on bits and scraps of the girls' lives. Much of the performance takes place on film, projected on a giant upstage screen. Scenes of the sisters running through fields or being chased through buildings are spliced together with classic ads and film clips. These lengthy sequences are impressively shot, though their excessive deployment can make it feel as though Santiago simply wanted exterior chase sequences without changing his set.
Santiago (who also co-produced) obviously has a vibrant and sophisticated imagination, exploring the different valences of fragmented modern experience across media, time periods, and genders (in the sexually loaded Walter-sisters dynamic). But he leaves his audience too few crumbs to follow his twisty and elaborate plot. Disappointingly unimaginative dialogue also renders the acting artificial, a problem exacerbated by the one-note characterizations the director has imposed upon his actors. Rachelle Guiragossian's piercing Stepford-wife pleasantness as Olivia occasionally invigorates the scene, but poor Osa Wallander's excessively put-upon Dylan is too much of a hypertense sourpuss to be sympathetic.
The production is disorienting and at times frightening, as Alexa Dexa's elaborate sound design creates the sense that something is about to leap out of every corner. But with a few too many ideas packed into a two-hour performance, Santiago's overwhelmed spectators, like his heroines, will likely be tempted to stop making sense of everything and soak in the pretty pictures on the TV.
Presented by Bryan Santiago, Artists on the Brink, and Looker Lab Productions at Here Arts Center, 145 Sixth Ave., NYC. Nov. 19–Dec. 4. Schedule varies. (212) 352-3101, (866) 811-4111, or www.here.org.