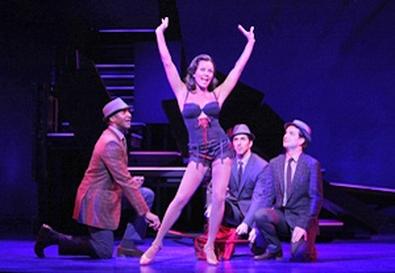 Musical plays are easy; revues are hard. You still have to satisfy all those pesky Aristotelian needs, but you don't have story and character to help you out. Fortunately, conceiver-director James Lapine has come up with a fertile premise for "Sondheim on Sondheim": The great man comes to us. Who wouldn't want to spend an evening with Broadway's musical-theater Shakespeare discussing his work and dishing about his experiences? Through the magic of Peter Flaherty's video design, imaginatively integrated with Beowulf Borritt's gorgeous abstract set based on rectangular shapes suggestive of Scrabble tiles, "Sondheim" engages and entrances as much through the songwriter's chatty, intimate patter as through the top-drawer performances of the gifted eight-person cast. The resulting show is wise, warm, witty, and entirely wonderful.
Lapine makes smart choices. There's a healthy amount of less-familiar material (Sondheim even sends himself up in "God," a brand-new piece of special material), and most of the cast aren't known for performing Sondheim's work. Combined with the decision to eschew chronology in favor of a thematic structure, the result is a continual sense of anticipation married with a welcome freshness of interpretation. Most important, despite the presence of stars—Barbara Cook, Tom Wopat, Vanessa Williams—this is an ensemble show that places the spotlight exactly where it should be: on the material. All but two of Sondheim's 20 professional outings are included ("The Frogs" and "Pacific Overtures" didn't make the cut). Musical director David Loud's terrific arrangements reinvent some numbers (a jazzy quartet version of "Something's Coming," arresting vocal harmonies in "So Many People," and an inspired pairing of "Losing My Mind" and "Not a Day Goes By"), while Michael Starobin's incisive eight-piece orchestration sounds amazingly full.
Everyone gets a chance to shine. The lovely Erin Mackey offers a spirited "Do I Hear a Waltz?," while handsome newcomer Matthew Scott makes an excellent Franklin Shepard in the "Merrily We Roll Along" material. Euan Morton unravels with flair as Charley Kringas in "Franklin Shepard, Inc." and supplies a luminous "Beautiful," in tandem with Cook. Leslie Kritzer delivers "Now You Know" with particular intelligence and verve. Scott, Morton, Kritzer, Mackey, and a very funny Wopat turn the "Opening Doors" sequence from "Merrily" into a highpoint of the evening.
Indeed, Wopat is a real surprise. His average-guy persona doesn't seem a natural fit for Sondheim's sophistication. But Wopat digs in hard, showing off the acting skills he recently displayed in the short-lived "A Catered Affair" on an intense "Epiphany" and a quieter, more ruminative "Finishing the Hat." Norm Lewis holds his own with Cook in a sequence from "Passion," biting savagely into "Is This What You Call Love?," and brings the house down with a yearning "Being Alive." Williams is elegant and glamorous as she slinks through the tongue-twisting striptease "Ah, but Underneath," wry and regretful in a smooth "Good Thing Going," and quite funny in "Smile, Girls" as an increasingly desperate Momma Rose.
Cook, of course, is a national treasure and in a class by herself. She presents a ballad like "Take Me to the World" with glistening simplicity and makes the expected meal out of "Send in the Clowns" and her trademark "In Buddy's Eyes." But the real joy is watching her slip fully into character as Fosca and act a riveting "I Read" and "Loving You" from "Passion" opposite Lewis.
But all that aside, what makes the show special is Sondheim's running conversation with us. Even if you know the anecdotes and analyses, it's great fun to get them from the horse's mouth. An evening of your own with Steve? Grab it while you've got the chance.

Presented by Roundabout Theatre Company at Studio 54, 254 W. 54th St., NYC. April 22–June 27. Tue.–Sat., 8 p.m.; Wed., Sat., and Sun., 2 p.m. (212) 719-1300 or www.roundabouttheatre.org. Casting by Jim Carnahan and Stephen Kopel.