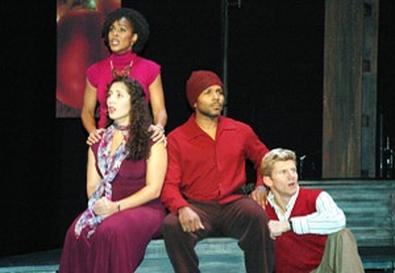 In this current new world of changing climates, world wars, robust politics, and flu pandemics, Jason Robert Brown's accomplished musical calls our attention to a human conversation in which people ponder life and how to survive its inevitable challenges. There isn't a conventional book with a narrative, even though the stories that link the philosophical themes seem to point to the ineluctable cycle of life's circumstances that resonate with us.
Four singers with notable dramatic chops are Man 1 (Anthony Manough), Man 2 (Brent Schindele), Woman 1 (Parnia Ayari), and Woman 2 (Jennifer Shelton), playing a number of different roles. Among them are an explorer who sets out on a Spanish sailing ship in 1492, a flagmaker in 1775, Santa's wife who has had enough of his absences, and a woman who trades love for money. As the numbers slide seamlessly from one to another, thanks to Jules Aaron's adept direction, the rich, nuanced voices mingle melancholy with hope and humor with adversity. Brown's lyrics are poetic and intelligent, and his multiethnic cast reminds us that we are experiencing another cultural renaissance but that it is not without introspection.
The minimally concealed onstage musicians—music director Brent Crayon, piano/conductor; Jeff Novack, bass; and Emiliano Almeida, drums/percussion—add to the intimacy created between the audience and the actors. Stephen Gifford's set design is structurally simple and subtle, as the characters require locations or costume changes that must happen to continue the story without breaking the mood. Jared A. Sayeg's lighting is also mood-inducing, softening the brightness to draw the audience inward.
Brown's résumé for a man not yet 40 ("Parade," "13," "The Last Five Years") is impressive, including this work written when he was in his early 20s. Musically and intellectually, this production can never be dated, for the people who sing of their conflicts represent us all.
Presented by and at International City Theatre, Long Beach Performing Arts Center, 300 E. Ocean Blvd., Long Beach. Oct. 16–Nov. 15. Thu.–Sat., 8 p.m.; Sun., 2 p.m. (562) 436-4610. www.internationalcitytheatre.org.