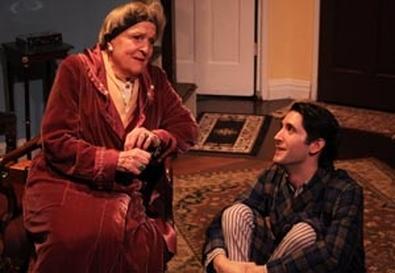 Peter Nickowitz's new play
Songs & Statues
is a bit of a conundrum. It's a packed two-hour-and-40-minute drama, about an assimilated Jewish family living in Connecticut in 1958 and dealing with anti-Semitism, whose first act, while engrossing, feels as if it were written in 1958. In the messier and longer second act, however, it becomes clear that Nickowitz does have a contemporary sensibility and his first-act writing style is almost certainly a deliberate choice. I'm not sure it's the right one. Nevertheless, however flawed,
Songs & Statues
is never boring and ultimately provocative.
Frank and Anne Gilbert live in the upper-middle-class WASP suburbs with Anne's mother, Rachel, and their 17-year-old son, David, whom Anne has decided to rechristen Day now that he attends a high-class boarding school in Massachusetts. Frank is so sure he'll soon be promoted to head of his company's fabric design department that he has finally allowed Anne to hire a maid. Frank soft-pedals his Jewishness to fit in at work; Anne is in active revolt against hers, which irritates her proud mother no end. Day, an artistic, sensitive lad who loves popular music and wants to be an architect, serves as buffer and peacemaker between mother and daughter. But he has issues with his father, who is determined that Day will follow him in business. Though there is love in this family, its various members' emotional damage creates a combustible situation.
As befits a respected acting studio, the entire cast delivers strong, confident performances in a highly polished production. Artistic director Tom Oppenheim not only intelligently co-directs with Steve Cook; he also plays two roles. Oppenheim nicely differentiates his emotionally buttoned-down Frank from his less-repressed adult David, seen in flash-forwards, though we could use just a little more subtext from the father. Betsy Parrish grabs the role of Rachel and runs with it, giving a crowd-pleasing turn as a feisty immigrant who refuses to disguise who she is, even as her faculties start to fail. As Anne, Angela Vitale has the least sympathetic character and doesn't shrink from it, fully illuminating Anne's unattractive qualities while always keeping her human. Elizabeth Shepherd is nicely understated as the Hungarian maid, and Ben Rathbun makes the most out of his two very different business partners.
It's no mean feat to stand out in a crowd like this, which makes Chase Fein's work as Day all the more impressive. He's rigorously honest and perpetually in the moment, and his quiet intensity and palpable vulnerability are riveting. It's a lovely, heartbreaking performance, culminating in a powerful confrontation scene between mother and son. This young man, who only just graduated from NYU's Tisch School of the Arts, is a real find.
Songs & Statues
goes to unique and dangerous places in Act 2. Unfortunately, to do so it requires a dramatic device that is also a cheat. It works, but it's not fair. The play also has two endings, with the final climactic scene unsuccessful in what it's trying to dramatize. But this is the Off-Off-Broadway world premiere. There's lots of time for Nickowitz to get it right. And I'll be lining up for tickets the next time around to see if he has.
Presented by the Stella Adler Studio of Acting and the Harold Clurman Laboratory Theater Companyat the Stella Adler Studio of Acting, 31 W. 27th St
.,
NYC
.
July 10
–
19. Wed
.–
Sat
.,
8 p.m
.;
Sun
.,
7 p.m
.
(
212
)
689-0087
.