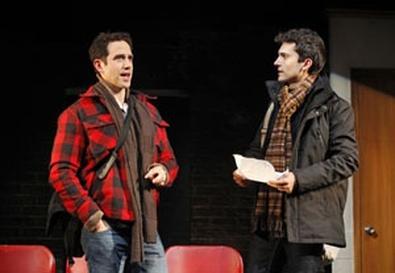 Add Stephen Karam to the short list of young playwrights who artfully chronicle the messy, funny, and sad turns that contemporary life takes. The author first drew attention with "Speech & Debate," produced as part of Roundabout Theatre Company's Underground series. He graduates to the company's Laura Pels space with "Sons of the Prophet," an offbeat comic look at a gay Lebanese-American man's struggles to overcome tragedy and loneliness. That makes the play, which premiered at Boston's Huntington Theatre Company, sound like a downer, but Karam offers such a deep, complex, and compassionate view of his protagonist's situation that it feels as if you're sharing in a valued friend's latest tribulations over a cup of coffee.

The benighted fellow is Joseph, a former potential Olympic runner sidelined by a series of ailments and family obligations and stuck in his tiny Pennsylvania hometown. To gain health insurance, he's working as an assistant to the loopy Gloria, a former bigwig in the publishing industry recovering from her husband's suicide and a scandal with one of her authors. His health and Gloria are only two of Joseph's problems. He's also coping with the death of his father, who may have expired as the result of a bizarre accident involving a statue of a deer; caring for his ailing elderly uncle; supporting his teenage younger brother, who is also gay; and enduring a barren romantic life. Throughout Joseph's trials, his friends and family offer platitudes of comfort and quotes from the poet Khalil Gibran, author of the inspirational essays collected in "The Prophet" and a distant relative of Joseph's family. But what if everything will not be okay, despite everyone's reassurances? How will Joseph deal with devastating loss? That's the hard question Karam is not afraid to ask.

What I love about Karam's work is the overlap of humor and sorrow. One minute Joseph is getting a spinal tap, and the next he is engaging his brother in a tickle fight. Director Peter DuBois perfectly captures this balance. He and a sterling cast understand that Karam's humor is not the dark, almost cartoonish brand employed by Christopher Durang and Nicky Silver. It's quirky and sometimes eccentric, but not outlandish.

Santino Fontana brilliantly keeps Joseph just this side of a nervous breakdown. He heartbreakingly conveys Joseph's deep love for his family as well as his desperate longing to break away from them and start his own life. Joanna Gleason understates Gloria's self-involved lunacy, creating a sympathetic, damaged woman rather than a caricatured crazy lady. Chris Perfetti is a flamboyant delight as Charles, Joseph's kid brother, and Yusef Bulos gives cranky a good name as the grouchy but lovable uncle. As a reporter covering the strange deer incident, Charles Socarides makes an attractive love interest for Joseph and subtly displays his character's ulterior motives. Jonathan Louis Dent lends depth to a high school student involved in Joseph's father's accident. Dee Nelson and Lizbeth Mackay round out the capable company with hilarious cameos in multiple roles.

Anna Louizos' versatile set, Bobby Frederick Tilley II's character-defining costumes, and Japhy Weideman's warm lighting create the appropriately cozy yet confining small-town environment for this big-hearted play.

Presented by Roundabout Theatre Company at the Laura Pels Theatre, 111 W. 46th St., NYC. Oct. 20–Jan. 1. Tue.–Sat., 7:30 p.m.; Wed., Sat., and Sun., 2 p.m. (212) 719-1300 or www.roundabouttheatrecompany.org. Casting by Carrie Gardner.