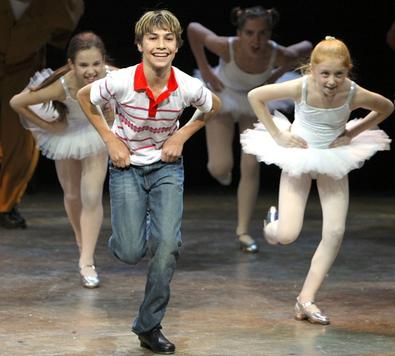 Love the movie, then see the play. Sony is banking on its catalog of films finding new life on the boards. In a new deal with "The Color Purple" producer Scott Sanders, the entertainment giant is backing stage productions of its films.
The five-year deal, announced last week, sees Sony Pictures Entertainment buying a 20 percent stake in Scott Sanders Theatrical Productions. "Expanding our successful relationship with Scott Sanders was the natural next step that provides the studio with a talented Broadway partner to help bring our film and TV libraries to the stage, and further diversify the studio's entertainment offerings," Michael Lynton, chairman and CEO of SPE, said in a statement.
Sanders, whose company is behind the current Broadway show "Evita," said he was "thrilled" at the chance to adapt some of SPE's movies for the stage.
"Tootsie," the 1982 comedy starring Dustin Hoffman, is set to be the first collaboration between the entertainment companies.
"Our goal is to rediscover stories and characters which speak to the human experience and that audiences want to see again but from a new perspective," said Sanders.
As part of the deal, SPE executive Lia Vollack will have the added title of EVP, theatrical. She'll oversee the studio's theatrical productions and will serve as the Sony Pictures liaison with Sanders' company. Meanwhile, Broadway marketing veteran Sandy Block will join SSTP as producer-VP, theater.
Sony's deal follows a similar venture by Disney, which has adapted several of its animated films for the stage. But stage adaptations of films have had mixed results. For all the success of Disney's "The Little Mermaid" or Universal's "Billy Elliot," there have been adaptation flops such as "High Fidelity."
Yet the Disney-fication of Broadway has, for more than a decade, been a source of much handwringing among theater lovers. Does the entry of another corporate media giant looking to convert existing properties into stage shows signal the End Times?
"I don't have a problem with using successful films as source material for musicals," said Adam Feldman, theater and cabaret critic at Time Out New York and president of the New York Drama Critics' Circle. "It's a question of how it's done. I think sometimes people get hysterical about it a little bit because it's a newer medium, and it seems cheaper somehow. But musicals have been adapted from other sources throughout musical-theater history. It's just that they were adapted from plays or books, because those were the dominant media of their day. Now they're adapted from movies, because that's the dominant media of ours."
While corporate influence has led to a great deal of critically derided and commercially unsuccessful work, it has also arguably had a positive impact on the industry. "The return of large-scale musical comedy on Broadway, with money behind it, in the Disney case, certainly helps plump up the size of shows," Feldman said, referring to cast sizes.
Linda Buchwald, who writes for the theater blog Pataphysical Science, also believes that actors have been among those who have benefited from Disney's power on the Main Stem.
"Disney has kept a lot of actors employed," Buchwald said. "Say what you will about the quality of Disney shows; most Disney Theatrical shows require large casts and run for years. 'The Lion King,' for example, just became the fifth-longest-running show on Broadway."
But Sony's investment in theater does not another Disney make—not yet, anyway.
"Sony's success in film does not guarantee success on Broadway," Buchwald said. "Look at Dreamworks, which brought 'Shrek the Musical' to Broadway, and it only ran for a year and didn't recoup its investment."