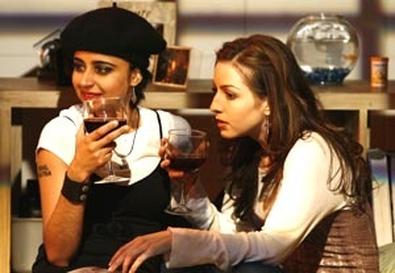 Like the arguments that give Jonathan Marc Sherman's 1993 play its title,
Sophistry
presents scenarios meant to show various perspectives on such subjects as the nature of power, substance abuse, and sexual aggressiveness. Individually, pieces of
Sophistry
are periodically intriguing, titillating, and even moving, but they fail to create a satisfying whole while depicting a series of events at a small New England private college over the course of roughly two years.
Initially, the dramedy appears to be primarily about the allegations of sexual misconduct made by a student (Michael Carbonaro) about philosophy professor Whitey McCoy (a sympathetic and cagey turn from Jonathan Hogan). The play, though, devolves to more mundane—and at times sophomoric—stories about other students, primarily the likable but caddish Xavier, or "Ex" (played with a great sense of lunkish entitlement by Charlie Hewson), and Robin (smartly rendered by Natalie Knepp), a go-getter who comes to realize she can do much better in the boyfriend department.
Ex's and Robin's separate visits to the school president (a shrewdly calibrated performance form Ellen Dolan) reveal the varied ways young people can attempt to rebel against or sway authority. Similarly, Ex's realization after an awkward and potentially criminal encounter with another girl that he is adrift mirrors the existential musings of best bud Igor (an almost electrically edgy Ian Alda).
Though director James Warwick elicits fine performances from his company, which also includes Maximilian Osinski in a memorably comic turn as a drugged-out slacker, the staging does not have the sort of tautness needed to make the episodic play compelling theatregoing and more than an intellectual exercise. It's the sort of theatre that inspires appreciation, particularly from those with fond memories of their days on the debate team.
Presented by South Ark Stage at the Beckett Theatre, 410 W. 42nd St
.,
NYC. May 5
–
June 6. Tue
.,
7 p.m
.;
Wed
.–
Fri
.,
8 p.m
.;
Sat
.,
2 and 8 p.m
.;
Sun
.,
3 p.m
. (
212
)
279-4200 or www.ticketcentral.com
.