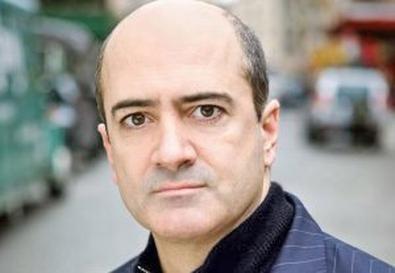 After many years away from the stage, Matt Servitto has had to readjust to its special demands, he says. Not that he's complaining about what he's done in the interim. After all, playing FBI agent Dwight Harris on "The Sopranos" for all seven seasons (1999–2007) put him on the map and lined his pockets, he admits unabashedly. He is married, the father of three children, and is above all else pragmatic. But theater is his first love, so he says the chance to play the anguished son in Robert Anderson's 1968 intense family drama "I Never Sang for My Father" was irresistible. The fact that the Keen Company is behind it was an added incentive. "They produce work that relates to the heart and mind," Servitto emphasizes. "They're my soulmates." The play's co-stars Keir Dullea and Marsha Mason were a further draw.
Still, the emotional and physical stamina required in the role is daunting. "There are days I've not wanted to go to rehearsal," says the gregarious Detroit native. "And you can't phone this one in. Unlike film— where you do it once, it's captured, and you're through—here you have to re-create it again and again and again, and it keeps asking more of you. Also, this is the first play I've been in where I never leave the stage. Usually, you have a 10-minute potty break or coffee break. I have to remind myself to go to the bathroom before going on.
"The other major challenge is talking directly to the audience, and you can't really rehearse that," he continues. "I have five or six monologues where I talk directly to the audience. I enjoy it, but it creates a dilemma. Do I carry the emotional baggage from the previous scene into those monologues or not? I'm still working that out, but I find it best to finish the scene, take a breath, and turn to the audience and talk to them in the present. I've stepped out of the scene and taken on the role of storyteller."
What helps him get into character—and that character's troubled relationship with his father—is Anderson's punctuation. "It's a road map, and when you get away from his punctuation, it doesn't quite play," says the actor. "For example, whenever I'm talking to my father, there are a lot of dots in the dialogue. What do those ellipses mean? They indicate pauses, and I think they point to his discomfort with his father."
Servitto also finds emotional truth through his character's economic class, education, and where he has lived. These facts, in turn, dictate the kind of shoes and jacket he might wear, which are clues about the man, Servitto says. Indeed, in preparation for his current gig, he sported a jacket at every rehearsal because in the 1960s men routinely wore jackets. The weight and feel of the jacket make Servitto move, sit, and feel a certain way.
To Do a Musical
The veteran actor didn't always have his sights set on an acting career. As a young man, he was a "political animal" and thought he'd ultimately major in political science. But, like many actors, he got involved in school productions to meet girls. Within short order he was hooked on theater, especially on musicals the students performed. Musicals, however, were put on a back burner. After a brief stint at Wayne State University, he attended an acting program at Oxford University. He then matriculated as a drama student at Juilliard, which he says was a "game-changer" because for the first time the prospect of making a living as an actor seemed real. He signed with an agent by the time he graduated and then became a series regular on "All My Children."
Still, TV was a new ballgame for him, and he had much to learn, not least to scale down his performance. Initially, he worried about vocal and emotional projection. "I found myself performing for the crew, and that's when the director pulled me aside and said, 'On television, your performance should end at the camera's lens,' and that's about five feet from your face, while the crew is 15 feet further back," Servitto says. "It took me some time to trust the lens and the cinematographer and do very little. It's still a struggle."
The actor next appeared in independent films, in Off-Broadway and regional productions, and finally on "The Sopranos," which was clearly his career turning point. He still marvels at its extraordinary success, especially because no one predicted it. By its third season, he says, he was being recognized on the street and loving every minute of it.
Embraceable
Servitto never feared typecasting—as a result of the show or because of his ethnicity. "I tell acting students to embrace your stereotypes because it may get you into the door," he says, "Early on in my career, I played the Italian guy, often thugs, and then after 'The Sopranos' I got to play detectives, cops, and agents. If it became a problem for me, I wouldn't do it. But I'm a survivor first and foremost; I look for union jobs and the checks to clear." That said, he points out that there are producers and directors who would never even consider him to play a cop or agent precisely because he is so identified with the role on "The Sopranos."
He has little doubt he's had a fortunate career, yet he regrets not having pursued musical theater. In part, he blames his training, which cultivated the serious actor for straight contemporary plays and classics. Musicals were somehow dismissed as lowbrow, and singing and dancing impulses were not encouraged, he says. "Still, it's my fault for not having stuck with it." But it may not be too late, he muses: "After all, David Hyde Pierce said it was ironic that he had never done a musical before 'Curtains.' "
"I Never Sang for My Father" runs through May 1 at the Clurman Theatre, 410 W. 42nd St., NYC. Tickets: (212) 279-4200 or ticket-central.com or KeenCompany.org.

Outtakes
-Has appeared on such TV shows as "Sex and the City" and "The Good Wife" and had recurring roles on "Mercy," "Law & Order," and "Brotherhood"
-Has had roles on stage in John Guare's "Lydie Breeze" (New York Theatre Workshop) and two plays by John Patrick Shanley: "Psychopathia Sexualis" (Mark Taper Forum) and "Cellini" (New York Stage and Film)