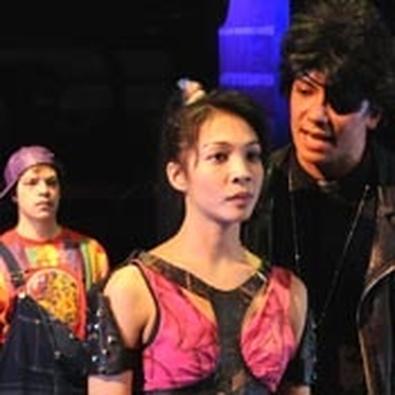 Even if, unlike me, you don't have a fondness for petite women brandishing large weapons, Soul Samurai offers plenty of charm and entertainment. Equal parts 1970s samurai flick, blaxploitation, and post-apocalyptic NYC grit, it tells the tale of the meek and mild lesbian Dewdrop (Maureen Sebastian), who toughens up when her lover is killed by a gang of vampires running Brooklyn.
Playwright Qui Nguyen is clearly a fan of Quentin Tarantino's Kill Bill films, and his play comes across as a tongue-in-cheek homage to those revenge fantasies, scrambling time and giving his heroine a broken heart as impetus for the killing spree she embarks upon with her trusty sidekick, Cert (Paco Tolson, who distinguishes himself in every single one of his multiple roles). Unfortunately, Nguyen, who also choreographed the riveting fight sequences, lets his play down when it comes to the climactic battle between Dewdrop and Lady Snowflake, giving us the evening's one uninteresting battle.
That lapse is happily compensated for by the consistently clever use of multimedia. Puppet shows, live-action animation, and video projections all get their time in the spotlight, and if they don't always advance the story, they at least offer the hard-working actors a much needed breather and keep the audience entertained.
And boy, do those actors work. Between multiple quick changes, they're doing roundhouse kicks and wielding samurai swords while still managing to hit the right combination of menace and humor. Sheldon Best and Jon Hoche, as various villains, lackeys, and saviors, are nothing short of astonishing in their versatility. Bonnie Sherman does a nice job, but one wishes she wouldn't try so hard to be the show's heart. Before trying to kill Dewdrop as Lady Snowflake, she spends an awful lot of time fighting back tears as a woman who just crowed about lacking a soul.
But it's Sebastian who carries the show on her slim shoulders. Kicking ass, cracking jokes, and participating in a dizzying training montage, she makes the whole thing seem effortless. Soul Samurai, a glorious melting pot of influences and inspirations, is theatre at its best.
Presented by Ma-Yi Theater Company in association with Vampire Cowboys Theatre Company
at Here Arts Center, 145 Sixth Ave., NYC.
Feb. 19–March 15. Wed.–Sun., 8:30 p.m.; Sat., 4 p.m. (No performance Sat., Feb. 21, 4 p.m.; additional performance Sun., Feb. 22, 4 p.m.)(212) 352-3101, (866) 811-4111, Theater Mania, or Here Arts Center.