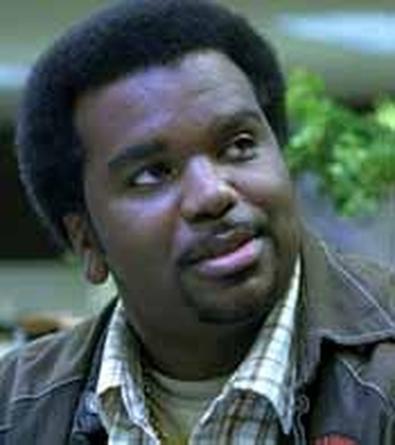 Thank goodness Craig Robinson is such a ladies' man. Best known for his role as world-weary Dunder Mifflin warehouse manager Darryl Philbin on NBC's The Office, Robinson began his comedy career, at least in part, because of a girl. It all started at a small New Year's Eve party more than a decade ago. When Robinson mentioned to other guests that he wanted to try standup, the hostess urged him to hit an open-mike night at a local Chicago nightclub called All Jokes Aside. "I couldn't really back down from it, 'cause there was this beautiful girl there I was trying to impress," he remembers. "So all of a sudden, I'm forced into doing it...without being totally prepared. I didn't have any jokes."
Since then, he's come up with plenty of material. "Comedy chose me," Robinson says. "I just felt the need to be up there doing it." That impulse has led him from stage to silver screen, where his credits range from Byron, an outrageous rapper in Tyler Perry's Daddy's Little Girls, to a scene-stealing cameo as a conflicted bouncer in Judd Apatow's Knocked Up.
Robinson even brings humor to his action-fantasy debut, Dragon Wars: D-War, premiering in the United States on Sept. 14. The CGI-intensive film, headed by Korean director Shim Hyung-rae, opened Aug. 1 in South Korea and set box office records as the most-watched release in the country's history. Based on Korean mythology, the film tells of an ancient serpent that attacks Los Angeles. Robinson's character, Bruce, is a wise-cracking news cameraman sent out with TV reporter Ethan (Jason Behr) to cover the incursion. "I'm sort of the comic relief/support-my-boy-through- whatever- he's-going-through-but-give-him-shit-about-it-kinda dude," says Robinson, who filmed the pic three years ago. Like comedy, slaying dragons -- i.e., acting against a green screen -- required impeccable timing. Shim would give the actors two takes to run and scream at just the right moment. "You either got it or you didn't," Robinson says.
Rhythm and Blues
Fortunately, be it in an action flick or a standup gig, Chicago native Robinson knows how to deliver a line -- and a tune. A talented keyboardist and vocalist, he was raised in a family of musicians and grew up singing in church choirs. (Office fans may remember him manning the synthesizer during Kevin's rendition of the Alanis Morissette scorned-lover ballad "You Oughta Know" in last season's Christmas episode.) After graduating from Illinois State University, he quickly distinguished himself on the national club circuit with his irreverent James Brown-style crooning.
A self-professed romantic ("I love to be in love -- when it's convenient," he jokes), Robinson woos live audiences by baring his sensitive side. "Fellas, I want you to look at your lady," he urges in a sultry baritone. "Touch her hand, touch her hair...go to that place you haven't been in a long time.... I want you to look at your lady and tell her these words...." He pauses. " 'Take your panties off.' " The soul-infused panty ballad that follows captures perfectly the comedian's blend of naughty and nice.
Such musical stylings won Robinson critical attention at the 1998 Oakland Comedy Competition and Montreal's Just for Laughs, where he caught the eye of a Fox development executive. A deal he forged at the network eventually expired without bearing fruit, but by 2003 he had appeared as a guest performer on HBO's Def Comedy Jam and Real Time With Bill Maher, Comedy Central's Premium Blend, and NBC's Comedy Showcase. That year, he landed a role as a compulsive Vegas gambler on the FX comedy series Lucky, with John Corbett. Lauded for its fresh humor, the show was nominated for an Emmy -- then was canceled two weeks later due to low ratings.
It was the kind of Hollywood twist actors dread, but Robinson's performance hadn't gone unnoticed. Hailing his character, Mutha Legendre, as one of TV's funniest sidekicks, an Entertainment Weekly review of the show found its way onto the desk of Office writer-director Greg Daniels -- the same week Robinson read for the role of Jim. Shortly afterward, Robinson received a call that they had created a part for him in the warehouse. "I'm glad it worked out like it did," he says. "I'm a huge Office fan."
Mr. Robinson's Acting School
Things may have panned out well at Dunder Mifflin, but like the hard-working Darryl, Robinson is hardly one to rest on laurels. This summer he filmed Mr. Robinson's Driving School, a series of 16 short webisodes (www.drivingschool.msn.com) about two rival driving instructors who compete for a retiring instructor's driving empire. In December he will appear in Walk Hard: The Dewey Cox Story, starring John C. Reilly, and in August 2008 he'll hit screens in the Seth Rogen-Evan Goldberg-Judd Apatow stoner comedy The Pineapple Express. Other upcoming roles include a gig in Step Brothers, Will Ferrell's new project directed by Adam McKay.
Even with such a full plate, Robinson knows the importance of staying hungry. "You'd better want it," he advises aspiring actors and comedians. "If you want it, you'll go get it. A lot of people think it's handed to you, but it's so not." Asked whether there are any types of roles he wouldn't take, he pauses for a second, then laughs, admitting, "No, I'm game for pretty much anything." His only caveat: "The less prosthetics, the better."
As his popularity continues to grow, Robinson draws on his standup roots to keep him grounded. He still books gigs at local stages, including a recent series of jam sessions with his group, the Craig Robinson Band, at Pasadena's Ice House comedy club. Seeing him on stage is the ultimate way to get familiar with Robinson's signature humor -- and his insecurities. At an Ice House performance this spring, he revealed the one thing that can shake his confidence: Barry White. "Barry's the only man I've ever been jealous of," Robinson confessed to the audience. "He can make anything sound sexy."
Brooke O'Neill can be reached at brooke.oneill (at) backstage.com.