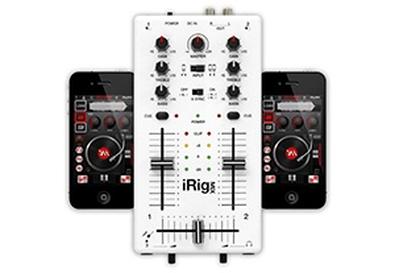 What It Is
iRig MIX
What It Does
A mobile audio mixer for iOS devices.
Where to Buy It
www.ikmultimedia.com/dealers/
for locations
What It Costs
$99.99
Not that long ago, it was impossible to imagine life without a simple portable music player. But now that you can buy devices that are even more powerful than traditional MP3 spinners, why settle for just playing songs? The iRig MIX ($99.99), by IK Multimedia, makes it possible to transform your iPad, iPhone, or iPod touch into a music studio at a moment's notice—and it's small enough to fit in the same bag you use for your other Apple products. If you've ever longed for access to full recordings anytime, anywhere, and tailor their use to whatever sound system you're faced with, now you can.
The MIX gives you an array of the same controls you'd find on a professional mixer—crossfader, cues, volume, EQ—which you can use with either two stereo devices (each plugged into an independent channel) or one (which splits the output into dual-mono and sends it to each channel). But you don't need to be an actual DJ to make use of it: An extra input for bass, guitar, or microphone and standard RCA outputs give you plenty of flexibility for any small performing scenario. (Obviously, it's not ideal for jobs that require more elaborate mixing.)
Included as part of your purchase are four free App Store downloads to help you make even better use of the MIX: DJ Rig, a professional DJ mixing app; AmpliTube, for guitar amplification and effects; VocaLive, for processing vocals in real time; and GrooveMaker, for creating loop-based beats and grooves on the fly.
You can power the MIX with the included AC adapter or a battery pack, or just by plugging it into your computer's USB port; iRig estimates it typically draws about 5 watts, or 10 watts with full headphone output. Its reasonable measurements (1.8 by 4.3 by 8.5 inches, HWD) and its lightweight nature (it weighs just over 10 ounces) make it easy to carry with you practically anywhere. Unfortunately, its plastic construction also gives it a fairly cheap feeling—you should expect it to be sturdy enough, but not as bulletproof as an actual mixer.
But that's okay—this is an accessory designed to simplify your life by giving you instant access to hardware you might not otherwise have handy. You shouldn't plan on its being perfect or delivering every possible feature, but it gives you control over playing and arranging your music live. If that's all you need and want, you'll be glad to have this useful gadget in your personal mix.