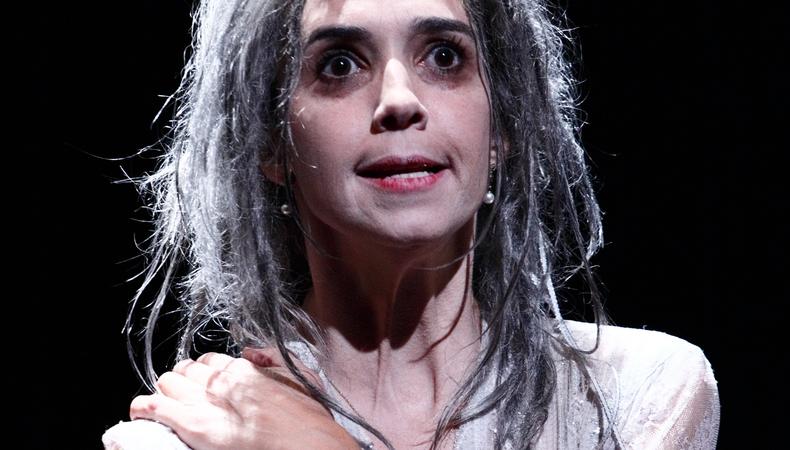 Director Joy Zinoman accomplishes a surprising feat with "Sounding Beckett," a nearly flawless and enlightening show that pairs three short plays by Samuel Beckett with a vivid selection of newly composed instrumental music. Zinoman, of the Studio Theatre in Washington, D.C., and musical director William Anderson fully accentuate the stark, misanthropic melodies in Beckett's deliberate dialogue—or lack thereof. The three plays selected draw strength from sound—be it shuffling, silence, or audible shivering—and tersely defy any sort of traditional plot.
Anderson's own "J'attendrai—Overture to Sounding Beckett" easily qualifies as the most Beckettian of the musical interludes. Assembled from frantic snatches of violin and abrupt silences, it provides an able scaffold for the evening and leads immediately into Beckett's "Footfalls," in which Holly Twyford plays the haggard and trapped May, who paces within a single beam of light on the stage floor. Kathleen Chafant provides the purring disembodied voice of May's mother, who is either dying or has already died. Nonetheless, May continues to converse with her, methodically shuffling back and forth along the lighted path. It's a marvelous visual conceit, matched by her mother's disembodied words: "Will you never have done revolving it all? In your poor mind?" Beckett calls for Chafant to repeat "it all" a few times in voiceover, both robbing the words of any meaning and somehow extending them to encompass all meanings. Sad to say that of all the music included, Chester Biscardi's airy, atmospheric musical response to "Footfalls," though elegantly composed, misses the mark the most, lacking any echo of the play's potent agnostic desperation.
The next work, "Ohio Impromptu," fortifies itself with a sublime performance by Ted van Griethuysen as the reader of a prose passage. Seated at a white table with the reader is an identically dressed listener, played by Philip Goodwin, who occasionally raps firmly on the table, a signal that instructs van Griethuysen to pause and then reread the previous sentence. The passage, imbued with much gravity by van Griethuysen's honey-voiced reading, centers obliquely on the process of letting go of a loved one. It is coordinated well with Scott Johnson's response, "Last Time Told;" a plucky, folksy piece that's occasionally halted with a pronounced knock upon the wood of one of the guitars.
The final play, "Catastrophe," has an irritable stage director (Goodwin) and his assistant (Twyford) futzing with a shivering protagonist (van Griethuysen) upon an empty stage, the final rehearsal for some four-star production of human frailty. David Glaser's bouncy musical response, "I Make a Note," finds harmony with Beckett's cruelly businesslike script, leaning heavily upon a jaunty violin to match the quick efficiency with which Goodwin and Twyford decide the protagonist's fate.
One could argue that these later works by Beckett are composed in a language of pure theatricality, one that admittedly requires no musical embellishment. And yet, as the six-piece Cygnus Ensemble performs each response directly after the play that inspired it, the music creates a unique, sophisticated space for contemplation.
Presented by Cygnus Ensemble at Classic Stage Company, 136 E. 13th St., NYC. Sept. 16–23. (212) 352-3101, (866) 811-4111, or www.soundingbeckett.com.
Critic's Score: A