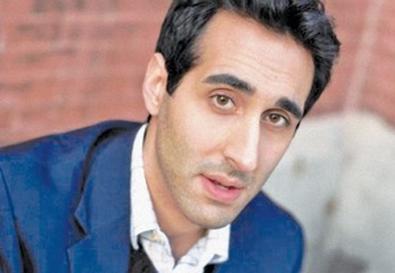 Richard Rella Jr., New York City
What did we do before smartphones? There really is no greater feeling than being on set at "30 Rock" and opening my Blackberry to find emails from my manager. Apparently, I will be going in for a recurring role on HBO's "Boardwalk Empire." This would be my third audition since the show started filming last year.
My audition is the next day, and I have to portray a 1920s Philadelphia gangster. Since I got back from tour, I have been steadily losing weight, and currently my closet is full of suits that are all too big. The last time I needed a professional wardrobe was three years ago, when I made the transition from college professor to actor. My day job for a year was as a recruiting director for Northwestern Mutual. But that was three years ago, and I was 40 pounds heavier. I also realize that I need a haircut. I had been growing it out for "Tony n' Tina's Wedding," but that will never do for this period piece. Finally, a portion of the sides needs to be translated into Italian. Fortunately, my audition is not until 2 o'clock, so I have the morning to get my act together.
The next day is one of my best days of the year. I am up at 6 o'clock, driving my wife to work and my daughter to her aunt. I go to the gym and rehearse with my father until 9 o'clock. My dad was an actor for most of my youth, so I always get his input before major auditions. He also helps me brush up on my Italian. I am at the barber by 9:30 and searching for a suit at Macy's by 10. By noon, my sister, my daughter, and I are driving to Manhattan. As I drive, I rehearse my lines with my sister. She too is an understudy in "Tony n' Tina's Wedding," and she challenges me on several of my choices. I love doing this type of work because it helps me to stay flexible with my interpretation.
I get to the audition and I am the only one in the waiting room. I am able to breathe and get centered. I also notice that the sides for the role I am reading for have been changed. Fortunately, I am extremely prepared, so the new sides do not throw me. On the contrary, I feel very relaxed and able to roll with any direction that I am given. On the way back to the car, I send my manager a thank-you email from my Blackberry and then enjoy Wendy's with my family. All the while, my sister and wife laugh as I cringe when my daughter feeds me ketchup-drenched French fries in my new suit.
Dustin Hoffman once said, "I am not in this profession to work. I am in this profession to study acting, and if by happenstance I get an acting job, I'll be very thrilled." I didn't get the job, but I am proud of the work that I am doing. I also know that I am making a good impression with this company that I admire greatly. Besides, I have one great-fitting suit hanging in my closet—sans ketchup.
Octavia Spencer, Los Angeles
I'm often asked to give advice to those just starting out in the business. The wisdom I proffer is to train extensively and become immersed in a community of talented artists who inspire and challenge your work, who will ultimately accompany you on the journey. The latter seems difficult for some because they think the road to success is solitary. Not true. At least it hasn't been for me.
March began with the unveiling of a life-altering secret that I'd sworn via blood oath to keep even if I were interrogated at gunpoint—or until it hit the trades. Lucky for me, it hit the trades first. But that's the end of the story. Let's backtrack.
About 15 years ago, I was working as a casting assistant on "A Time to Kill." I was bored to death, sitting behind a desk, when in walked this gorgeous office P.A. named Tate Taylor. After seeing him, I loved going to work. I curled my hair, put on makeup—you get the idea. I didn't realize the significance of this meeting at the time, or that the course of my life had changed. Afterwards, we found ourselves in L.A. staking our claim to Tinseltown gold. There we met Brunson Green, Tate's current business partner and my dear friend.
Fast-forward a few years, to a vacation in New Orleans, when Tate introduced Brunson and me to his childhood friend Kathryn Stockett. I liked her immediately. She was soft-spoken, demure, but fun-loving. The other plus: She had an infant daughter, and I love kids. But Kathryn lost me for a moment when she said she was about to write a novel. I silently dismissed it, thinking, "Who isn't?" Outwardly, I praised her and promised to read it when it was finished, believing that day would never come.
A couple of years passed. I was on location in Montana shooting a film that Tate was directing and Brunson producing (our fourth together). Kathryn came to visit and, unbeknownst to me, collect on that promise. We were sitting high above Glacier Park when she told me she'd finished the book and had based one of the characters on me. I froze. I had no idea how to respond. After an immeasurable pause, I finally agreed—again—to read it. This time through clenched teeth. I thought, "What if I hate it?," but decided to be honest with her at all costs. Needless to say, I loved "The Help."
This time last year, I was doing readings with Kathryn on the first leg of her tour one month after the book was published. Since then it has been a mainstay on the New York Times best-seller list, earning accolades and a multitude of fans. Now, the secret is out: It is being made into a film by DreamWorks, with Tate Taylor directing and Brunson Green producing. I feel honored that Tate and Brunson have been my companions on this tumultuous artistic road.
Derek Lui, Los Angeles
Types. Like them or not, they exist. There are a few actors I call my "type buddies" because we always run into each other at auditions. That's probably because we are of the same type—or I should say we are perceived as the same type. You probably think my type buddies are all Asians, and you are probably right—except for one Caucasian actor, David.
I met David while I was filming the horror feature "Vamps in the City." We barely talked, because we had only one short scene together. Interestingly, I originally auditioned for his part, before I was assigned another role. A few months later, while I was performing in the monologue show "Sex, Relationships, and Sometimes Love" at the Actor's Playpen, I ran into him when our director was auditioning new actors. The monologue he chose to perform was the exact same monologue I chose for my audition. As if that weren't coincidental enough, I came across a postcard of a play earlier this year in which he was one of the actors; I worked with that same director just a while ago.
Last month, I auditioned for a Web series titled "It's Always Smoggy in L.A." and ended up landing a part. I was really excited about it because it's a fun project. On our first-reading night, while I was mingling with other actors before the reading started, I heard someone walk in and say jokingly, "Stop following me." I looked up and it was David. I responded, "You're the one who is following me. Do you notice every time we run into each other, I'm there before you arrive?" We laughed about it, and we have joked about it ever since. In this Web series, we play a similar type of character, but we finally get to be in the same scenes the entire time. So, we are going to officially work together in April.
Two weeks ago, I got a callback for an Asian male role in a feature film. At the callback, David was there for that same role. So is he going to get this role, which was originally intended for an Asian actor? Am I going to get this role? Or is some other actor going to land the part? Whatever the outcome is, I am glad to have met "the other me" in the acting world. Yes, we are constantly placed in the same category to compete against each other. But, as in sports, the meaning of competition is to get inspired by your competitors, get better yourself, and eventually walk your own unique path.
Nick Martorelli, Philadelphia
I often think that being a professional actor has a lot in common with being a professional juggler. We both try to grab as many things as we can, and then we have to make sure that each thing gets enough attention to prevent anything from dropping to the ground. It takes dexterity and focus, but sometimes you can only succeed when you choose to put one of those balls (jobs) aside before all the balls come tumbling down around you.
But I'm getting ahead of myself. To tell you about March, I first have to tell you about my company. I am the founder and artistic director of a Philadelphia-based group called Radio Hound Productions (www.radiohoundproductions.org). The group officially formed in 2008, and our first live production was an audio-drama adaptation of "Strange Case of Dr. Jekyll and Mr. Hyde." Radio Hound seeks to blend the entertainment styles of the past with the artistic sensibilities of the present.
Recently, one of our projects was accepted into a preview event at a downtown Philly theater, where we'll join several other theaters in giving the audience a special sneak peek of upcoming shows. A day after I found out about this opportunity, Curio Theatre offered me the role of Orsino in its upcoming production of "Twelfth Night." Naturally, the final dress rehearsal is the same night as the sneak-peek event for Radio Hound. Those juggling balls were going to collide in midair, unless I was able to put one of them aside.
Audio dramas are a passion of mine, and I was excited to get the exposure for Radio Hound that this event would provide. However, I'd wanted to work with Curio Theatre for years, and I was thrilled they were offering me a role. I was tempted to cancel Radio Hound's appearance. Fortunately, I have excellent partners in my company. They convinced me that they would be able to handle the performance details and that Radio Hound could still present the project at the sneak-peek night. Instead of sacrificing the promotion of my personal company to further my personal career, I will be able to balance both projects, thanks to some help from my friends.
So in early April, the company that I started will perform a show that I will not be able to attend. That makes me a little sad and definitely disappointed. But on the other hand, the company that I started will perform a show without me, moving on and taking shape without me there to watch over it every minute. My personal project is becoming a full-fledged company, and that is very exciting to be a part of. It makes me proud of what I've created with my partners and collaborators. With fellow jugglers to help me out, maybe all those balls can stay in the air after all.
Allison Strong, Montclair, N.J.
Last fall my freshman class was required to take a course called Musical Theatre Ensemble—basically a choir class where we sang show tunes for a grade. It was like "Glee," minus the vocally gifted jocks and blue slushy attacks. One of my favorite ensemble pieces was a Charles Strouse medley, for its dead-on lyrics: "You're the king of it all 'cause you've had a taste of the sound that says love." What sound are they talking about? The sound of applause, of course! If actors were Pac-Men, then audience applause would certainly be the Pac-dots they eat up at every performance.
For six months I happily heard that lovely clapping sound, and, unfortunately, rarely got the chance to return the favor. But a trip to a Sunday matinee of "West Side Story" in March marked my return to Broadway as an audience member. That day the lights seemed a little brighter, the sets a little grander, and the experience of live theater a little more miraculous. I wondered if the performers wouldn't rather hurry home to start their weekends early, as I occasionally felt during my stint in "Birdie," or if their feet were wrapped in sports tape because of an injury, as mine constantly were. If so, I didn't notice. That day I applauded the performers, of course, but for the first time I came out of the theater feeling truly appreciative of everyone and everything that made that matinee possible—from the prop master to the ensemble dancers. I later carried that sense of gratitude to my university's production of "Side Show," to a talk featuring Rita Moreno, and even to a quirky Ingrid Michaelson concert. I just plain enjoyed listening to the voices, paying attention to the lines and lyrics, noticing the minute details, and watching the entire ensemble instead of always focusing on the leads. It felt like I was truly observing for the first time—and to my surprise, I wasn't itching to jump on stage and join in. For now I'm content with watching others perform and auditioning, mostly for TV and film.
My auditions this month have included a last-minute call for a guest star on "Mercy," a new Fox pilot, and a Columbia student film where I had to play a girl struggling with Tourette's. Thankfully, the music hasn't stopped for me entirely: I'm currently suiting up for a film audition where I have to play a budding singer-songwriter trying to break into the business. The part calls for singing with self-accompaniment, so I'm trying to incorporate some of my practice for my keyboarding class—groan—into my preparation for the appointment.
I'm not sure which stage I'll be skipping onto next, but the suspense isn't killing me…yet. My guess is that it'll be at school, but who knows? Wherever it is, whenever it is, I hope applause will be waiting for me when I get there. After all, it's "the sound that says love."