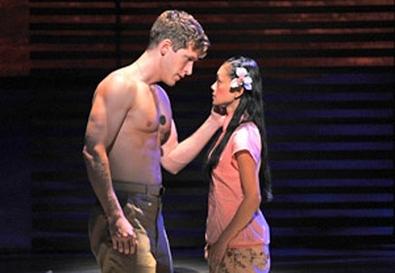 Sometimes anticipated events seem inexplicably delayed, until we discover they were merely waiting for the stars to enter perfect alignment. The epic musical drama "South Pacific," which premiered in 1949, had long been the only major Richard Rodgers–Oscar Hammerstein II work to never have a Broadway revival. That situation was remedied in 2008 with director Bartlett Sher's Lincoln Center staging, which introduced the classic to a new generation, walking off with seven Tony awards. The touring version keeps the ball rolling in grand style. Impeccably cast, ravishingly staged, and musically incomparable, Sher's revisit is among the finest musical revivals ever to grace the stage.
It's rare when a cherished Broadway show seems even more rewarding in a new production. The wonder of Sher's tasteful and intelligent take on the material is that its urgent yet timeless social themes have never seemed in sharper focus. He weaves a seamless tapestry of old-fashioned musical-theater frivolity within the framework of a deeply moving dual love story. Though the plot elements of forbidden interracial love were groundbreaking in 1949, they lose none of their punch here. Combining the glorious Rodgers music and masterful Hammerstein lyrics with the tension-charged wartime background and the intensely personal drama of the Hammerstein–Joshua Logan libretto (based on a James A. Michener novel), the show satisfies on multiple levels.
At the heart of this rendition is the shimmering work of opera singer Rod Gilfry and radiant Carmen Cusak, a most formidable leading lady. As Emile de Becque, a French widower on the run from a troubled past, and Ensign Nellie Forbush, an effervescent Navy enlistee with a credible dose of human foibles, these actors savor the resplendent R and H songs—virtually all classics—and give characterizations of passion and intelligence.
They are backed by scintillating character work from the exquisite Keala Settle as the wily Tonkinese con artist Bloody Mary; subtly charismatic and golden-voiced Anderson Davis as ill-fated Marine officer Lt. Cable, in a beautifully shaded portrayal; Matthew Saldivar as the hilarious sailor, Luther Billis; CJ Palma and Christina Carrera as de Becque's native children; and a magnificent triple-threat ensemble.
Christopher Gattelli's musical staging sends several rousing numbers through the roof, with particularly memorable results in the sailors' "There Is Nothing Like a Dame," Nellie and the nurses' "I'm Gonna Wash That Man Right Out of My Hair" and the uproarious "Honey Bun" sequence.
The visual style is magnificently achieved throughout, thanks to set designer Michael Yeargan, costumer Catherine Zuber, and lighting designer Donald Holder. Ted Sperling's music direction is solid gold, bolstered by Robert Russell Brown's lovely orchestrations. Some enchanted evening? You bet.