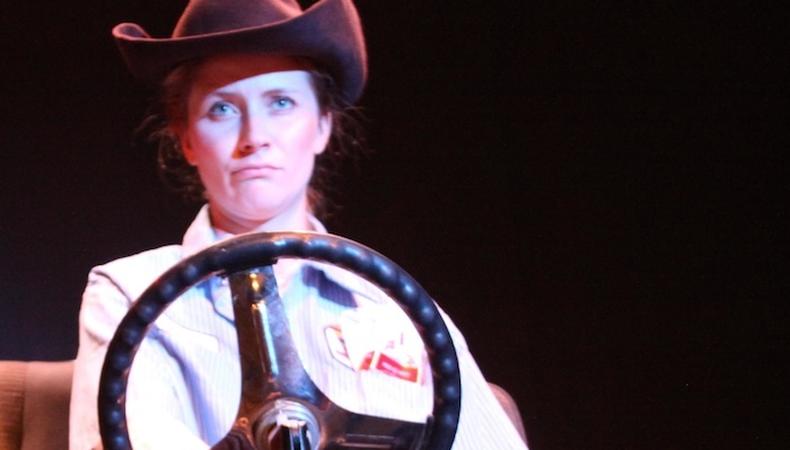 I am, as the saying goes, a lucky duck. This season, I act on Broadway in a spate of bit parts and simultaneously double as understudy for all of the women in "Breakfast at Tiffany's," I co-created and star in a comedy web series (a parody of the aforementioned job as an understudy on Broadway, available soon on www.understudiestheshow.com), and I star in a one-woman show I wrote opening Off-Broadway on Monday, Mar. 25, called "Southern Discomfort."
I am Southern. And I am uncomfortable. So if you perceive a lack of creativity here, you might not be wrong.
Ideologically, "Southern Discomfort" evolved out of my desire to explore a humorous, tragic, and honest vision of the South I grew up in and the fascinating people who inhabit it. The characters presented in the show are all based on real, live Southerners I have met and known in my years growing up in the South. There's a nocturnal tow-truck driver yearning for an obese stripper; a former beauty queen violently obsessed with facial symmetry; a one-armed teenage boy selling rifles at his family's gun stall, and more. "Southern Discomfort" is funny and sad, and above all, quite strange in that microscopic, quotidian way.
But practically speaking, "Southern Discomfort" evolved out of my tumorous inertia and my general sense of ineptitude. Very few actors manage to avoid this desert land of worthlessness, but I myself have been living nomadically in the region for some time, having spent a wide swath of my early twenties being told that my "old soul" and "mature face" somehow excluded me from carrying any market value in the next few decades. There's nothing like the old "Come back after menopause" line to really get a young actor excited about the next thirty years of being in this business.
And so, in a moment of desperation, I wrote a play.
Of course, I use the term "write" loosely. What I really did, nearly three years ago, was rent a small black box theater venue in my hometown, declare an opening date to the local press, and then return to soak in my whirlpool of procrastination and self-pity.
I showed up to the theater one week before opening having written nothing and therefore rehearsed nothing. Fearing public shame and the possibility of permanently destroying my parents' social opportunities at the neighborhood potluck, I resigned myself to a diet of sweet potatoes, spurred myself to some feverish writing, and produced what could lovingly be referred to as the "first draft" of the version of "Southern Discomfort" you'll see in the theater on Monday, or every Monday should you choose to join us.
Was the show a work of startling genius in that original incarnation? No. But it was real and solid and it was a place to start. After that, I started touring the show around in my free time. No real work? No worries. I would call up community theaters, music venues, town halls and ask if I could take "Southern Discomfort" to them. And so, from time to time, I'd revisit this little project and keep working on it in safe and supportive spaces. This upcoming run at the Soho Playhouse is a culmination of nearly three years of testing audiences from California to Carolina. Who knows what New Yorkers will think of it, but whatever they do think of it, "Southern Discomfort" has fulfilled its purpose for me: a chance to act and to commune with audiences.
As long as there has been an acting profession, there has been an entrenched philosophy of "waiting for your moment." Shakespeare tells us in "Hamlet" that "the readiness is all" and in "King Lear" that "the ripeness is all." We are, it seems, programmed to wait for "the green light, the orgastic future," as F. Scott Fitzgerald put it, that moment when the world around us will give us the shot and believe in our dreams and align with our sense of purpose.
But—and here's where the self-help comes in (I can't resist)— if the world isn't ready to give you the green light, sometimes you have to be willing and able to do that for yourself. If, like me, you are destined for wild fame and glory sometime in the afterlife, but probably not before, you can waste this lifetime waiting for the phone to ring. If you were put on this planet to act, figure out a way to do it. Because then, at least, you're able to look yourself in the eye every day and know that what Gerard Manley Hopkins wrote is true: "Each mortal thing does one thing and the same…Crying What I do is me: for that I came."
Shakespeare had it right. The readiness is all. But the all is inside of you.