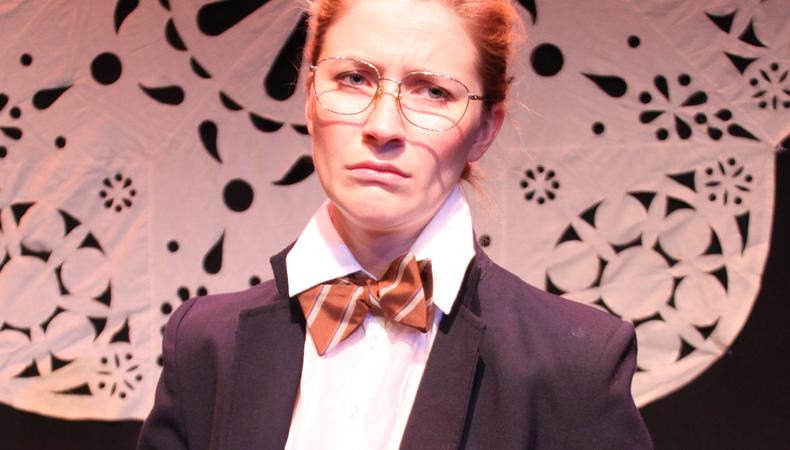 Actor-author Elisabeth Gray writes in a piece for Backstage.com that she created her solo show "Southern Discomfort" as "a chance to act and to commune with audiences." She has accomplished those goals more than respectably. That said, audiences are paying money for the opportunity to commune with her, and on that basis she falls short. This talented young woman has yet to discover what it is that makes "Southern Discomfort" stand out from the sea of actor-generated one-person shows in which it must inevitably swim.
Consisting of seven monologues by six quirky characters living in the contemporary American South, the 70-minute piece is touted in its press release as being "in the Southern Gothic tradition of Flannery O'Connor and Carson McCullers." I suppose it is, but Gray's writing is nowhere near the quality of those two prose masters, so I'm not sure that invoking their names is such a good idea. That's not to say Gray's script is bad; on the contrary, it's flavorful and observant, but its collection of personages is too random to cohere into anything larger. Furthermore, the individual pieces are too similarly constructed, filling in information in little bits and ending with an O. Henry–like twist.
Gray's performance is unfailingly intelligent, and she differentiates her personages well. I particularly liked her account of an actor obsessed with the asymmetry of her face, which she blames for keeping her from stardom, and her president of the Olive Branch, Miss., historical society, who is gamely but insensitively inducting the group's first black member. Gray's climax involves a controlling husband eulogizing his wife via amusingly color-coded index cards. It turns out that Lorraine, a beautician, committed suicide by electrocuting herself in the bathtub with a curling iron, and her portrait is vivid enough to qualify her as an additional character in Gray's gallery. Less successful is the addled, casually racist old woman in what appears to be a nursing home who thinks that she is at college and is expecting a visit from her father. The character bookends the show, but Gray is unconvincing embodying her age, and her a cappella singing of a ditty that includes the question "Which of us has known his brother?" isn't enough to give "Southern Discomfort" thematic substance.
Director Daniel Zimbler allows Gray to undercut her effectiveness by excessive reliance on props and costume pieces, which she pulls from a battered trunk stage center, discarding and donning as needed while music covers the change. These sequences slow the show up while suggesting that Gray doesn't think that she can delineate her different characters sufficiently without them. My guess is that she can.
Presented by New Umbrella at the Huron Club at SoHo Playhouse, 15 Vandam St., NYC. April 1–May 27. (212) 352-3101, (866) 811-4111, or www.sohoplayhouse.com.
Critic's Score: C+