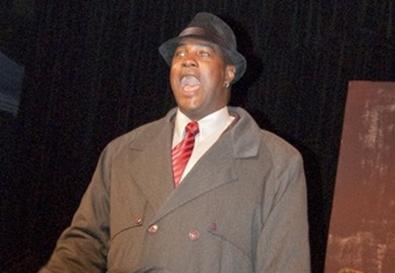 The marvelously melodious bass voice of K.B. Solomon is the perfect instrument for this nearly operatic rendition of the life of the iconic Paul Robeson. Under the steady hand of director Jeffrey Anderson-Gunter, Solomon paints a captivating portrait of the outsized Robeson, highlighted with inspirational renditions of the most memorable songs that Robeson performed. For those who are unaware of the breadth of Robeson's career, the evening is a wonderful revelation, and for those who have long admired his life and work, it is a poignant and inspiring tribute.
Robeson was the only black student at Rutgers when he attended, then went on to become a professional football player, a graduate of Columbia Law School, and an acclaimed actor and singer, whose performances ranged from plays by O'Neill and Shakespeare to appearances in stage and film musicals, most notably "Showboat." Perhaps most significantly, Robeson was a fearless warrior for civil rights, not only for African Americans but also for workers and oppressed peoples around the world. Hounded for years by the FBI as a communist sympathizer, Robeson suffered mightily for his beliefs but never abandoned his convictions.
This stirring one-person show is set in the living room of Robeson's childhood home, where he has returned after death to reminisce about his life and career. As he narrates the events of Robeson's life, Solomon intersperses each event and accomplishment with some of Robeson's greatest songs, which range from "Old Man River" and "John Brown's Body" to "America the Beautiful" and a number of spirituals. As Solomon moves around the stage, which features portraits of great Americans from George Washington to Martin Luther King Jr., he engages in an animated soliloquy on the injustices in our nation's history, always punctuated by a famous song. Solomon's voice is powerful and rich, and his rendition of the familiar songs has a refreshing intelligence and purpose that renew the mind and the soul.
Not surprisingly, Solomon, who has performed principal roles in operas around the world, takes an operatic approach to Robeson's life. While this may be a bit stylized for some audiences, it is a terrific fit with Robeson's epic journey.
Presented by and at the Barnsdall Gallery Theatre, 4800 Hollywood Blvd., Hollywood.
Aug. 6–Sept. 5. Fri.–Sat., 8 p.m.; Sun., 3 p.m. (323) 960-5772. www.plays411.com/speakofme.