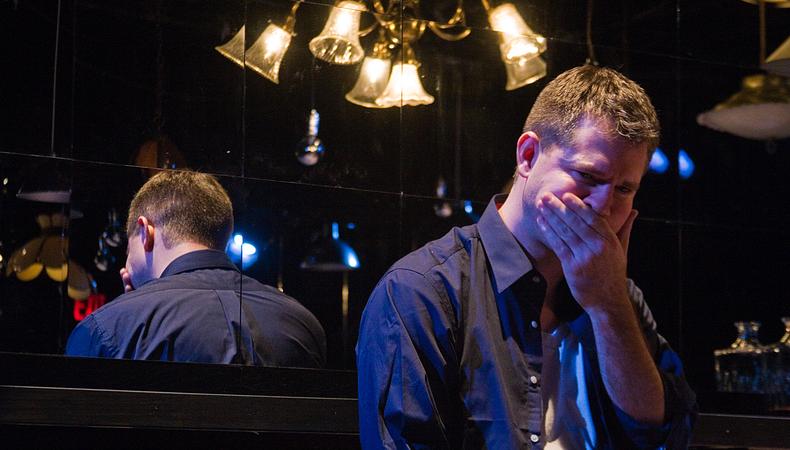 Australian author Andrew Bovell's "Speaking In Tongues" is a play of patterns: patterns in human behavior but also patterns in playwriting. While the content, a study of infidelity, might seem overly familiar, the form is almost mathematically abstract. Bovell's favorite technique is the mirror image, with characters interlocked into each other's fates. Employing just four actors to play nine roles, the playwright has his initial characters turn into other characters of whom they have been speaking. If that sounds complicated, on stage it is not. Yes, it's manipulative, but it's also intriguingly theatrical.
In 2001 the play became a successful film, "Lantana," starring Anthony LaPaglia and Geoffrey Rush, with Bovell writing the screenplay. The film, however, had no double casting. Thus, while the content is similar, the form is totally different, with the treatment being literal and linear. The play, which had proved successful in Australia and Europe, was given its American premiere by Roundabout Theatre Company, also in 2001. The general reaction was mixed, with current New York Times critic Charles Isherwood, then writing for Variety, being especially waspish. While acknowledging the play's clever construction, his approach seemed to be a naturalistic one, with complaints of "credibility": "Four actors, nine bores…a play so dull its very dullness almost becomes a subject of fascination."
So we can be grateful to Australian Made Entertainment, a young organization dedicated to bringing Australian works to the United States, for providing another opportunity to examine this unusual work. At Theatre 54, the audience is seated on each side of a small playing space, with James T. Fenton's set featuring mirrored surfaces at each end. The simple approach seems just right for a play all about intimacy—and the lack of it. The dialogue is generic, with Bovell at pains to parade the clichés of adultery.
"Speaking in Tongues" begins with two adulterous couples at their first encounters. Jane (Kathleen Foster), who is married to Pete, is with Leon (Michael Poignand), who is married to Sonja. Simultaneously, Pete (Matthew Foster) is trysting with Sonja (Laura Iris Hill). To complete the mirror image, each couple uses the same dialogue. As fallout from these infidelities, wife meets wife and husband meets husband. Later, Leon and Jane give detailed solo arias. Leon's is about an encounter with Neil, an unhappy man on the beach; Jane voices her dark suspicions about her neighbor Nick. In Act 2, the characters spoken of come before us to complete the patterned story.
Under Bryn Boice's precise direction, all four players deliver sturdy characterizations. Poignand, the only American, makes both of his characters pleasingly Australian, complete with a convincing accent. Hill, seen first as the forthright Sonja, cleverly morphs into the enigmatic Sarah, a subtle portrayal that provokes chills.
Presented by Australian Made Entertainment at Theatre 54, Shetler Studios, 244 W. 54th St., 12th floor, NYC. Dec. 2–16. (800) 838-3006 or www.brownpapertickets.com.
Critic's Score: B+