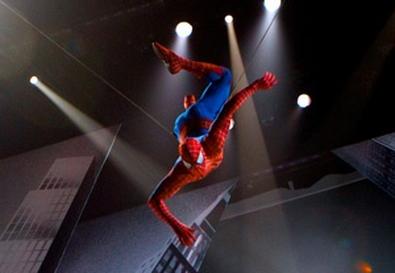 It is not Back Stage editorial policy to review a production while it's in previews. But "Spider-Man: Turn Off the Dark," probably the most highly anticipated Broadway show in the past two decades, has delayed its official premiere four times, has racked up more than two months' worth of pre-opening performances, and is charging full ticket prices. Therefore, we feel you have a right to a critical evaluation. Consider this a report on a work in progress, based on a viewing from the first mezzanine or "flying circle"—we paid for a ticket—where most Back Stage readers can probably afford to sit. I look forward to visiting the show again close to its scheduled opening of March 15.
As it stands, "Spider-Man" runs 165 minutes, of which only about 25 really work. The majority of those effective sequences involve spectacular aerial stunts performed by the valiant Reeve Carney as the superhero, a squadron of stunt Spider-Men, and two outlandish supervillains: an outrageously campy Patrick Page as the Green Goblin and a sultry T.V. Carpio as a supernatural spider-siren named Arachne. When you're sitting in the mezzanine, it's truly exciting to see Spidey fly from the stage and perch just a few feet in front of you. But a Broadway musical is not a theme-park attraction. You need a strong story to go with the spectacle.
The fault lies mainly with director and co–book writer Julie Taymor, who does create some fascinating stage pictures, particularly when she plays with George Tsypin's perspective-skewed sets. You can tell she had a ball staging the number in which Peter Parker—Spider-Man's true identity, for you nongeeks—discovers his new powers, and the walls and floor of his bedroom become a trampoline for him to bounce off. I also loved the rescue scene, in which Spidey saves his beloved Mary Jane from the maniacal Goblin and it seems as if the audience is looking straight down on Lexington Avenue from atop the Chrysler Building. But the story supporting these imaginative images is flimsier than a strand of filament. Taymor and her book collaborator, Glen Berger, have taken threads from the comic book and all three of the "Spider-Man" movies, spun a few of their own, and weaved them into an incomprehensible web that feels more like a sticky trap than a fun playhouse.
Act 1 is basically a retread of the first "Spidey" film, with nerdy Peter Parker acquiring his unique powers via a bite from a radioactive spider, battling the Green Goblin, and cementing his relationship with high-school crush Mary Jane Watson. If the musical had ended right there, we would have had a somewhat sloppy but not-so-bad show. The second act takes us into "Carrie" territory, as Taymor and Berger deal with Arachne, a sort of transdimensional vamp with a penchant for shoes—she's got eight legs, after all. Consistency goes out the window as Arachne attempts to possess Spider-Man's soul, employing illusions of the dead Green Goblin and six other superfoes to do her dirty work. Meanwhile, Arachne's motives are never clearly laid out and her whole story arc is a head-scratcher. Another useless distraction is the Geek Chorus (get it?), four young comic-book fans who are making up the convoluted story as they go along, which probably parallels Taymor and Berger's writing process. Though played by an engaging quartet of youngsters (Gideon Glick, Jonathan Schwartz, Mat Devine, and Alice Lee), the chorus bleeds energy from the main action. It should be cut to a minimum.
It's difficult to judge the performers, as the stunts and plot mayhem are almost totally suffocating. In between leaping and flying, Carney manages to eke out a viable characterization, of an ordinary teen thrust into an extraordinary world, while maintaining a vibrant rock sound. At the performance attended, understudy Kristen Martin went on for Jennifer Damiano as Mary Jane and acquitted herself admirably. Page just wants to have fun with the Goblin and delivers an over-the-top turn reminiscent of the special guest villains on the old "Batman" TV series. Carpio is burdened with an impossible character and a clumsy costume—she had to untangle two of her legs from the flying wires at one point—but she bravely attempts to make sense of the twisted material. That she is ultimately defeated is not her fault. Veterans Michael Mulheren and Isabel Keating are reliably solid as, respectively, boisterous newspaper publisher J. Jonah Jameson and Peter's loving Aunt May.
The generic rock score by Bono and the Edge, of the legendary rock band U2, fails to illuminate or deepen the cardboard characters. It doesn't help that Jonathan Deans' superamplified sound design renders the lyrics for every song but the ballads indecipherable. The only musical number that really clicks is "The Boy Falls From the Sky," the 10 o'clock song, which re-establishes the hero's dedication to fighting evil after renouncing his powers as too much of a burden. Taymor's staging—Carney is singing his guts out while running on a treadmill while multiple Spider-Men spring into action behind him—and the song's driving force combine to express Peter Parker's ambivalent attitude toward his gifts. It's a rousing but rare moment of cohesion in this confusing show.
Whether Taymor and company will use the remaining time before March 15 to significantly improve "Spider-Man" remains to be seen, and it may not matter if they don't. Audiences will probably flock to get caught in this lopsided web regardless of the opinions of Spidey's biggest foes—the critics. But don't get me wrong. For the record, I am a huge comic-book geek and want this show to succeed creatively as well as financially. Unfortunately, it doesn't look hopeful that both can be pulled off.
Presented by Michael Cohl & Jeremiah J. Harris, Land Line Productions, Hello Entertainment/David Garfinkle/Tony Adams, Sony Pictures Entertainment, Norton Herrick and Herrick Entertainment, Billy Rovzar & Fernando Rovzar, Jeffrey B. Hecktman, Omneity Entertainment/Richard G. Weinberg, James J. Nederlander, Terry Allen Kramer, S2BN Entertainment, Jam Theatricals, the Mayerson/Gould/Hauser/Tysoe Group, Patricia Lambrecht, and Paul McGuinness, by arrangement with Marvel Entertainment, at the Foxwoods Theatre, 213 W. 42nd St., NYC. Now in previews; scheduled to open March 15 for an open run. Tue.–Sat., 8 p.m.; Wed. and Sat., 2 p.m.; Sun., 3 p.m. (800) 745-3000 or www.ticketmaster.com. Casting by Telsey + Company.